Raiderette Jen and her teammates are interviewed during their trip to China.
The day began with an early wake-up call for our 6:45am departure from our hotel in Guangzhou to head back to Shanghai. We arrived at the airport, checked in, and headed for our gate soon to find out our gate number had changed. We hustled through the airport and made it on board without trouble. Once on board, an hour and forty minute delay due to weather pushed back our schedule a bit so upon arrival in Shanghai, we knew we had to hustle. We had to check into our rooms and get ready to head to the Shanghai International School for our afternoon cheer clinic.
As we pulled up to the gated entrance of the school, we were anxious yet excited. We learned that the Shanghai International School was unique being that it was one of the only schools to have a cheer team. Upon entering the gymnasium, there were over 70 kids ranging in age from 6-16 ready to learn our dance, welcoming us with smiles and a precious hand painted "Raiderette" banner fixed on the stage. Ashley led a quick warm-up and then Bess jumped right in to teach the routine to the group. Some were cheerleaders and some were new to dancing, but all of the students seemed overjoyed to have us there. Some were even dressed in their cheer team uniforms with pom poms in hand. After the choreography was taught, we split the kids into groups to watch each other. Families gathered in the gymnasium bleachers for the final performance. We cheered on the kids as they gave it their all. A quick change followed; we slipped out of our practice clothes into our uniforms and it was time for us to give them a show. We performed two of our Raiderette routines and were applauded with cheers and smiles. A group photo followed along with signing autographs and picture taking. It was such a thrill to hear the excitement in their voices, see their grinning faces, and be given hugs of thankfulness. As we drove away, a group of them stood by the entry gate and waved us goodbye until we were out of sight. My heart was full and the smile on face was ear to ear.
It was a little after 6pm as we headed back to the hotel to prepare for the Monday night football event with Barry Sanders. When we arrived, we quickly changed into our Raiderette catsuits and headed for the Kerry Hotel ballroom. We had a quick interview before entering the ballroom, answering questions about our experience as Raiderettes and our time in China. As we entered the ballroom, we admired the decor. Each table was adorned with football themed items such as mini football field centerpieces and NFL team helmets. At the head of the tables was a long narrow stage with a movie theater-sized panoramic screen displaying a Monday night football game for guests to enjoy during dinner. The dinner was a football style buffet complete with sliders, French fries, pasta, salad, and mini desserts. When we arrived, the second quarter was well underway and it was time to prepare for our halftime performance. Another quick change, a little stretching, and we were ready to go. We circled up for a blessing from Jeanette and then took the stage to perform two of our Raiderette routines. Shortly after, it was time for an onstage interview with Barry Sanders. As we waited backstage for our second performance, the interviewer called upon fans to ask questions and get to know Mr. Sanders. The interview soon came to an end and we took the stage for our final performance of the trip. After a successful show and a round of applause, we left the stage to change and head back to the ballroom for dinner. It was nearly 9pm and we watched the rest of the football game as we ate our dinner and conversed with our table guests. Knowing that our last day in Shanghai was only hours away, we decided to wrap up the night with some pictures in front of the beautiful hotel christmas trees for memorable keepsakes from our trip. Soon we would say goodbye to Shanghai and be on our way back to the states. Falling asleep that night, I remembered the smiling kids at the cheer clinic and felt incredibly thankful. Another busy, yet inspiring day. Goodnight, China.
Jen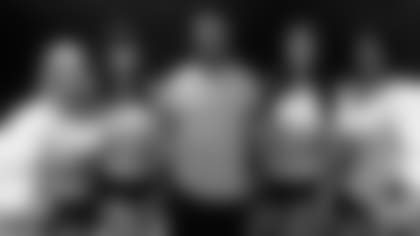 Raiderettes Jen, Ashley, Bess and Jalina pose for a photo with Barry Sanders in China.

12/2/2012, Guangzhou, China.
China has been incredible; who knew the Raider Nation extended to Shanghai? Writing to you from Guangzhou - another major city in China filled with the same Las Vegas lights and atmosphere as Shanghai, in addition to the great outdoor parks and boutique shopping!
Well, today was the 'big day' - the NFL Experience! The other girls and myself got an early start to the day as we drove from the hotel over to the community park area which had been transformed into a football field, live stage, media room, game center, NFL Combine, arcade, and food court.
Yes, I said, NFL Combine. The event hosts held a mini-NFL Combine that the event guests participated in! The Raiderettes dominated at the long jump, vertical jump, 40-yard dash, and the ropes (thank you Core Dynamics!). That's right, we beat Barry Sanders, the honored guest throughout the week with the NFL Experience-China. Mr. Sanders spent the majority of the event signing autographs, as well as sharing his experience in the NFL.
Once we had relaxed from breaking (what are sure to be world records) at the mini-combine, it was time to teach a dance clinic to the event guests. They caught on so quickly that we ended the clinic by taking pictures with all the participants and signing autographs!
Throughout the day, there were several football games, in which the Raiderettes cheered on the players, as well as provided pre-game and half-time entertainment. Much like Oakland this week, Guangzhou experienced a wet winter as the rain made a constant presence throughout the day. However, just like our Raiderettes back home cheering on our home team in the rain, the four of us held our ground as we cheered the Guangzhou Warriors onto victory!
When the day was through, we had been in our boots for a total of 10 hours, performing five times on various stages and fields to show our support and gratitude toward NFL China for putting on such a great event.
China is unlike anything I have ever experienced; the people are welcoming and friendly, and the culture is rich in tradition. It has been great to see the NFL continue to pick up momentum as they expand the understanding and appreciation for American Football, and it has been an honor to be part of it.
All right Raider Nation, China, here we come.
---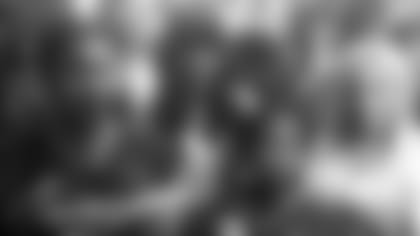 Raiderettes Ashley and Jen with NFL fans in China.
Dec. 1st: Off to Guangzhou!
The day started with an early morning rise to get ready for our next stop Guangzhou, China.  Most of the day would involve us traveling; it however proved to still be eventful. The power blew out in our room as I was getting ready, we were served lunch in a box on our flight and my luggage almost got lost! Our experience in Shanghai has been full of interesting and special experiences, but I could not wait to see what our next destination held for us.
As our shortest flight during the trip, we arrived in Guangzhou in two and half hours. They fed us chicken, salad, rice, fruit and a roll all in a box on the plane. Immediately stepping off the plane we walked down the steps and walked briskly to the tram as it was starting to mist outside. We crammed into the airport tram and held on tight as we zipped to the baggage claim. Bag after bag went by and soon there were no bags left. My suitcase was nowhere in sight! I was a little worried about my luggage being lost in another country but luckily we had our host Raya with us to help. After about 20 minutes or so, just as the airport attendant was having me fill out a claim form,  Jeanette spotted it coming around the conveyer belt all by itself. I felt so relieved.
We stepped out of the airport and heard nothing but horns, whistles and bells and all five drop off/ pick up lanes were full of car after car. Talk about traffic, I thought San Francisco was bad until I came to China! As we headed into the city center of Guangzhou, we hit all kinds of traffic. Fortunately, there was a lot to see as we passed many shops, tall buildings and crowds of people. From our drive through it seemed like there are a lot more people here than in Shanghai. The area we passed through to get to our hotel has a little bit of a Las Vegas feel as they have a lot of "flashy" decor, lighting and big screen TVs.
We finished our evening with some dinner to regain our energy and then practiced all of our routines. Tomorrow is our big as it is the "NFL Experience." We wanted to perfect and made sure we had everything down and ready to go. This event is something we are all very excited about and look forward to each and every part of it.
---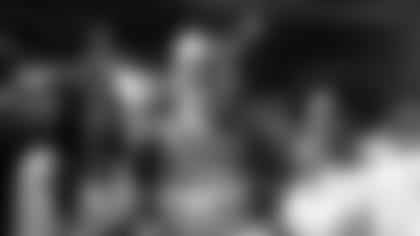 Raiderettes Bess and Jalina with an NFL fan and Raiderette fan in China.
Day 1 in China: On a Shanghai Bliss
Our first full day in Shanghai began with a tour of the city with our local host by the name of Tony. Tony, a vivacious yet whimsical middle-aged Chinese national, was anxious to show us around and share a piece of his homeland with us. Having been to the United States several times himself and his near perfect knowledge of the English language made the four hours of voracious learning and laughter a worthwhile trip.
I can't begin to say enough about Shanghai. Well, I can start with that the books and magazines I read about prior to this trip by far did not do it justice. The size alone was mesmerizing, but many areas seemed coincidentally familiar. At first glances from the ride into town alone, I was reminded of the Gotham City-like Chicago mystique mixed with the grandioseness of Vegas topped with the poise and pandemonium that is Phnom Penh.
We first ventured into Old Shanghai, which at about 1,400 years old, was bustling with innumerable sky-high buildings, plush greenery, and more traditional Chinese architecture. We then went into new Shanghai, which reflected equally beautiful architecture only with British and French influences. The plethora of expats around was also reflected in our surroundings.
We were then taken to much less tourist trodden area for a little shopping and exploring. By the looks of the street food vendors that sold grilled mini octopus on a stick and mangosteen, I knew we were about to embark on a truly local adventure. The mall we went to was large, yet filled with several small stores all compacted closely like sardines in a can. We all learned that the art of negotiation and being a bit stern when needed it key in a place like this- where us foreigners, "la la tois" (cheerleaders) at that, stuck out like sore thumbs.
After returning to our hotel to practice briefly, we got ready to have a traditional Chinese meal. While our host, Raya, took us back to New Shanghai, she assured us the restaurant we were going to was special and reflected more specific Shanghainese culture. From the round table, family style dinner setting, unforgettable food, and even the squat toilets, Raya certainly was right.
I am certainly thrilled and blessed to be here with my teammates to represent the Raider Nation, and can't wait to see what the rest of this trip has in store for us. Xie xie!
See you back Stateside, Raiders fans!