TE Richard Gordon extends to make the catch. Photo by Tony Gonzales

The Raiders are a week and a half into Training Camp 2012, powered by Verizon 4G LTE, and the players are beginning to feel the effects of the constant pounding on the field and the time in the meeting rooms. Fully entrenched in the grind of camp, the players have to find ways to stay energized, motivated, and fresh.
The coaching staff does what it can to break up camp to keep the team focused. "You just have to keep changing things up," said Head Coach Dennis Allen. "We will do some different things as we continue on. Yesterday we had a live session. And we will change some other things up as we continue to go along."
Despite the tough schedule, QB Carson Palmer feels good about how camp is going. "It's been a grind," said Palmer. "Tomorrow is the seventh day in a row of full-padded practice with double days every other day. Lots of meetings, lots of installs, but a great opportunity to learn, especially for the young guys; well, really everybody just because everything is so new. Long meetings, long hours on the field but that's why we are here, that's what we are here for."
In order to get through the middle of camp, players find different ways to push themselves.  "You just know that it's all going to be worth it, making the team, being out here with all your teammates and start to get a ton of wins and put together a good season for all of Raider Nation," said T Zach Hurd.
FB Owen Schmitt just takes camp one day at a time. "You just take it a day at a time and try not to look ahead or you take it in spurts," said Schmitt. "We had a day off last Thursday and try to break the days up. Everyone has a different equation for themselves, so I just take it a day at a time and figure that's one day closer to the end."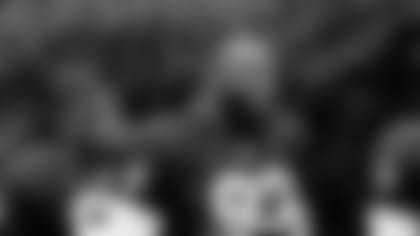 DT Tommy Kelly.
Photo by Tony Gonzales
Nine-year veteran DT Tommy Kelly is able to push through because he knows it's his job to do so. "It's your job," said Kelly. "They pay you to do a job, simple as that. I mean, I'd rather be doing this then sitting on the couch not getting a paycheck. I just keep reminding myself that I could be at home broke and that pretty much motivates me right then. I'd rather have a job than not have one."
The players have to be diligent in keeping physically healthy. "I just listen to the strength coaches," said TE Richard Gordon. "They tell us to drink a lot of Gatorade, drink a lot of water, eat right, that's the biggest thing."
Hurd takes advantage of time before and after practice to get his body right. "You take care of your body," said Hurd. "You get in the pools – the hot tub before practice, the cold tub after. You just take care of your body and get plenty of rest when the coaches give you rest."
Training camp is a test of physical and mental toughness. Hurd stays mentally focused by knowing the team has a long way to go to reach its potential. "Just keep looking at the plays and keep your head down and, like Coach said, the light at the end of the tunnel is eventually going to show, but right now there's not even a light showing," said Hurd. "We're still in darkness right now, we're pushing through knowing that when we do see light, it's going to be all worth it because we worked hard."
Kelly remembers what he's playing for. "I have kids," said Kelly. "My kids are my motivation. When I feel like that my body is wearing down and everything, I just remind myself that I have to take care of my two little boys and my family, so that's the push right there."
Gordon goes into each day with a good mindset. "You have to go in there with the right state of mind that you're going to learn every play," said Gordon. "Just try to get it all down."
Training camp can get monotonous, but the guys have figured out different ways to stay positive and focused.  "Crack jokes; that's the only way I get through meetings," said Kelly. "I try to keep myself cracking jokes. It gets hard, but that's what I do, crack jokes."
The offensive linemen also keep the meeting rooms lighthearted. "Our meetings are fun as well," said Hurd. "We're learning and we're trying to get down the system and the way coaches want our technique done and all the plays ran. There's a bunch of guys in the room and we're going to joke around and have fun. We just make light of the situation of being stuck in a room together for a little while."
When Schmitt has some down time, he goes back to one of his comforts - playing the guitar. "I've got my little guitar so whenever I get a chance, I just noodle on that thing because that just takes me somewhere else," said Schmitt. "And then I feel like I'm not at camp."
No matter what it takes for a player to get through camp, at the end of the day, it comes down to one thing – "You have to love football," said Gordon. "Once you love football, you know you have a job to do."