Photo courtesy of Xia Coleman
CB Chimdi Chekwa teamed up with the Juvenile Diabetes Research Foundation (JDRF) to host the second annual Camp One. The day-long sports camp hosted kids with and without Type 1 Diabetes and gave parents the opportunity to learn about how to deal with day-to-day diabetes care.
Camp One seems like a normal sports camp with various stations that includes football drills, soccer drills, and more. But there is one major difference – before, during and after the camp, participants with diabetes are required to check their blood sugar levels with the help of JDRF and children's hospital volunteers, and make sure they are proactive in their health throughout the day.
"I think it's really important to mix [kids with and without diabetes] so they can see that they can live a normal lifestyle and still be able to check the stuff they have to check – check their blood sugar, maintain their sugar levels," said Chekwa. "I want to encourage them to be able to do everything they want to do, but still stay on top of the stuff they have to do for their health. "
Chekwa's teammates Taiwan Jones and Shelton Johnson participated in Camp One. "It means a lot. You have guys in the locker room that support what you're doing," said Chekwa. "It feels good to know you have guys that support you."
Stanford University left-handed pitcher Spenser Linney and former NBA player Chris Dudley also took part in Camp One. Both Linney and Dudley were diagnosed with Type 1 diabetes and managed the disease while playing their sports at a high level. They spent time speaking with the parents about how to handle Type 1 diabetes on a daily basis.
"Parents have serious questions and what's great is Spenser and myself are able to answer them," said Dudley. "Also, parents are able to interact with each other and share in experiences. I think that's beneficial for the parents, and the kids, to see other kids that have diabetes and see that others are walking in the same shoes so to speak and all enjoying being out here and running around."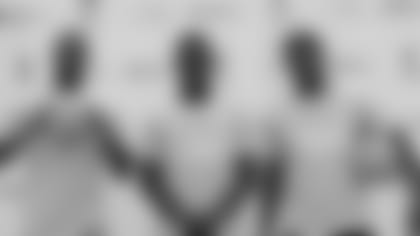 DBs Taiwan Jones, Chimdi Chekwa and Shelton Johnson. Photo courtesy of Xia Coleman
Linney wanted to make sure to share his experience to help others. "I was diagnosed with diabetes when I was 11," said Linney. "I've been an athlete my whole life. I started soccer and baseball and then basketball and cross country, too. I definitely have a love for sports and obviously I have a pretty direct connection with diabetes. I found out about this camp and I figured I could help out in some way."
The baseball pitcher believed he was capable of playing at a high level by seeing Major League Baseball pitchers also living with diabetes. "I think a lot of kids with diabetes still feel empowered and certainly that was the case with me. Part of that was there are Major League Baseball players that I could look to that are living and pitching with diabetes. Jason Johnson was a pitcher for the Orioles…it's important to have role models. I don't know that I'm in a position to be a role model yet, but it's great to be able to see these kids and talk to them and talk to the parents."
One of the goals of the camp is to reinforce that Type 1 diabetes does not have to limit what one is able to do in sports or in other activities. "The thing to emphasize is you can do whatever you want to do in life with diabetes provided that, and it's a big provision, provided that you take care of yourself," explained Dudley. "So there's kind of two messages here – one is dream big and follow your passion, but it's also important to take care of yourself and be disciplined in that regard. Don't let diabetes stop you."
Chekwa started Camp One in 2013 after learning about the challenges kids with Type 1 diabetes work through. Holding a camp for young athletes living with Type 1 diabetes is significant for the diabetes community. "It's extremely important, especially for kids that are newly diagnosed or may have had it for a long time now and they might be getting tired of living with Type 1," said Simone Price, development manager for the Greater Bay Area Chapter of JDRF. "There's no cure yet, so it's really great for people to come together and meet each other from all different stages of living with this disease and build a community. The bigger your community is, the stronger your community is, the more influence you're going to have to lead a better life living with Type 1."
Jones and Johnson wanted to support their teammate, while also giving back to the community.  "Chimdi, he's not from here, but he felt obligated to give back," said Jones. "He stepped up and he did it. The kids are having fun and it's just a good time out here. It's good to see he's doing that. Whenever I can give back to the kids, I try to help out. Anything to help pull the community together and promote positive energy, it's just fun times with them."
Johnson played college football with a teammate who had diabetes and knows it's possible to succeed despite Type 1. "One of my college teammates was actually a diabetic too, so actually being able to see what he goes through on a daily basis…A lot of the kids may think that just because they may have something that's different about them, they're not limited and that they can do anything anybody else can do."
The Raiders showing their support for JDRF and the kids meant a lot to everyone in attendance. "It's amazingly significant for the community," said Price. "To have them come out and support JDRF and this group of people is so great. They don't really have too many personal connections so for them to reach out to our organization and this community really shows that they care and they care about a lot of different causes. We're so blessed to have them support us."
"It's tremendous that they're here and they're giving their time," added Linney. "It's obviously a big attraction for kids of all different backgrounds to come and play on the same field as these athletes, so it's tremendously generous of them to come out."
Dudley was also impressed with Chekwa and his teammates. "It's awesome. I think it's great that they're out here," said Dudley. "Great role models and great being part of the community and just making it fun for the kids and taking them through activities. I think it's great that they're a part of it. It really helps and you can see how fired up the kids are to be out there with them and seeing them and having a ton of fun."
The camp was a success and helped prove to those in attendance that anything is possible. "It shows them that there's no limitation to what they can do and it also shows the parents, because a lot of these kids get diagnosed and a lot of these parents don't really know how to handle the situation, that there's no limitations to what their kids can do."