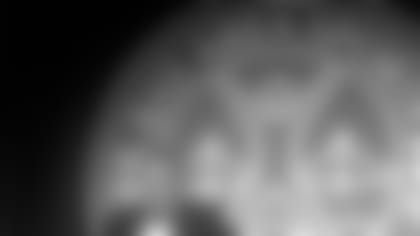 Tom Flores gives his speech at the BASHOF induction ceremony.
Two-time Super Bowl-winning head coach Tom Flores was inducted into the Bay Area Sports Hall of Fame last night during an induction ceremony in San Francisco. Flores' was presented for induction by his Super Bowl-winning quarterback and Super Bowl XV MVP, Jim Plunkett.
Flores was the first Hispanic quarterback and head coach in the NFL and went on to lead the Silver and Black to two World Championships of Professional Football with wins in Super Bowls XV and XVIII.  Flores also owns a Super Bowl ring as an assistant coach while on John Madden's 1976 Raider staff that posted a win in Super Bowl XI and as a player for Kansas City when Chiefs scored a win in Super Bowl IV. He played quarterback for the Raiders from 1960-61 and from 1963-66.
Raiders Legends were on hand to honor Flores, including Hall of Famers Willie Brown, John Madden, Jim Otto and Dave Casper, and former players George Atkinson, Ray Chester, Morris Bradshaw, Cliff Branch and Clem Daniels.
"It's been a great journey and I'm proud to be here," said Flores on his induction into the Bay Area Sports Hall of Fame. "I came to my first banquet in 1982, and I said, "wow, this is pretty impressive.' That was a long time ago, and never did I dream that I would be inducted. Over the years I've always followed it, and several of my peers and several of my friends, Plunkett, John Madden, Stabler, a lot of Raiders [are in the Bay Area Sports Hall of Fame]. It's just a great event, so I'm very proud of it."
Plunkett, who presented Flores, said, "He helped make me look good. He went on to prove just how good a coach he is…he won two Super Bowls. Tom deserves this night and a lot more. We all felt calm in every critical situation because of Tom."
Also inducted into the BASHOF last night was Kevin Johnson, presented by Jerry West; Gene Washington, presented by Condoleezza Rice; and George Archer, presented by Ken Venturi.