Oakland Raiders LB Thomas Howard poses for a photo with the San Francisco Brown Bombers Pee Wee squad. Photo by Tony Gonzales.

Recently, Oakland Raiders LB Thomas Howard traveled across the Bay Bridge to San Francisco to donate 31 pairs of football cleats to the San Francisco Brown Bombers Pee Wee squad. The Thomas Howard Foundation's Football Uniforms Scholarship Fund provides local youth sports organizations with equipment to lessen the burden on parents. This year, Howard chose to sponsor the Brown Bombers led by coach Tanom Domingue as they work towards the Pop Warner National Championship in Florida.
Howard arrived at Youngblood Coleman Park in San Francisco at the start of the Pee Wee practice with boxes of cleats provided by NIKE for the young football players. Playing in tattered cleats or regular shoes, the coaches, players, and parents were excited for Howard's gift. "A lot of these kids couldn't get [cleats] and wouldn't be able to afford them so I want to thank Thomas, Nike, and the Raiders for getting these shoes out here to us," said Domingue. "We haven't had this opportunity in many years." As Howard passed out the correct sizes, the kids could hardly sit still in anticipation of opening the gift. "Look at them, look at them," said Domingue. "They're so happy. They don't even know [what to do]. They want to take pictures with them. They're all happy."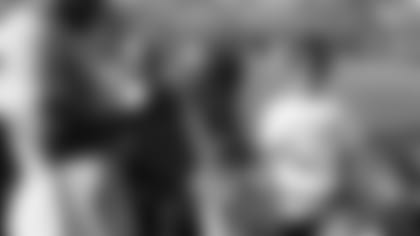 Oakland Raiders LB Thomas Howard donated 31 pairs of football cleats to the San Francisco Brown Bombers Pee Wee squad. Photo by Tony Gonzales.
The team's joy was shared by the Raiders fifth-year player out of UTEP. "I'm enjoying this as much as the kids are," expressed Howard. "I can remember me being in a league and it would have been great to have an NFL player come and just hang out and watch them practice and get them some shoes."
Howard hopes to help relieve the burden of many expenses that come with being a part of youth football. "It costs a lot to play these sports and parents have to buy shoes, buy equipment, and buy helmets and any way I can help lessen that burden on parents I'm with it," said Howard. As he passed out the cleats, he realized that these kids would be wearing the same shoes as the Raiders wear on the field. "They've got some fly shoes! They've got the same shoes we wear in the games except they got the black ones and we've got the white ones," Howard exclaimed.
The Thomas Howard Foundation offers several community programs each year. Howard hopes to donate to more teams over the next few months. "I enjoy doing this every year. We have more teams to come," Howard said.
Providing equipment to teams fits into the goal of his foundation — enhancing academics and athletics in children's lives. His message for all the young football players is to work hard and focus on academics as much as athletics. "Football is a two-way street as far as academics and athletics," said Howard. "You can't get to where I'm at without putting academics in the forefront." However, he also made sure to point out the need to have fun. "Just enjoy the game, always have fun playing the game and always give it your all. If you give it your all you'll never have to worry about how it turns out," Howard added.
The San Francisco Brown Bombers are now outfitted with brand new cleats in time for their first game. Howard hopes he was able to lessen the financial burden of youth football on the children's parents and motivate the kids to work hard during the season.