Recently, Oakland Raiders LB Thomas Howard visited the Student Program for Academic and Athletic Transitioning (SPAAT) at McClymonds High School in Oakland, Calif. McClymonds looks like a school that could fit thousands of students, but currently has only 240. According to one of the program's founders, Harold Pearson, due to dropout rates and families moving out of the area, classrooms are frequently empty. Despite the small number of students, the SPAAT Program has found a home at the school and caters to the student athletes. Howard visited the students to share his life experiences and to speak about reaching his goals through hard work and focus.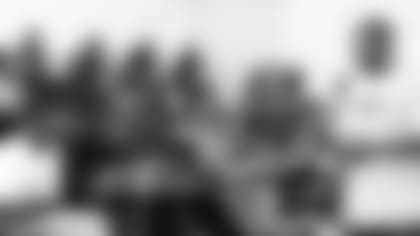 LB Thomas Howard speaks to students at McClymonds High School in Oakland. Photo by Tony Gonzales.
SPAAT, founded in 2002 by Pearson and Russell Crew, is focused on helping high school student athletes get to college. "There are a lot of requirements so we have a case management program where we make sure they're taking the right courses, the SAT, prepare for the SAT, NCAA Clearinghouse, all those requirements," explained Pearson. "Making sure they know the information up front and then following them actually through the process so when they're seniors, they're actually ready to leave. [It's] really an organized support system that most people don't have."
The program works with the football team, boys and girls basketball, and cheerleading. Howard met with SPAAT in one of the classrooms, speaking to the students for a short time. His main objective was answering any and all of their questions. The students asked everything from the toughest obstacle he's had to overcome to the process of getting noticed by college football programs. Howard, a five-year veteran out of University of Texas-El Paso, was candid with his answers in the hopes of motivating the student athletes to strive to be their best.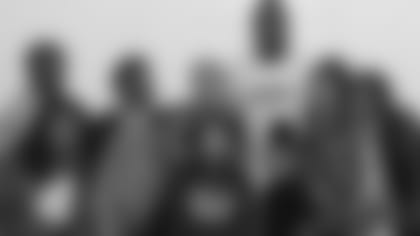 LB Thomas Howard pose for a photo with students at McClymonds High School in Oakland. Photo by Tony Gonzales.
"I wanted to commend them and tell them to continue putting education first," said Howard. "I left them with one of my keys to success which is balance. Having balance in your life, sports, education, family, work. Always strive for the best. Never settle for C's or B's. Always strive for A's. Always strive for the best, never settle for less. I want them to dream big."
Howard's message falls in line with SPAAT's goals. SPAAT works with the students to help them find equilibrium between academics and athletics and guide them on the path to success. "We want student athletes in high school to know what it takes and to balance both of those and really preach the academic component," said Pearson.
SPAAT appreciated Howard's ability to relate to the students. "I think it's important to have people that have the kind of success our students are looking for," said Pearson. "It's important to see it and touch it. A lot of times in this kind of community, they don't get to see what success actually looks like. They might see it on TV or hear it on the radio but to actually get to talk to someone who has done something that they want to do and, actually someone like Thomas, who has reached the highest level of success, we like to bring people in like those that can really talk to our student athletes and say 'hey, here's how to do it, here's how I did it, and here's the system.'"
The Thomas Howard Foundation's main focus is enhance students' academic and athletic goals, which aligns perfectly with the goals of SPAAT. Howard was happy to come out to McClymonds and praise the students for their dedication on and off the field. "[I wanted to] honor these young adults and commend them for their education, for taking it serious," said Howard.
Through Howard's visit, Pearson hopes the students start to believe that hard work, focus, and dedication can lead to success. By knowing success is possible, McClymonds student athletes can continue to use the SPAAT program to go to college and continue to achieve academically and athletically.