Former Raiders LB Sam Williams speaks to the local high school football teams before training camp practice. Photo by Tony Gonzales
Teams from local area high schools visited the Raiders Training Camp Complex in Napa, Calif., to watch practice and had the opportunity to listen to former Raiders LB Sam Williams and TE Tony Stewart speak about character and becoming successful on and off the field.
"We're trying to get them to set goals," Williams said. "To believe in the goals that they set and to work hard so they can accomplish those goals and not be distracted by other things that are meaningless."
Williams, who played for the Silver and Black for nine years, spent a good deal of his career in the community. He was uniquely qualified to talk to the football players about integrity.
"We also talked to them about character and how important it is to have great character in life and in football," Williams added. "And take advantage of opportunities because they come and they go. If you're not ready for the opportunity and you miss it, you might know when the next one will come."
"One thing I preached to them was to find a mentor," Williams continued. "Whether it's on your team, a senior and you're an underclassman; you get to college and it's a senior. I did the same thing when I came here. I found a mentor that could help guide me and without that and learning from other people's mistakes, I think I would have been a little lost."
Coaches were happy to have the kids watch practice and listen to the life lessons that Williams and Stewart learned as professional football players.
"It's always about the kids," American Canyon High School assistant coach Chris Roberts said. "It's phenomenal for them because these are the guys they watch on TV every Sunday and these are the guys they look up to."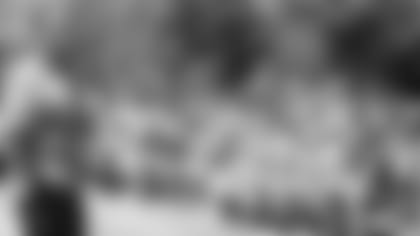 Former Raiders TE Tony Stewart spends some time with the athletes. Photo by Tony Gonzales
Visiting Raiders training camp was an important experience for the young athletes. "Just knowing how a pro atmosphere is is very constructive," Vintage High School assistant coach Chris Meza said. "It also gives them a lot of inspiration to work to possibly play at this level and seeing how every player gives all their effort."
Players from the local high schools watched with awe as their favorite players ran by them during practice. They were also able to get player autographs at the conclusion of practice.
"I'm actually learning new stuff that I can use on the field," Vintage HS DE Anthony Hernandez said. "The speeches from those former NFL players were good."
El Cerrito High School's RB Robert Wilkes enjoyed his experience at the Raiders Napa Valley Training Complex. "It's exciting watching people you've idolized as a kid," said Wilkes. "It's very humbling to be able to have this opportunity to come up here and watch the guys. I'm a big fan of Darren McFadden. Before I go out and play, I really watch his college tapes and I just take a lot from that guy."
Spending time at practice was a trip down memory lane for Williams and Stewart and a look to the future for the high school students.