The team huddles up at the conclusion of Monday's OTA session. Photo by Tony Gonzales

The Oakland Raiders are participating in their first Organized Team Activities (OTAs) of the 2013 off-season. Veterans and rookies are on the field together for the first time and coaches are able to watch their guys in action. Although most of the players have been in the facility working out for several weeks, OTAs really mark the start of the major on-field preparation for the season.
"We're really trying to set the foundation for the upcoming season and [OTAs] is where you get it," said Head Coach Dennis Allen. "And we set that foundation with the knowledge base of what we're going to be offensively, defensively and in the kicking game. And we'll set that foundation, but we're also trying to evaluate and see what guys can and can't do. The learning process is a part of that evaluation."
Veterans, who have been through OTAs before, were happy with the first session. It was their opportunity to, not only face an offense or defense, but really get a feel for their teammates on the field. "It was good," said QB Matt Flynn. "It was a lot of fun to get out here on the field. We've been kind of running plays where its offense by themselves, but it was good to get out and see a defense kind of give you some looks and get a little competition. It was good. There was definitely some rust out there, I think from everybody, myself included. But it was good to get out there and just compete a little bit and have fun playing football."
The offense had the opportunity to see some of the looks on defense and knock some of the rust off. "It was good," said FB Marcel Reece. "It was interesting to see all the new faces on defense. Up to this point, we've all been pretty separate as far as offense and defense goes, so it was pretty cool to see everybody running around."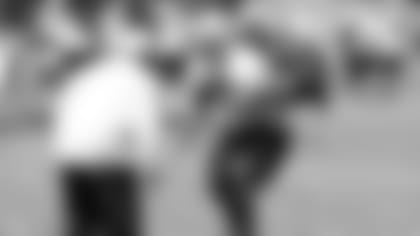 FB Marcel Reece gets a carry during position drills.Photo by Tony Gonzales
The players can feel the renewed energy with all the changes made by General Manager Reggie McKenzie and Coach Allen. "There's definitely a lot of energy and I love it," said CB Mike Jenkins. "Everybody is running to the ball. Everybody is getting to the ball, making plays. Everybody wants a position. We're starting all over."
Adding the rookies into the mix brings the energy level up even higher. "Definitely felt a lot of energy out there," said WR Jacoby Ford. "Everybody was flying around [Monday], first day, it's exciting. Everybody's happy to be back out on the gridiron together. Even with the rookies in here now, it's just a different chemistry, different energy that's going to be out there, guys that just want to be here and play for this Silver and Black."
The rookies are taking this OTA session as an opportunity to learn as much as possible from the veterans. Rookie RB Latavius Murray is watching veteran RB Darren McFadden closely. "It's great, a guy who's been in the league for some years now," said Murray. "You can just learn from him and take the things that he does well and just incorporate it into my game so I can be better as a player."
The biggest transition from rookie mini-camp to an OTA is the speed, something Murray is trying to adjust to quickly. "It's a lot faster, a lot more speed out there with the vets being there," said Murray. "Just adjusting to that and making the most of the reps when I'm in. Just getting better every day that I go out there with them and try to learn from them and get better."
As the vets meet the rookies and vice versa, the players are trying to have fun with all their new teammates and progress each day. "We have a lot of new faces out there, a lot of new guys out there," said CB Tracy Porter. "We're just trying to develop some chemistry. We're out there trying to have fun playing with each other. We're trying to get a feel for one another on defense. I don't know much about what the offense is doing but I'm pretty sure they're doing the same thing. On defense, the only thing we can do is fly around and have fun and that's what we're trying to do."
Everyone has the same goal – to improve each day. "Come out there every day and just be prepared, be ready to work and come ready to get better," said Murray. "And just kind of take every practice like it's the only one you have and make the most of it."
Veteran SS Tyvon Branch can tell the team is committed. "We've got a good group of guys here, everybody is here to work," said Branch. "This is the best attendance that I've had since I've been here, as far as people showing up for OTAs, and I'm excited."
The Raiders have two more sessions in the first week of OTAs and will try to make the most of them. The men donning the Silver and Black know that the off-season is the time to set the stage for the season.