Army Sgt. Michael Eaton is reunited with his family at a Raiders game during an episode of Lifetime Television's Coming Home. Photo by Tony Gonzales

The Oakland Raiders teamed up with Lifetime Television for an episode of Coming Home, in which a serviceman was reunited with his family in front of 60,000 members of Raider Nation at halftime of a Raiders game. The episode featuring the Raiders reunion will air on Sunday, March 11 (check your local listings for air time) in the season premiere of the Lifetime show. While the nation will have the opportunity to watch the emotional reunion this Sunday, the Raiders hosted an exclusive screening of the episode for special guests at the Raiders Alameda headquarters yesterday evening. Coming Home host Matt Rogers, producer David Metzler, and Raiders Legend Napoleon McCallum attended the event, as well as members of the United States Marine Corps and Coast Guard.
"We deeply appreciate the sacrifices of our servicemen and servicewomen and their families and we were honored, privileged and thrilled to collaborate with Lifetime Television and *Coming Home *on this project," said Raiders Chief Executive Amy Trask.
In the Raiders-highlighted episode, U.S. Army Sgt. Michael Eaton surprised his four children at halftime of the Raiders November 6, 2011, game at O.co Coliseum, disguised as the holder for a field goal contest. The packed stadium erupted in cheers of "USA" as the soldier saw his family for the first time in nearly a year.
"Everybody stayed in their seats and myself as well as the soldier were both ex-football players so he was tearing up," said Rogers. "And then the fans completely went ballistic. I did not know Raider fans were truly that awesome. Raider Nation, we could not have picked a better football team to do this with and I really sincerely mean that."
Sgt. Eaton had the opportunity to meet his favorite team prior to surprising his kids. "I was most surprised by the players' reaction," Rogers said. "They were so humble and so cool. The players were just so receptive. They made that soldier's dream come true. He grew up watching the Oakland Raiders, so to now actually be a Raider…he'll remember that for the rest of his life. It was awesome."
The show's host and producer both described the reunion as one of their favorite moments since working on Coming Home. "I'm extremely proud of this television show and I'm extremely proud of this episode," said Rogers. "What the Oakland Raiders did for our show and what they're doing for our show, you can't put a price on that. I could not have picked a better NFL team to team up with for this show. The organization was unbelievable. They opened their doors to us. They literally made the TV show better and made it epic. I believe this is, hands down, our best episode."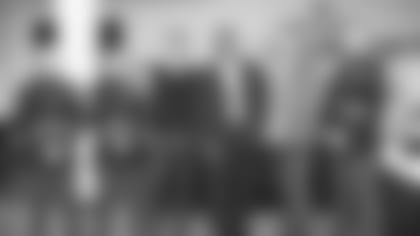 Coming Home producer David Metzler, former Raiders RB Napoleon McCallum and Coming Home host Matt Rogers pose for a photo with members of the U.S. Marine Corps. Photo by Tony Gonzales
Metzler also felt immense pride in the episode. "We felt particularly good about this one, one, because the family is terrific and the dad's terrific and, two, because Amy has been talking all along about how great the Raider fans are," said Metzler. "Nobody left their seat. The fans were unbelievable to us and to have that packed stadium chanting 'USA' at the end, it was a great feeling."
The Coming Home producer has been working on the series for a year, but one of his favorite moments occurred on the Raiders field. "My ultimate favorite moment was that second he took the helmet off and turned around and was on the field and the crowd went nuts and his kids just darted at him," described Metzler. "They just crashed into each other there on the field and everyone went crazy. I'll never forget that. It was amazing."
Jonas Rivera, the producer of Disney-Pixar's UP, not only attended the exclusive screening, but witnessed the halftime reunion first-hand. "Not only was I at the game, it was the first game my kids saw, it's the first time I brought my kids, all three kids, and my dad, my mom, my wife," said Rivera. "My dad was in Vietnam. My wife's father was in the Navy, was an admiral, so there was a lot of emotion and pride. When you were sitting in the stands, I've never felt the Coliseum so quiet, but it was roaring, but you could hear a pin drop at the same time. There was so much emotion concentrated and it captured beautifully. It was so great to see the close ups, but it read from the stands equally well. They really nailed it."
The Academy Award-winning producer was excited to watch the episode before it airs this Sunday. "We can't believe we were able to see it first," said Rivera. "It is so amazing and so emotional and so meaningful. It really shows a shift in the world to see the honor and respect people give to people coming home from their tours. The fact that it happened in our home, in Oakland, on the field in front of everybody, it's really beyond anything you can say. It's just fantastic."
Watching the episode hit home for former Raiders running back, McCallum, who served in the United States Navy while simultaneously playing for the Silver and Black. "I'm real sensitive to this," said McCallum. "I have four daughters and I can't imagine leaving them with all the time I spend with them now. In the Navy, I'm on a ship and I'm pretty safe. But here's a man [Sgt. Eaton] who is being shot at, doesn't know if he's going to come home, the family doesn't know if he's going to come home. Then, to come home, I don't even know how he did it, keeping it all wrapped up. To do it on our football field with our fans, he must have been going crazy inside. It's just awesome for me to come and do something like this."
Also on hand for the screening was Marine Sergeant Joshua Phillips, a big Raiders fan, who was honored to be included in the special event. "I'm a Raiders fan so it was just huge to be able to be here and be a part of this," said Sgt. Phillips. "Seeing what that gentleman got to experience with his family brought back a lot of memories that I also felt when I came home to my wife and children a couple times. It really makes me admire and love this organization that much more and it makes me want to support this country and the Marine Corps that much more as well."
Sgt. Phillips held back tears watching the episode of Coming Home. "It really brought back to the front of my mind those emotions that I felt," said Sgt. Phillips. "It actually is a really good thing to remember just how joyful it is when you get to come home and see your family again. I think it's a great show. I think everything the organization is doing to put this on, it's all for the right reasons and intentions."