Raiderettes Mandy, Asha, Voz and Jennie pose for a photo with Raiders Legend Morris Bradshaw near the start line at the Oakland Marathon. Tony Gonzales.
 

The Raiders sponsored the first mile of the 26.2 marathon course and the Raiderettes, Football's Fabulous Females, and Raiders Legend Morris Bradshaw were in attendance to cheer on runners as they crossed the finish line. All runners had the opportunity to purchase a specially priced ticket package that includes being honored on the field in a pre-game ceremony prior to a 2010 Raiders home game.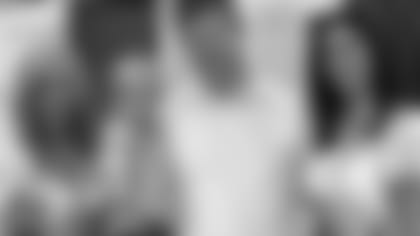 Raiderettes Lauren and Ariel pose for a photo with father and son at the Raiders booth at the Oakland Running Festival Expo. Tony Gonzales.
"The Raiders are pleased to work with the City of Oakland to support an event that highlights the City's parks and recreation facilities, helps sustain worthwhile community endeavors, and bolsters the local economy," said Amy Trask, Oakland Raiders Chief Executive.
Oakland City Councilwoman Nancy Nadel said, "The Raiders' support in Oakland goes without saying and their generosity to the running festival shows their commitment to everyone participating in sports, not just the pros."
CSE President Lee Corrigan said, "The Raiders' commitment to excellence is clearly matched by their devotion to the Oakland community. The organization's support further cements our plans to bring a first-class annual event to the city that will have long-term economic and philanthropic impact on Oakland and numerous charities."
Highlighted by the marathon, the Oakland Running Festival also consisted of a half-marathon, four-person relay, 5K, and kid's fun run. Race officials anticipated an inaugural field of 7,500 total runners.
The marathon course started at 14th and Broadway and finished at Oakland's City Hall.