The Oakland Raiders host the Chicago Bears at O.co Coliseum Friday in 2013 Preseason Week 3 action.. The Raiders, 1-1 in the preseason, will face a Bears squad coming off a 33-28 victory over the San Diego Chargers.
There will be many familiar faces on each sideline this week. Current Bears head coach Marc Trestman served as a Raiders senior assistant in 2001 and the offensive coordinator/quarterbacks coach from 2002-2003. Chicago's offensive coordinator/offensive line coach Aaron Kromer was the Raiders assistant offensive line coach in 2001 and offensive line coach from 2002-2004. Bears running backs coach, Skip Peete, worked for the Raiders for nine seasons in the same capacity. Additionally, former Raiders running back Michael Bush (2007-2011) is now second on Chicago's depth chart behind Matt Forte.
LB Nick Roach, the Raiders starting middle linebacker, was a backup to former Bears LB Brian Urlacher for six seasons. He will face his previous team for the first time Friday. "It's going to be exciting," said Roach. "A lot of those guys, a majority of those guys, are good friends of mine just because I was there for so long, so it'll be good to see them. It'll be a fun little reunion."
The third preseason game is generally the one in which the starters get the most playing time. The Bears will be a good test for the Raiders, whose first team struggled against the Saints.
"Obviously it's going to be a big challenge," said Head Coach Dennis Allen on facing Chicago. "I think they're extremely good on defense. They're very good upfront, the front seven. Their linebackers are very fast. They've played good defense for a long time. They've taken the ball away a lot, so we've got to make sure we protect the football against this team. Offensively they've got some weapons. I think Jay Cutler is a really good quarterback. Brandon Marshall obviously can win some challenges in the passing game, and they've got two backs that can really run the football. It'll be a good challenge for us, and we're ready to get out to the Coliseum and see what we can do."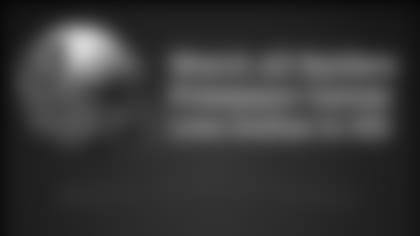 ](http://www.gopjn.com/t/R0BKRkpMSEBKTERGSEBISEtERw )

The Raiders defense will face a veteran quarterback in Cutler who has offensive weapons in the backfield with RBs Forte and Bush. "I think they have two good backs," said Coach Allen. "Matt Forte is an exceptional runner. He's good in the passing game. Then they can bring in a guy like Michael Bush and try to pound the ball. I think they've got two good runners in the backfield and it's a little bit of a change-of-pace situation with those two guys."
P Chris Kluwe faced the Bears often during his time with the Minnesota Vikings and is familiar with the type of team Chicago fields. "Offensively they're more of a running style team. Obviously they have a really good receiver in Brandon Marshall and Cutler is a pretty good quarterback, but with the weather in Chicago, traditionally they've been more ground-oriented," said Kluwe.
Marshall is one of the Bears biggest threats in the passing game. Rookie CB DJ Hayden, who will be getting his first playing time of the year, will have to contend with the receiver.  "Yeah Brandon Marshall, all these guys. I'm very excited to see DJ," said defensive coordinator Jason Tarver. "I can't say enough about the character of the young man, and he has the movement skills to play corner. Excited to see him."
The Raiders defense, particularly the defensive backs, know they can't get caught up with just the rush or pass. They will have to be aware of both. "I'm pretty sure they're going to come out and try to establish the run with Matt Forte," said S Brandian Ross. "He's the guy that makes the engine go and they give the ball to 15, Brandon Marshall. That's the go-to guy. We expect him to get a lot of targets in the game."
In order to slow down the Bears offense, the defense has been shoring up the pass rush and coverage. "Get pressure in Jay's face early and often all game and always know where 15 is," said Ross. "They like to hide him, move him around, try to give him the ball in different ways, so we just have to be alert to where he is on the field."
According to Kluwe, the Bears are known for their special teams and defense. "Very, very good special teams and defense. They've been historically known for that," said Kluwe. "Defensively just a very strong, stout defense. Should be interesting to see what happens now that [former Bears LB Brian] Urlacher is no longer there because he was kind of the heart of their defense for a long time, but they have Lance Briggs and Julius Peppers who are very, very good athletes, so it's a tough defense."
QB Matt Flynn is also familiar with Chicago's defense having played for Green Bay at the beginning of his career. "Obviously the Bears are a very good defensive football team; they have been for years. They still are," said Flynn. "I was with them, played them a lot, my first four years in the league, kind of know that they're going to be very sound. They like to do their job very well. They've got a bunch of older guys that know what to do. They've been around the block. Nothing is going to surprise them. We're going to just have to execute. We're going to have to execute our game plan and just be smart."
The wide receivers will face cornerbacks Charles Tillman and Tim Jennings. "They've got two good Pro Bowl cornerbacks," said WR Rod Streater. "They're pretty solid on defense so I'm expecting to see great defense. I just expect very good defense. They play solid coverage outside and they've got a new coach so we'll see how they respond to that."
The first-team offense struggled in the first quarter of the match-up with the Saints, but put together a productive drive that led to a touchdown in the final minute of the first half. Flynn wants his squad to come out much sharper against the Bears.
"We have to execute our plays. We can't have any mental errors. We have to sharp, be crisp," said Flynn. "We have to come out and set the tempo of the game, set the intensity, and really just try to take what they give us, be patient and make the plays when we get the opportunity."
The Raiders will have to be sharp in all three phases of the game, as the Bears are well known for their special teams, specifically return man Devin Hester. Hester has, over his career, recorded 4,068 kick return yards for 5 touchdowns and 2,985 punt return yards for 12 TDs (an NFL record).
Hester will be a challenge for punters Kluwe and Marquette King. "Hester is going to be someone we're going to have to deal with and hopefully figure out a game plan for that," said Kluwe. "It's going to be good competition."
Keeping Hester in check requires punters to do one of two things. "Generally, kick it out of bounds, but that's easier said than done, so just really give our guys a coverable punt and make sure that you limit his effectiveness as much as possible by either putting a lot of hang time on it or just putting it out of bounds," said Kluwe.
The third preseason game is the closest NFL teams get to a regular season during training camp. "[The third preseason game is] very important because a lot of decisions get made during the third preseason game because it really is the closest to actual game tempo," said Kluwe. "The coaches want to see what you can do when the lights are on when the pressure is on and it's a very important game."
"It'll be big," added Roach. "I guess it's the most involved dress rehearsal that we'll have before the real season starts, so we want to play our best, bottom line, and see what we look like."
Another preseason game is another opportunity for the players to get timing, particularly for the offense, and chemistry, for the defense, down prior to the regular season. "It's very important to see the connection between the quarterbacks and receivers and see the offensive linemen pick up the blocks and just get that time in," said Streater. "Go out there and play three quarters and just get used to playing the game."
The players are excited to take the Coliseum field in front of Raider Nation again. "That's my home," said Streater. "I love playing there. It's always fun."