WR Rod Streater shaves the head of Harlem, a young cancer survivor, during the St. Baldrick's Foundation event. Photo by Tony Gonzales
Oakland Raiders WR Rod Streater participated in a St. Baldrick's Foundation event at Children's Hospital & Research Center Oakland. The foundation helps raise awareness and raise funds for childhood cancer research. Streater acted as a celebrity barber, shaving the heads of participants who wanted to act in solidarity with kids who lose their hair during the fight against their disease.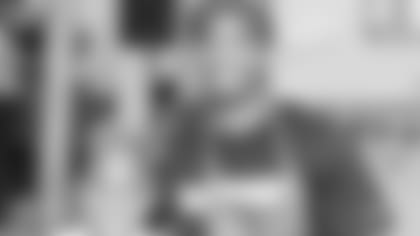 WR Rod Streater and Harlem, a St. Baldrick's Foundation ambassador.
Photo by Tony Gonzales
"They're shaving their heads not only to show solidarity with kids affected by cancer, but also to raise money for childhood cancer research," explained Traci Shirk, Media & PR Manager for St. Baldrick's Foundation.  "This event has been around since 2008 and so we have nearly 200 shavees of all ages, men, women, and children, shaving their heads and they've raised over $130,000 so far."
Streater is frequently giving back to the community and wanted to be a part of the event in Oakland. "It's a wonderful event," said Streater. "We're raising money for St. Baldrick's Foundation and we're shaving heads to raise money for the children. It's a great event and I'm glad to be here."
Cancer research has a special meaning for the Raiders third-year wide receiver.  "My mother is currently fighting cancer - she has breast cancer - and she's beating it right now," Streater shared. "I have a lot of family members, my grandma and uncle, who fought cancer, so it really means a lot to me to come out here and give back and help support fighting cancer."
Streater was actively involved in the event as a barber, shaving Carlo Padula's head, a second-year St. Baldrick's participant. "This is the second time I've shaved my head," said Padula. "I did it last year and I think it's just a little thing to stay close to these kids that are struggling and fighting with illness."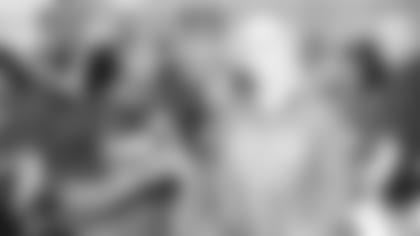 WR Rod Streater shaves heads to stand in solidarity with children losing their hair during cancer treatments. Photo by Tony Gonzales
The wide receiver also shaved Harlem Clemons' head, who was diagnosed with cancer at the age of five and is now a cancer survivor. He is also one of five St. Baldrick's ambassadors. Harlem was very excited to see Streater, who is his football player of choice in his video games, and plans to tell all his friends that the Oakland Raider was his barber.
Having Streater take part in the St. Baldrick's event meant a lot to the hospital, the foundation, and the participants. "It's truly an honor. St. Baldrick's Foundation has been around since 2000, but we're still trying to raise awareness," said Shirk. "To have celebrities out here like the Oakland Raiders supporting, we're honored to have them to help us raise awareness for childhood cancer research. A lot of people don't like to think about children having cancer, so to have that recognition, we're grateful for that."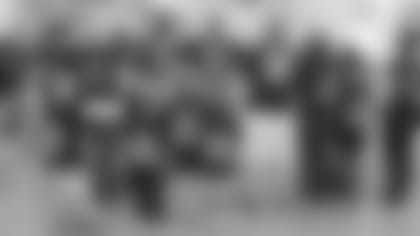 WR Rod Streater and his team - The Dome Squad - during the event. Photo by Tony Gonzales
Streater always takes his community work seriously and acting as a barber for this event was no exception. "The opportunity came up and I decided to jump on it," he said. "It's something special to me, always giving back to the children's hospitals."