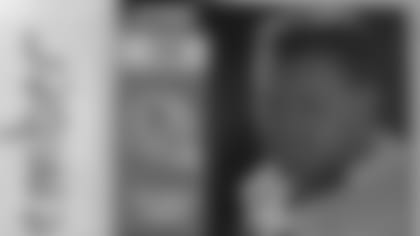 The card September Litz found under her windshield wipers in Florida.
On a rainy day in Palm Coast, Fla., I pulled into the Walmart parking lot and the car in front of me was a black Dodge Neon (the same car and color I had when I moved to Florida). On the front license plate, I noticed it read "#1 Raider Fan." Ecstatic to find another rare Raider fanatic in this tiny Florida town, I took one of my business cards and wrote on the back - "Raiders Rock! Just Win Baby! Love your plate!" and stuck it under the windshield wiper of the car.

As I was walking away (much to my daughter's horror at my unspeakably embarrasing act), I noticed the owners of the vehicle approaching, so we hastily entered the Walmart.

Upon returning to our car, it was raining and I had to use the wipers. It wasn't until we were home unloading our groceries that my daughter excitedly yelled for me to come out to the car. There, under my wiper, was a 1998 Howie Long NFL card, which somehow survived the rain and wipers and went unoticed by us until we got home.

As I have never been to a Raider game, but have been a huge fan for over 35 years, and topping my bucket list is a trip to the "Black Hole" one day, this was a special fan-to-fan moment for me. I promptly took a photo of the card and posted the story to my Facebook.
---
Submit a story that describes your favorite moment as a Raiders fan. The experience can be anything from witnessing a Raiders win in overtime at the Coliseum to watching a come-from-behind victory on TV to meeting a Raiders Legend or current player. Every Tuesday the Raiders will select a story to post as a feature article on Raiders.com.
Email your story and a photo to feedback@raiders.com with the subject line "Tell Us Your Story." Please include your name and current city in the body of the email. Stories should be no more than 750 words.