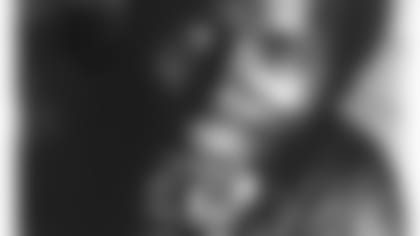 Bill's wife, Trina, has Lester Hayes sign a photo at an autograph session.
One of my favorite experiences as a Raider fan happened when I wasn't even there. I've been a Raider fan since the early 70's and have seen a lot of great players over the years, many of whom belong in the Hall of Fame, but aren't. One such player is Lester Hayes.

About 15 years ago, I was at work and got a call from my wife, Trina, on her cell phone. She had just dropped the kids off at school and gone to the grocery store. She wanted me to know that a former Raider was signing autographs for a charity there. I asked who it was, and to show me how hip to the Raiders she was, she said, "Chester the Molester." When I stopped laughing, I heard laughing in the background. I asked if she meant, "Lester the Molester," and she answered, "That must be what he said."

He was so nice. He asked to talk to me, so my wife handed him her phone. She had admired his Super Bowl ring, so he let her try it on while he talked to me. He asked me about some of the other Raiders I had met, so I mentioned several members of the Super Bowl XI team. We got to Kenny Stabler, and I mentioned that I remembered the interception Hayes had against The Snake in the 1980 Wild Card Game against the Houston Oilers. He seemed genuinely surprised that I would remember it, and he acted pretty proud of it, as he should.

He spent about 15 minutes with me on the phone. My wife, not a football fan, became an instant fan of Lester Hayes. After she got her phone back (and gave him his ring back) she bought several signed items from him, and he even waited for her to run home and get my team plaques from Super Bowl XV and XVIII for him to sign.  Then he signed a photo to her, "Trina, A Very Nice Lady."

In those days, we didn't get to know the players like we do now. Last year I watched a documentary on NFL Network that featured Lester Hayes and talked about the stuttering problem that he worked so hard to overcome. I had no idea. I asked my wife if she remembered any stuttering when she met him. Neither of us did, which shows what a dedicated and motivated person he is off the field as well as on. And, no, there was no Stickum on the ring.
---
Check back every Tuesday to see if your story was selected by Raiders.com.