Week 13: Raiders vs. Chargers - Know Before You Go
⚠️ Traffic & Transportation Advisory
It is highly recommended to arrive at least 3 hours before kickoff.
W Hacienda Bridge will be open for fans to safely walk across from the Las Vegas Strip.
Click below to learn more about Directions & Parking.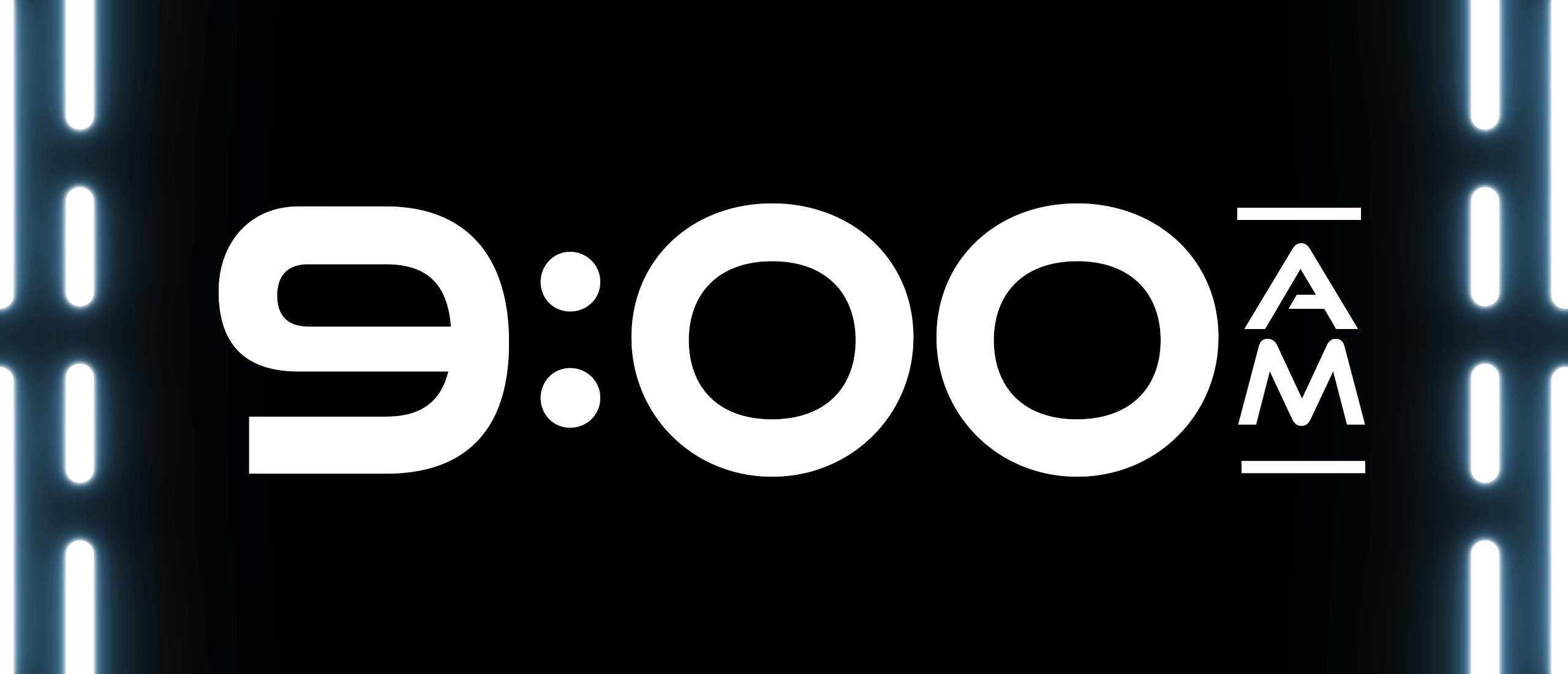 Parking Lots Open
(Lining up more than 1 hour prior to parking lot opening is prohibited)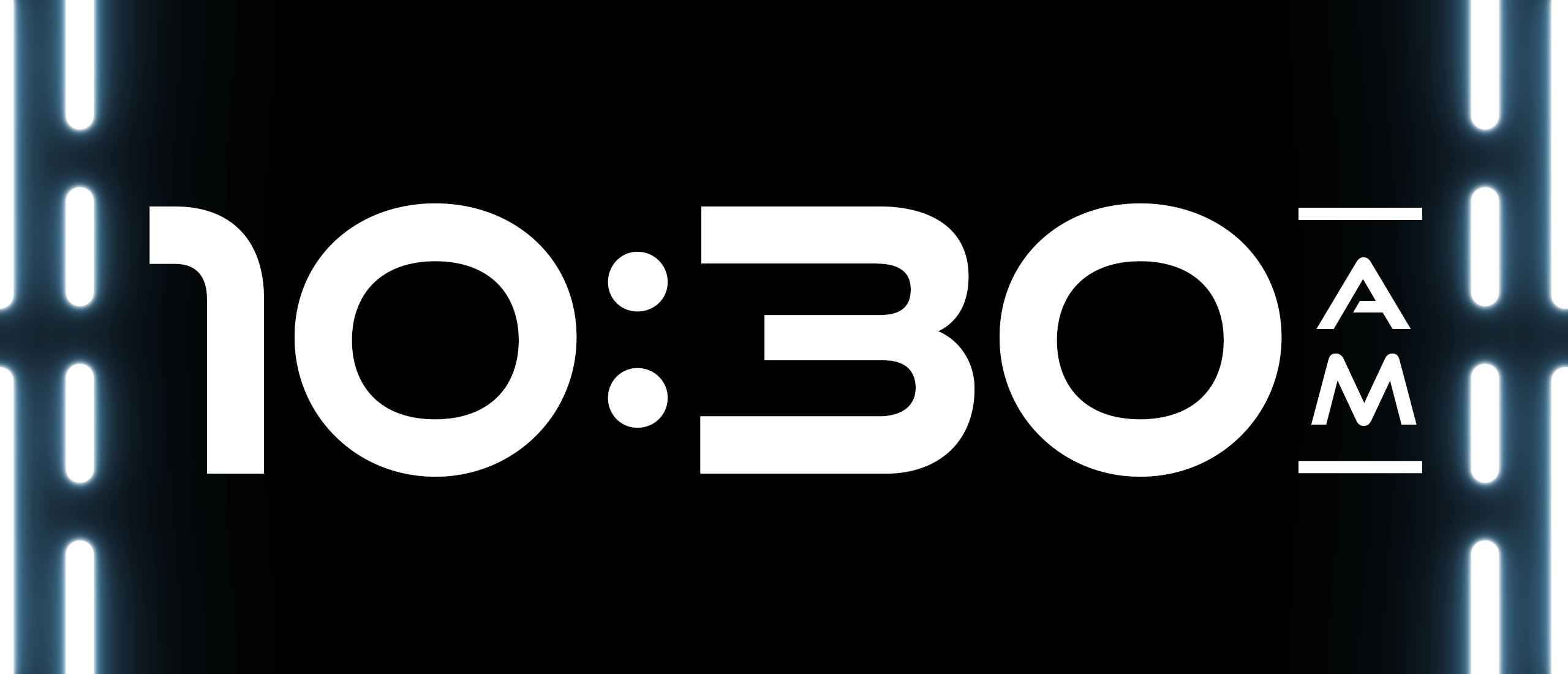 MGM & Caesars VIP Entrances Open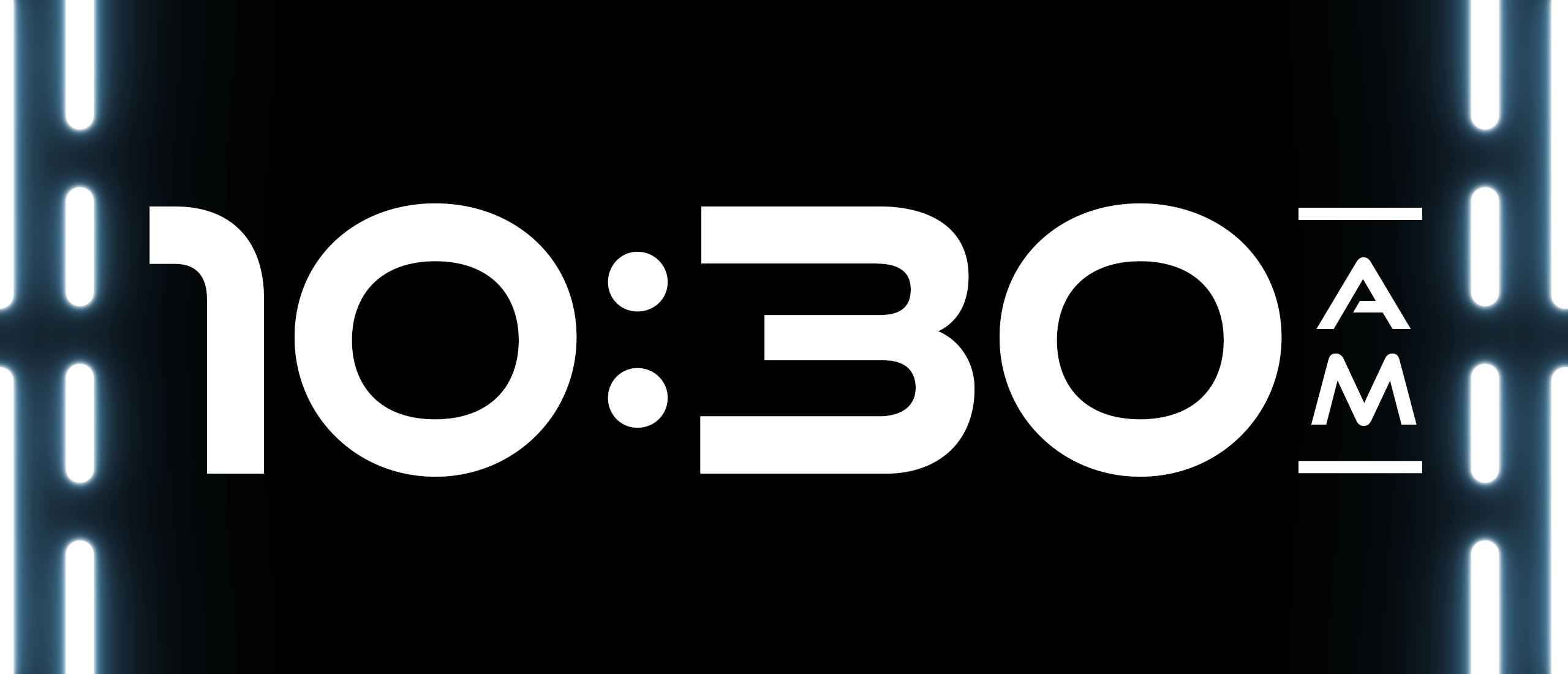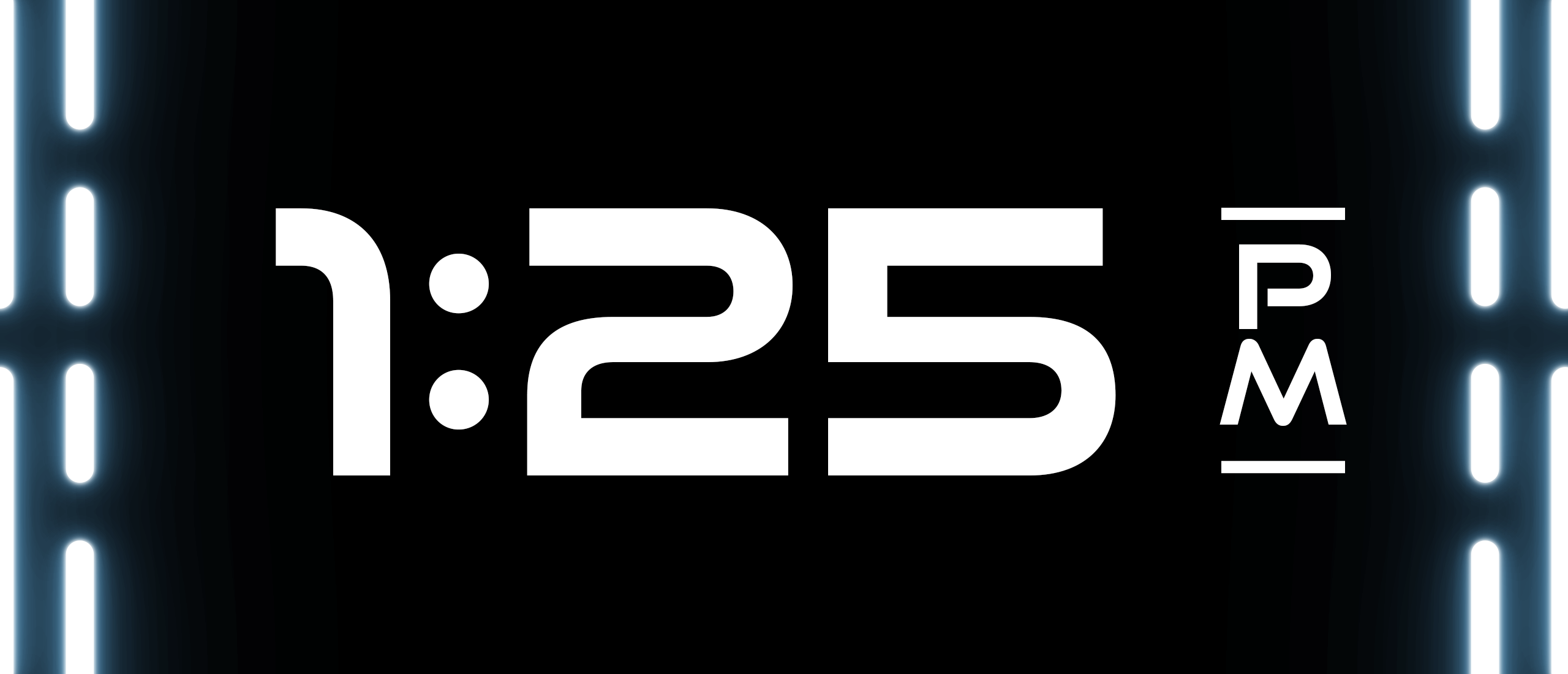 Alcohol Sales End in GA Areas
Clubs Close
Alcohol Sales End in VIP Areas/Clubs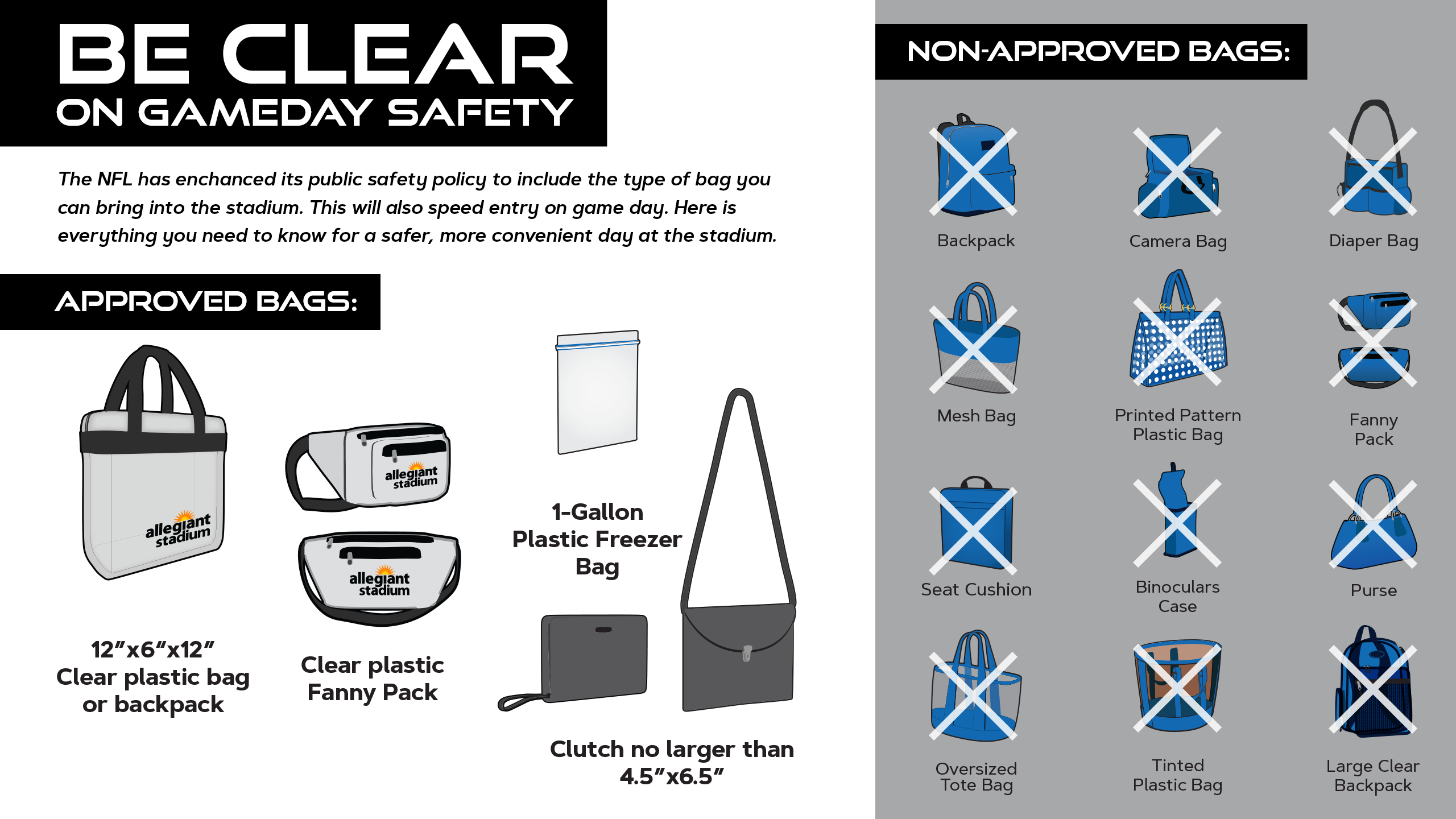 Bags must be clear plastic, vinyl or PVC and must not exceed 12" x 6" x 12"
Small clutch bags, 4.5" x 6.5" x 2" can be taken into the stadium with one of the approved clear bags
Shop your verified Raiders clear bag in time for the next home game. Should you have a non-approved bag, we highly recommend knowing where the bag check locations are prior to arriving at Allegiant Stadium.

REMEMBER YOUR PHONE IS YOUR TICKET: Make sure your phone is fully charged before heading to the stadium & add your tickets to your mobile wallet in the app via Manage My Tickets. Select the 'Sign In to Raiders' button. Read the Mobile Ticketing Guide for helpful instructions.
Unable to attend a game? You can donate your tickets to deserving individuals who would otherwise be unable to attend a game. Learn more about Ticket Donations here.
CLEAR ENTRY LANES: The Las Vegas Raiders are partnering with CLEAR to help fans get into the action faster at Allegiant Stadium — for free! Fans can download the free CLEAR app, sign up, and enter through the designated CLEAR Entry at Lanes 49 and 50. Download the free CLEAR app.
HOUSE DEALS:
Try some of our top-selling gameday items for $3.00! Visit any of the locations below:
House Deals Menu Items
Hot Dog $3.00
Pretzel $3.00
Chips and Cheese $3.00
Fountain Soda $3.00
Small Peanuts $3.00
Small Popcorn $3.00
Available at the following Locations
Section 140 - Slice House
Section 230 - Slice House
Section 308 - Slice House
Section 204 - Gridiron
Section 246 - Gridiron
Section 325 - Gridiron
Section 340 - Gridiron

Everything you need to know about Gameday from A to Z.
PURCHASE PARKING: We recommend booking convenient and affordable parking in advance through SpotHero, the nation's leading parking reservations app. To reserve your parking spot, visit the Allegiant Stadium SpotHero Parking Page. *Parking provided and operated by MGM Resorts International and sold through Park Mobile is not sold or operated by the Las Vegas Raiders or Allegiant Stadium.
DRIVING/TAILGATING: In order to plan ahead, we recommend finding your Parking Lot in our Directions to Parking Lots page and reviewing the best routes to get there. You will be directed to the next available parking space upon entering the lot. Please keep in mind if you would like to tailgate next to another party, you will need to line up and enter the lot at the same time.
PUBLIC TRANSPORTATION: The Regional Transportation Commission of Southern Nevada (RTC) is bringing back the Game Day Express this sports season, providing direct service from six convenient locations to Allegiant Stadium for Las Vegas Raiders games. For additional information please visit RTC's Game Day Express page.
UBER/RIDESHARE: The Uber/Rideshare drop-off and pick-up zone is conveniently located within a short walking distance of the Stadium and can be accessed via the front half of Lot N on Dean Martin Drive (5285 Dean Martin Dr). Traffic will be directed southbound on Dean Martin Dr. Allegiant Stadium has also worked with Mandalay Bay and Luxor to provide additional rideshare at their resorts. These resorts can be accessed by walking over the Hacienda Avenue bridge, which will be closed to vehicular traffic before and after large events.
Be sure to access the Las Vegas Raiders A-Z Guide for answers to all your Gameday questions.

Allegiant Stadium is a cashless venue. Guests can pay for items using valid debit or credit cards, or mobile wallets including Apple Pay, Google Pay, or Samsung Pay. Cash will not be accepted as a form of payment at any parking, retail, or concession locations within Allegiant Stadium.
Guests may convert their cash to a debit card by using one of the Cash to Card kiosks located throughout the stadium. Any remaining balance on the debit card can be used at locations where debit payments are accepted.

Be sure to stop by the Raider Image Team Store located at Allegiant Stadium! The store is located at the north entrance of the stadium. Gameday store hours are below.
Gameday Store Hours for Fans Attending the Game
10:30 AM to 1-hour post-game for fans in attendance
CLOSED to the general public
Phone Number: (725) 780-2000 ext. 5
FEATURED THIS WEEK: 25% Off Select Styles

Support the Raiders Foundation on gameday with the 50/50 Raffle!
The gross proceeds of 50/50 tickets sold at each game go into a prize pool – 50% is awarded to the winner of a random draw and the remaining 50% is donated to the Raiders Foundation.
Raffle tickets can be purchased from a 50/50 Raffle seller at Raiders home games. Raffle sellers will be located throughout Allegiant Stadium at convenient locations and will be wearing neon green aprons with the 50/50 logo.
The winning number is announced during the 4th quarter. You can also visit Raiders.com/5050 to view the winning ticket or for additional information.
*Anyone that is 18 years or older and is present at a Raiders home game at Allegiant Stadium is eligible to participate in the Raiders Foundation 50/50 Raffle.

Allegiant Stadium features a state-of-the-art, high-density WiFi system that allows guests to quickly connect to the internet. This service, officially named Allegiant Stadium WiFi by Cox, is free to all guests.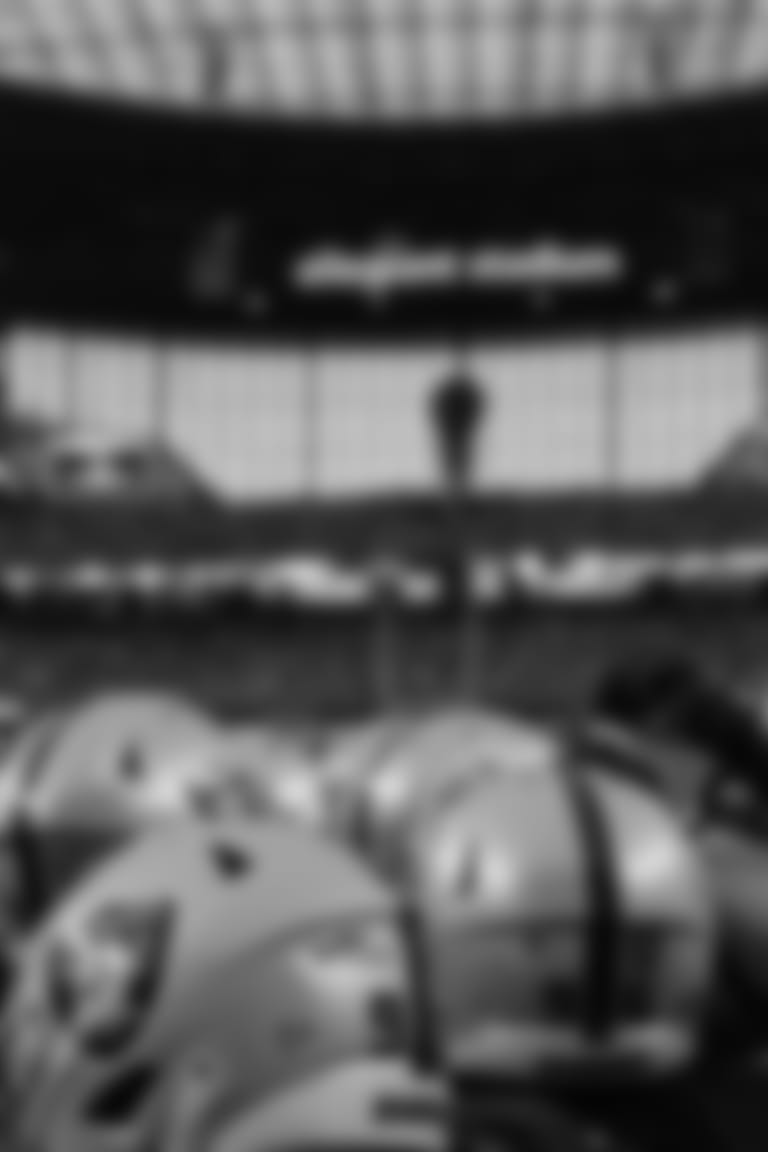 Download The App
Never miss out on gameday scores, highlights, livestreams and more with the Las Vegas Raiders official app.