That's the advice Andre James would give to anyone fighting cancer. That's the advice he took from watching his father, Marcus James, battle testicular cancer – even when it wasn't the easiest thing to do at the time.
"I think positivity is bigger than everything. I remember the day they told him he's only got two months to live. And that was probably a year and a half before he passed away and I just feel that's evidence of his approach of handling it," James said about his father. "He attacked it with a mindset of 'I'm going to do this and there's nothing else you can tell me, I'm going to do it for my family'
James' father introduced him to the game of football and had a huge influence on him while growing up in Herriman, Utah. His father's cancer diagnosis in 2017 fueled his performance on the field as well. He was implemented into the UCLA starting lineup at right tackle in 2016 after Kolton Miller was injured. James made the most out of his opportunity and went on to start in his 26th straight game as a Bruin on October 13, 2018, helping earn 37-7 victory over the University of California.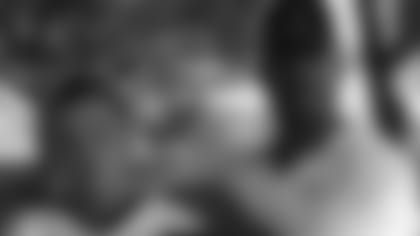 After the win, he received permission from UCLA's coaching staff to return home to Utah to surprise his father for his birthday two days later. It would be the last time he saw him.
"He had no idea I was coming in which is cool. Got to see him, spend some time with him. Everything was going good, then like a couple of hours of me being there, he just got real confused," James said. "He wasn't sure where he was at and by this time the tumors in his head – his whole head was pretty swollen, it was pretty inflamed. So he had confusion and was losing his balance. So he went to the bathroom, fell down and had some seizures. After the seizures, we got him some medication and he stopped with the seizures.
"My whole family happened to be there too. I had my grandparents, my brother and sister there. With how bad the whole situation was, having everyone be there it was just like, 'What are the odds?' I lived in LA at the time, my grandparents are originally from Ohio and they lived in Ohio. So just the fact that they were there and they had the chance to see him before he passed was awesome."
Marcus James passed away on October 15 – his birthday. He was 41 years old.
With a heavy heart, Andre returned to UCLA to start at left tackle against the University of Arizona three days later. Needless to say, "it was tough" on him to get through the game. But his father's spirit is what pushed him through.
"I was able to stay [in Utah] and put him to rest, so I didn't get back to campus until Friday night, and we played on Saturday. I took the mindset of 'what would he want me to do?' Would he want me to stay here and mourn him or would we want me to go out and play the game he taught me, that he loved?
"I got the whole family to come down and that was huge having them all there. I just thought that's what he would've wanted to be done."
Andre James, despite having limited preparation for the game, aided the UCLA Bruins to a 31-30 victory over the Wildcats.
"I lost my dad a year and half ago, so I understand where he is, but he wanted to play," UCLA Head Coach Chip Kelly told UCLA's student-run publication at the time. "He said it was important for him to play, so we all rallied around him and actually gave him the game ball after the game."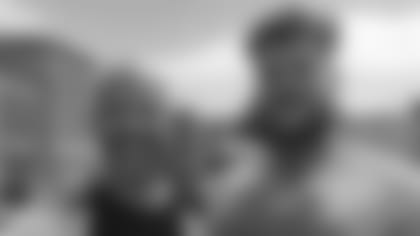 Sunday's game against the Chicago Bears will be the Raiders' Critical Catch game, promoting the NFL's mission to fight cancer through early detection and risk reduction. The game also coincides with the closing in of the three year mark of Marcus' passing. Before Sunday's matchup, James will go through his ritual before kickoff for every game since he lost his father – by reading old text message exchanges between them.
"I still have his phone, so I'm always going through our messages," he said. "I still have videos of him – because once he got cancer, I realized we didn't really have any pictures together, which I noticed and started to try and collect everything I could've. So those text messages before a game at UCLA, I still read those because I feel they hold prevalence for me going into a game now of what he might say. It gives me energy going into that week."
James has overcome a lot since entering the NFL. After going undrafted out of UCLA, and never playing a snap at center in college, he'll be starting in his fifth game this season at the position. When things have not gone his way on or off the field, he recalls the emotional distress of seeing what his father had to endure, and how he was able to still have an uplifting outlook through some of the darkest days.
"I remember coming in and seeing him after his second brain surgery and it was gnarly. Second brain surgery they took out two tumors, and to see him with a smile on his face, it was crazy," James said. "If you can be positive through that – I look at it that life is not as serious as it really is. We take stuff for granted. If he can be positive through that, there's nothing I can't do. He didn't let the cancer dictate the way he was going to live his life. He was going to chose to look at things in a positive way.
"I feel personally that's how you beat cancer. If you choose to live your life like you want to and be positive about it, then you'll never lose to cancer. He beat cancer by his positivity and his mindset of how he attacked it everyday."