Michael Blazic stands in front of his Raiders Cave near Chicago, IL. Photo courtesy of Blazic

Michael Blazic has lived in the Chicago area his entire life, but has been a Raiders fan since he was a kid. Blazic is such a big Raiders fan that he built a "Raiders Cave" to accommodate his Raiders gear and memorabilia and have a special place to watch Raiders games on television. This year, Blazic won honorable mention in DirecTV's Ultimate Displaced Fan Contest, in which he showed the world his Raiders Cave in a short video and explained why he was the ultimate displaced fan.
According to the Ultimate Displaced Fan Contest, the ultimate displaced NFL fan is "a fan who lives away from his or her favorite NFL team's hometown and goes to great lengths to evidence commitment and dedication to his or her NFL team." Blazic was judged on his fan dedication and loyalty and the creativity of his entry.
"I became aware of this contest three seasons ago," explained Blazic. "The first year and second I didn't really get a mention whatsoever so this is my first year where I've actually won a prize. Every year my video changed. The first year I didn't have the Raiders Cave. In fact, part of my motivation for building the Raiders Cave somewhat centered around this contest and then, of course, my love for the Raiders."
Blazic's Raiders Cave is filled with flags, photos, plaques, and anything else one could think of in Silver and Black. "I have some autographed Fred Biletnikoff flags, footballs, helmets, things of that nature. I also have a James Lofton autographed one," said Blazic. "Some of it I've had for quite some time. I keep adding; the walls are pretty much full now. I put a touch here and there. I continue to try to improve."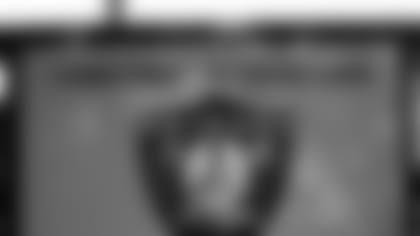 The side of Blazic's Raiders Cave. Photo courtesy of Blazic
The Raiders Cave is used primarily to watch Raiders games with friends and family on DirecTV's NFL Sunday Ticket, which Blazic has been doing for years. "I was one of the first people to get that back in the mid-90s so I could watch Raiders game," said Blazic about Sunday Ticket. "Back in those days, DirecTV for Sunday Ticket was like $69 for the package. It's gone up quite a bit through the years but I've stayed loyal to DirecTV and of course my Raiders."
Blazic's love for the Raiders started at an early age despite growing up in Chicago Bears territory. "Back in the '60s, when I was a little boy, my dad was a big sports fan. So of course he was a Bears fan and back in the '60s the Bears played more like the Bad News Bears," said Blazic. "So I guess as most kids, I was looking to back a winner, probably about the age of 8. That's when I started becoming aware of the Raiders and the whole Silver and Black. The Mad Bomber is probably what got me; Daryle Lamonica is what got my attention. They were a winning team and I knew about the Heidi Bowl and that year the Raiders won that game, but, unfortunately, they lost to the Jets in the playoffs and the Jets wound up going to the Super Bowl to play the Colts in Super Bowl III. I was just a little guy, but I was savvy enough to get a $5 bet with my dad and he was of course backing the Colts and I thought any team that could beat the Raiders, being the Jets, could beat the Colts. I took them and I won the bet and from then on [I was a Raiders fan]."
Since that time, Blazic has become a devout Raiders fan and has traveled to Oakland or an away game once a year as often as he can. Last season, Blazic made the trip to Miami in Week 13. Even though the Raiders fell short, Blazic was excited about the Raiders fans in attendance. "You should have seen the parking lot – how many Raiders fans were at Gate 2 tailgating," said Blazic. "It was amazing."
As much as he enjoys traveling to away games, Blazic feels the most comfortable surrounded by Raiders fans at O.co Coliseum. "When I go to Oakland, I feel like I'm home," said Blazic. "When I walk out there you probably see my spiked shoulder pads and everything and people want to take pictures with me and it's just like, this is where I belong."