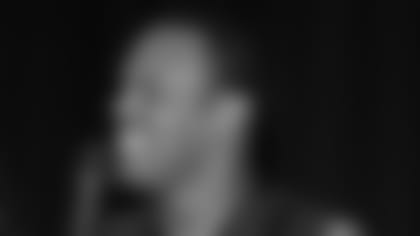 RB Rock Cartwright speaks with students.
Photo by Tony Gonzales
Tuesday, RB Rock Cartwright led a discussion at Tobacco and Drug Free Day at Oakland High School in Oakland, Calif. The event was held by the Oakland Unified School District's (OUSD) Alcohol, Tobacco, and Other Drugs (ATOD) Prevention Program, which helps inspire teens to succeed in school and stay away from drugs and alcohol.
According to the ATOD Prevention Program website, the program is designed to incorporate fun events and creative interactive ways for teens to learn the consequences of ATOD and provide alternatives to such activities. They have designed curriculums for teachers, activities for students, and built a successful after school program. These programs focus on providing awareness by visiting different schools in the OUSD with motivational speakers.
Cartwright spoke in front of 300 students at Oakland High, but did so following a heartfelt tribute to late Raiders Owner Al Davis. The tribute consisted of an Al Davis highlight reel and showed the students the inspirational postgame speech by Head Coach Hue Jackson after Sunday's emotional win.
After the video, a student panel gave an introduction to welcome Cartwright, who answered the student panel's questions. The nine-year NFL veteran reflected on his academic journey leading up to the NFL and the challenges he faced as a student. Cartwright told the students about his test anxiety in his school career and he attended multiple tutors in order to get passed the SATs. The Oakland High School's football team was in attendance at the assembly and they asked Cartwright questions about his experiences within the NFL and if he faced any challenges with regards to drugs and alcohol.
Cartwright highlighted the assembly discussion with a very important message. "Take care of your business in the classroom. I know a lot of guys in there; and football players who want to make it to the NFL," said Cartwright. "I told them just as much as you want to be great on the field why don't you be great in the classroom."
The students proceeded to ask a range of questions regarding Cartwright's motivation to stay away from drugs and alcohol and what he wanted to do after the NFL. Cartwright explained the importance of earning a college degree -- football doesn't last forever, but education does.
A handful of students won a special raffle put on by the program and received the opportunity to take pictures and receive an autograph from Cartwright. Those students, and all the students who participated in the discussion, left the auditorium with great messages about the importance of school.
Robert Dousa, the program specialist for the ATOD Prevention Program, expressed his appreciation for the successful event. "We wanted to thank the Oakland Raiders organization for a stellar contribution to our youth today," said Dousa. "It was a wonderful event."
"I said some positive things," said Cartwright. "If I can at least reach one person, I am satisfied."