LB Aaron Curry and S Mike Mitchell pose for photos with fans at the Food and Fund Drive. Photo by Tony Gonzales

Oakland Raiders LB Aaron Curry and SS Mike Mitchell teamed up with the Alameda County Community Food Bank (ACCFB) to raise food and funds. In exchange for a donation of 20 cans or $20, the two veterans signed autographs and posed for photos at the Raider Image at Hegenberger in Oakland. "We're doing a good deed," said Mitchell. "We're for the Alameda County Food Bank. Me and AC, we're here at the Raider Image having a great time."
Working with the ACCFB had special importance for Curry and was one of the many reasons he chose to work with the organization. "Well the idea is to be able to raise food and money for the Alameda County Food Bank," explained Curry. "And it's special to me because when I was growing up, when we didn't have any food, we used the food bank. I realize how important they are to the community so we just came up with this great idea that we could raise food and money for the community of Alameda and Oakland so that people can eat when they're starving."
Michael Altfest, communications manager for the ACCFB, explained the impact Curry is making coming forward about using a food bank when he was a child. "The fact that a player is willing to come forward and talk about the issues that their family had faced back when they were younger, that does a lot for us, a lot for the community," said Altfest. "It's nothing to be ashamed of. There are a lot of people who face these struggles and the best thing anybody can do is come forward and we're here to help."
Raising awareness for the issue of hunger is an important mission for the ACCFB. "It's amazing how when you tell somebody that [one in six people face hunger], they'll count around the table and realize that, 'wow, somebody I know is struggling with hunger.' And the fact is that it's happening in every community throughout the county. Most people have a neighbor that's struggling with hunger and they just don't know about it. There's no single face of hunger. There's no race; there's no age; there's no employment status. It's difficult to live in the Bay Area, so we have people who are employed, people who have families, seniors living on fixed incomes, children, it's a problem that a lot of people face."
Curry wanted to share his idea with one of his teammates to help him make a difference. "Mitchy was one of the first people I approached because I knew that this type of stuff is right down his alley," said Curry. "He's a great guy and he's one of the guys that I kind of attached to since I've been here. As soon as I asked him whether he'd do it or not, he was like, 'yes, I'm there,' right away. This is before he even checked his schedule or anything so I'm just excited that he's here with me."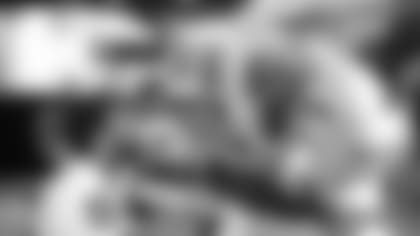 Raiders fan, Ricardo Cano, and his sister, donate to ACCFB and get autographs from the players. Photo by Tony Gonzales
Mitchell was happy to be involved in the event and work with Curry. "Great guy," said Mitchell about Curry. "Been hanging out with him a lot. He's a good dude. He just approached me one day, had a good idea, and I said, 'hey, I'm with that. Let's do that.' And he pulled his strings, used his connects, and we were able to get it done."
ACCFB was thrilled to have the players offer to help. "It's awesome having Raiders players come support us," said Altfest. "The Raiders have been such tremendous partners of our work. Hunger is a very prevalent problem in our community. But not enough people know about the issue in our community, so to have players like Aaron and Mike come here and raise awareness for us, it's awesome."
Raiderettes Marcy and Brandi were also on hand to help collect donations for the ACCFB. "I think it's important for the Raiderettes to get involved because the Oakland community does so much for the Raiders and it's just important for the Raiders give back," said Marcy. "So I'm really excited to be here because I get to give my time for a good cause."
Fans stood in line early to get the opportunity to meet the Raiderettes and the two Raiders players. Ricardo Cano was excited to meet Curry and Mitchell, but also to have a chance to give back. "[I came out for] two reasons, we like giving - our mom always told us it's good to look out for others, and also to meet our favorite players. It was a wonderful experience."
That line meant food and funds for the ACCFB and a fun time for the Raiders defenders. "We're really excited. I love doing this," said Mitchell.
"I know the Raider Nation is serious about their Raiders," said Curry about the fan support during his event. "I know that they love us, and I know that any opportunity they get to meet us and chat with us, they're going to take full advantage of it."
Curry hoped to help people the way that others helped him when he was a kid. "Definitely when you receive a gift of food growing up, it's going to feel great when you're on the other side of it and you're able to give back and you're able to be the one to initiate something that's going to put food on somebody's table," said Curry. "I don't know who it is but they're going to be grateful and hopefully one day that turns them to do something good for somebody else."