LB Quentin Groves takes his turn playing video games against the fans. Photo by Tony Gonzales.

Recently, Oakland Raiders LB Quentin Groves hosted a video game tournament in Walnut Creek, Calif., to help raise money for his foundation, Quest for Greatness and Motivating, Inspiring, Supporting, and Serving Sexually Exploited Youth (MISSSEY). Members of the community entered into the tournament for a donation and played video games against Raiders players and other tournament participants.
"It's about helping people," said Groves. "My first ever gaming tournament. It's about helping MISSSEY organization. It's an organization that tries to put an end to sex trafficking. They say it's big in Oakland so we've come together with my foundation Quest for Greatness, which helps underprivileged kids excelling in athletics and academics. It's just something to get the fans out and play against the NFL players as well as us getting to interact with them."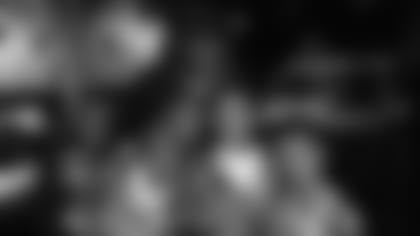 LB Quentin Groves takes a photo with some of the Oakland Dynamites youth football team. Photo by Tony Gonzales.
Nola Brantley, cofounder and executive director of MISSSEY, was grateful to have Groves support the organization. "It's exciting that we had the opportunity to partner with him," said Brantley. "It's exciting that he has the insight to partner with a community organization. He's already trying to raise money to do positive things in the community. I think it's awesome and we really appreciate that."
The MISSSEY organization offers services to sexually exploited youth in the Bay Area. "We offer what we call grassroots community based services," said Brantley. "Any client we serve that has an emergency need we meet it within 24 hours. Any client that has a basic need, we meet it within a week because we don't expect that they should be expected to heal and recover when they're still struggling to survive and meet their very basic needs."
Brantley and her coworkers at MISSSEY strive to create a healthy family atmosphere for their clients in order to be the support system they have not had at home. "Even though a lot of them are in group homes and foster care homes, just because they're in a home and off the streets doesn't mean they have a family that loves them so we try to make as much of a family out of the program as we can," explained Brantley.
Through the tourament, Groves wanted to raise money for the important work of MISSSEY. He brought together Raiders fans, gamers, and some of his teammates to create a fun atmosphere to raise awareness and funds for a great cause. Raiders LBs Bruce Davis and Kamerion Wimbley came by to support Groves, his foundation, and MISSSEY.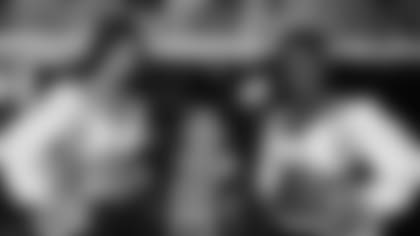 Raiderettes Mallorie and Latoya pose for a photo with a young fan. Photo by Tony Gonzales
"I'm out here supporting one of my friends on the team Quentin Groves' great video thing he's having out here for the kids and the community," said Wimbley. "It's just great to show up and see all the fans come out and support him."
The Raiderettes also stopped by to visit with the fans and support Quest for Greatness and MISSSEY. "We are very active in the community and it's important for us to give back to the community and work as a team," said Raiderette Latoya. "We are a team so just seeing the kids and a lot of supporters come out and support this wonderful cause, it just shows that the community really sees and cares about our youth."
The participants in the gaming tournament were excited to have the opportunity to mingle with the Raiders, while also giving back to the community. "Weirdest experience of my life -- playing Madden and having Kamerion Wimbley stand behind me as I'm playing him on the game," said Raider fan Quenton Canales. "It was totally nuts."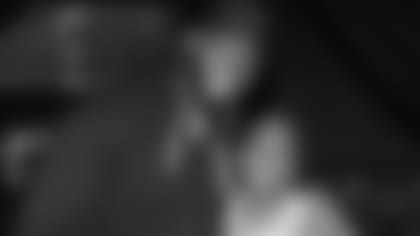 LB Quentin Groves congratulates the winner of the Call of Duty video game bracket. Photo by Tony Gonzales.
This was Groves first gaming tournament, but not his first event around the holidays. "I always do something around this time, whether it be a toy drive, a gift exchange or something like that," said Groves. "I always do something like that so I thought it's time to try a gaming tournament."
The winners from the tournament won two tickets to the Raiders game vs. the Colts, a limo ride, and dinner with Groves.
Groves enjoyed interacting with the fans and playing video games, but his biggest goal was helping the MISSSEY organization and his foundation. "That's the biggest thing is being able to be a blessing to these people," Groves said.