Marshawn Lynch gets a lot of credit for his contributions on the football field, but his impact in the community can't be emphasized enough. The Oakland Raiders running back has been a fixture in his Oakland community for years, and his passion for giving back to his hometown has always been a priority.
Earlier this month, December 6 to be exact, Lynch was nominated as the Raiders' Walter Payton NFL Man of the Year nominee. Considered one of the League's most prestigious honors, the Walter Payton NFL Man of the Year Award presented by Nationwide recognizes an NFL player for outstanding community service activities off the field, as well as excellence on the field.
"We are proud to nominate Marshawn Lynch for the Walter Payton Man of the Year Award," said Raiders Owner Mark Davis. "Marshawn's impact on the field is easy to see. But it is off the field where he really makes a difference. While others may talk the talk, Marshawn walks the walk."
Lynch formed his Fam1st Family Foundation in 2006, with the sole purpose of giving back to the community that helped raise him. Earlier this season, he hosted 25 kids for a trip to London to watch the Raiders play the Seattle Seahawks at Wembley Stadium. His foundation also sponsored a concert to increase voter participation where attendees must be registered to vote to attend. Lynch also fulfilled a child's "wish" through the Make-A-Wish Foundation.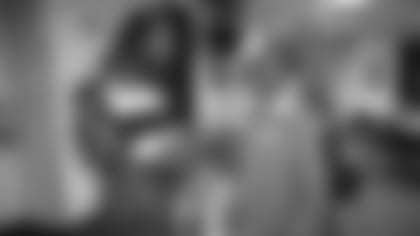 Lynch's foundation has also played an important role in the lives of some of his teammates.
"He's a real people person man, real down to earth guy," fellow running back DeAndré Washington said. "He has a giving spirit, he likes to help others; whether that's on the field, off the field, even if it's with us and just getting reps, sometimes he'll come out the game just so we can get reps, so that really shows his character. It kind of translates off the field too, he's always looking out to try and offer more of than kind of take. That's the biggest thing I've noticed about him in the two years I've been with him. He's just a real down to earth guy, he's a real giving guy. You'd think a guy like him with as much as he's accomplished in this league, as much as he's got in the bank, he could be selfish and focus on him, but he's always giving back to try and help Oakland, his community, and I heard he was the same way in Seattle so I'm not surprised."
New this year, all 32 team winners will be highlighted as finalists and recognized for their important work during the weekend leading up to Super Bowl LIII. The 2018 Walter Payton NFL Man of the Year will be announced during NFL Honors, a two-hour primetime awards special to air nationally on February 2, the eve of Super Bowl LIII, on CBS. NFL Honors will be at Fox Theatre in Atlanta.