Raiders WR Louis Murphy address students at Martin Luther King Middle School in Berkeley, Calif. Photo by Allan Yuan.
Tuesday, Oakland Raiders WR Louis Murphy gave an inspirational speech to the eighth grade class of Martin Luther King Middle School in Berkeley, Calif. The assembly was organized by East Bay United and the Berkeley Police Department to promote education and non-violence. The goal of the assembly was to motivate the students to continue to make good decisions as they progress to the next stage in their lives - high school.
East Bay United is a non-profit organization that helps inspire kids to make good choices and become involved in the community. The Raiders and East Bay United continue to grow a strong relationship through community events like this. The goal of East Bay United is to get students involved in sports and other extracurricular activities to prevent violent or gang activity. Martin Luther King Middle School has been striving to get its students motivated to succeed and understand the importance of education.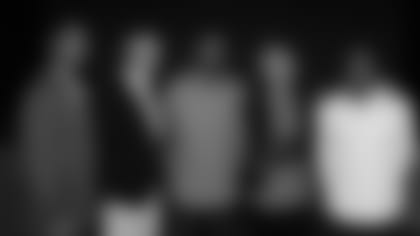 Raiders WR Louis Murphy poses for a photo with school and East Bay United administrators. Photo by Allan Yuan.
Murphy comes from a similar background and has had a similar journey as many of the students who attended the event. He grew up in an urban neighborhood and was faced by many challenges that could've stopped him from obtaining his goal of playing in the NFL. Murphy spoke to the 8th grade class from the heart as he told students about his encounters with violence and friends who were involved in gang activity.
Murphy emphasized how important it is for students to be successful in school and to be inspired by their teachers and elders. He even told the students he remembers his favorite teachers and to this present day continues to thank them for their words and lessons of encouragement.  He went over some main points such as faith, attitude, determination, and most of all family.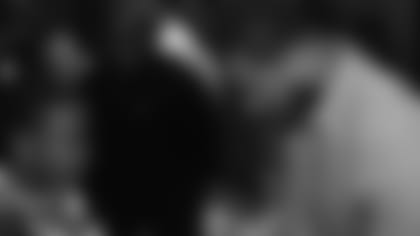 Raiders WR Louis Murphy signs autographs for students. Photo by Allan Yuan.
In his speech, Murphy told the students about appreciating what they have and striving for success. He told the story of losing his mother when he was 21 as she passed away in his arms after battling breast and pancreatic cancer. The students listened as Murphy talked about not only succeeding for yourself, but for those who constantly show you support. As a leader of a Florida Gators BCS National Championship team, Murphy discussed after the event how important community service is to him. "In college we did a lot for the community," Murphy said. "I really want to be a part of this community. I just felt the urge to come out here after seeing a lot of things going on in Oakland."
Murphy even brought his own signed jerseys and footballs to those students who received educational recognition for their hard work in school, and stayed after to make sure to take pictures with the students.
"It's important to me because I want them to know that Raider Nation supports the community. They back us and it's an honor and a privilege to play in the NFL," said Murphy.  "I want to give them some motivation and inspiration to continue to do the right things and be successful. "
Duff Reiter, the executive director of East Bay United, was impressed with the messages Murphy sent to the Martin Luther King eighth grade class, "It's just remarkable how closely he mirrors what our mission is which is to really reach out to people before they get into any type of trouble." Reiter also commented on the student's response to Murphy's speech, "Clearly he had a bond with the kids which you could see right away. We couldn't be more pleased with what he did today."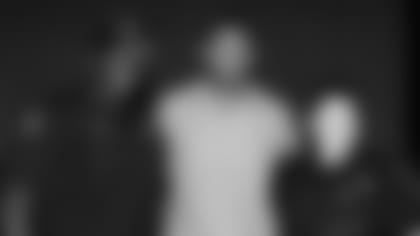 Raiders WR Louis Murphy poses for a photo with representatives from the Berkeley Police Department. Photo by Allan Yuan.
It was a powerful and motivating event; Principal Janet Levenson received a soft spot in Murphy's heart as she is currently battling breast cancer. Murphy was inclined to give her his game day jersey and his promise for support if she needed anything. Although she was touched by Murphy's support she was ecstatic about his powerful words to her students. "It was very inspirational he hit all the good messages about staying focused and making good choices and not getting involved in the mess that their peers may lead them to," Levenson said. "I think it's really important for the kids to see a role model and for them to see that they can make it and it all happens from good choices."
Murphy made the audience proud to be a part of the Raider Nation as his powerful message and heartfelt story inspired everyone who attended. "I just want to be a positive influence," said Murphy, "A positive influence to the community and the kids and hopefully we can change one person's heart and motivate one person to do the right thing."