NFL and Teams Participate in Annual NFL-United Way Hometown Huddle Day of Service
NFL and United Way Team With USA TODAY Sports Media Group For Vote on Favorite PSAs of Past 40 Years Using USA TODAY's Ad Meter **
The 2013 NFL season marks the 40th anniversary of the NFL-United Way partnership. In recognition of this milestone, the NFL and United Way are teaming with USA TODAY SPORTS Media Group to host a nationwide vote to identify the best NFL-United Way public service ads (PSA) of the past 40 years.
Since the partnership's inception in 1973, more than 800 NFL players, coaches and club executives have appeared in NFL-United Way ads. The NFL's 40-year relationship with United Way is the longest-running partnership between a sports league and nonprofit organization.
Powered by USA TODAY Ad Meter, the top 40 ads will be revealed by the decade over a four-week period. Fans can rate each ad on a scale of 1 to 10 (10 being the best) at nflunitedway40.usatoday.com. Voting begins TODAY, coinciding with the 15th annual NFL-United Way Hometown Huddle league-wide day of service, and concludes on November 19. The top 10 will be featured on NFL.com and the winner announced on December 15.
"We are proud of the NFL's 40-year association with United Way," said NFL Commissioner ROGER GOODELL."The memorable NFL-United Way messages have highlighted the importance of serving our communities through the leadership of our players and clubs. This year's campaign features current and former NFL players encouraging young people to continue to stay fit, maintain healthy lifestyles and contribute to their communities."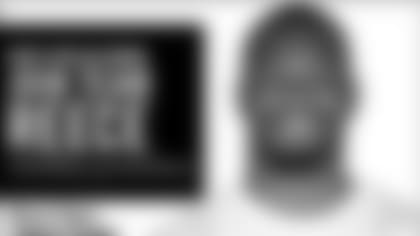 ](http://www.unitedway.org/team-nfl/players/marcel-reece/)
Commissioner Goodell will join Pro Football Hall of Famer FRANCO HARRISand former Giants player AMANI TOOMERtoday to kick off the 40th anniversary festivities by participating in the 15th annual NFL-United Way Hometown Huddle league-wide day of service. They will attend the NFL office's Hometown Huddle event in New York. Both Harris and Toomer participated in NFL-United Way PSAs. Harris appeared in the first year of the campaign and Toomer was featured in 2003.
"USA TODAY Sports is ecstatic to expand our relationship with the NFL and United Way and be a part of their 40th Anniversary Celebration. We are also excited to activate our Ad Meter platform so fans can vote on the greatest NFL-United Way PSAs from the past 40 years," said USA TODAY Sports Media Group Senior Vice President of Sports Marketing and Partnerships, MERRILL SQUIRES.
From building fitness zones and playgrounds to hosting youth football clinics, Hometown Huddle events encourage kids to stay active for 60 minutes a day as part of NFL PLAY 60, the league's youth health and wellness campaign. The NFL-United Way partnership connects NFL PLAY 60 with United Way's 2018 goal to get 1.9 million more young people healthy and active.
"For 40 years, the NFL and United Way have strived to create opportunity for our youth to reach their full potential," said STACEY D. STEWART, U.S. President of United Way Worldwide. "Whether it's encouraging young people to get active or recruiting NFL fans as tutors, NFL players are making a difference in their communities. We are grateful for their efforts and leadership, and look forward to another 40 years of working together."
NFL coaches, players, and executives from across the league, along with NFL employees, will participate in local Hometown Huddle events.
Since 2011, NFL players have joined United Way TEAM NFL, a special volunteer group committed to helping United Way recruit one million volunteer readers, tutors and mentors. Comprised of college-educated, civic-minded NFL players from teams across the league, United Way TEAM NFL ambassadors participate in community events, each with the goal of recruiting 3,000 volunteers.
United Way TEAM NFL members, including Oakland Raiders fullback MARCEL REECE,Cleveland Browns linebacker JABAAL SHEARD, Kansas City Chiefs linebacker DERRICK JOHNSON, Pittsburgh Steelers defensive end CAMERON HEYWARD and Washington Redskins wide receiver JOSHUA MORGAN, will participate in their team's Hometown Huddle event.