Raiderettes Tori and Jen hold up the Play 60 Challenge material. Photo by Tony Gonzales

Recently, the Oakland Raiders hosted an NFL Play 60 football camp as part of the NFL Play 60 Challenge, in conjunction with the American Heart Association (AHA), at Claremont Middle School in Oakland, Calif. The 6th-graders participated in various football drills, while being cheered on by Raiderettes Chanel, Jen, Noriko and Tori.
According to www.heart.org, "Childhood obesity rates are at an all-time high: today, nearly one in three kids and teens in the United States are obese or overweight. We know that physical activity produces overall physical, psychological and social benefits, and that inactive children are likely to become inactive adults. That's why the National Football League and the American Heart Association have teamed up to create the NFL PLAY 60 Challenge, a program that inspires kids to get the recommended 60 minutes of physical activity a day in school and at home." 
The AHA wants to help improve children's health. "In our efforts to help our kids move ahead in life, we've forgotten that success begins with our health first. Period," said Laura Putnam, volunteer spokesperson for AHA. "We cannot expect our kids to do well if we haven't helped them to develop healthy habits, like getting 60 minutes of physical activity a day. This starts with bringing back a daily fitness-based PE [physical education], teaching our kids how to play again, bringing movement into the classroom and providing resources for kids to stay active after school."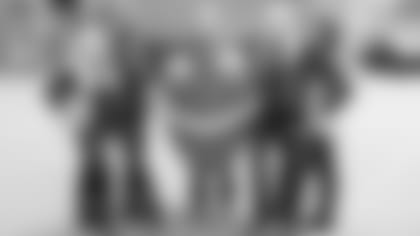 Raiderettes Jen, Tori, Chanel and Noriko with Jonathan Cardoza from the American Heart Association. Photo by Tony Gonzales
Claremont Middle School's physical education teacher, Keziah Moss, was thrilled to have the Play 60 Challenge at her school. "It's huge," said Moss. "These are all kids from Oakland and the Oakland Raiders are an enormous presence on this campus. To have the Raiders encourage them to be active supports what I'm trying to do as a PE teacher all the time, which is to tell them it doesn't take much to be active, but it will help their overall fitness. It's fantastic."
The AHA hopes the Play 60 Challenge will motivate students to start exercising daily. "This is an Oakland Raiders NFL Play 60 Challenge field day and we're here to really celebrate the NFL Play 60 Challenge, which is a joint program of the American Heart Association and the Oakland Raiders, to remind everybody that kids really need to be physically active for 60 minutes a day," explained Julie Kaufmann, Senior Director of Community Health for AHA in San Francisco. "For most kids, that's about 30 minutes at school in PE or playing with your friends at lunch time, walking around the playground, and about 30 minutes at home. It doesn't have to be all at once, it can be broken up 10 minutes here, 10 minutes there. There's so many ways to be active; there's something for everyone."
The Raiderettes were on hand to cheer the students on as they participated in the football drills. "I think [coming out to an event in Oakland] is very important because there are a lot of things that are going on," said Raiderette Tori. "I feel like it brings the kid joy to come to school and do things like this because they know somebody is coming that day and that they should do things right. We're there to tell them, 'you should do your work, you should do things right.' We're here to help them and they look up to us."
The students were excited to have the Raiderettes cheer them on and worked a little harder during the drills. "They were super excited," said Raiderette Tori. "Then you see when they go through the obstacle course they actually try their hardest to do their best at it, so it's always a good thing when we're there to cheer them on."
"When we move, we get healthier, happier and we even get smarter," said Putnam. 
The Raiders and AHA hope the NFL Play 60 Challenge will be an opportunity for more kids to maintain that physically active lifestyle.