LB Sio Moore puts a huge smile on one of the kid's faces. Photo by Tony Gonzales

The Oakland Raiders hosted a two-day NFL Play 60 Character Camp at their Alameda headquarters. Sixteen players participated Saturday and former LB Sam Williams and four Raiderettes spent time with the kids Sunday. QB Matt Flynn, WRs Rod Streater and Greg Jenkins, FB Jamize Olawale, offensive linemen Tony Bergstrom and Jason Foster, defensive linemen Vance Walker and David Bass, LBs Sio Moore, Kaelin Burnett, Eric Harper and Billy Boyko, CBs DJ Hayden, Chance Casey, and Mitchell White, and S Shelton Johnson worked with the kids on football skills and passed on messages of teamwork, hard work and leadership.
According to NFL Communications, "The NFL has partnered with Hall of Fame **offensive tackle Anthony Muñoz and the Muñoz Agency for the second year to host NFL PLAY 60 Character Camps this summer as part of the NFL's year-round Hispanic outreach initiative, focused on offering youth opportunities to play and experience the game of football."
Anthony Muñoz's son, Michael Muñoz, was on hand to help orchestrate the Character Camp at the Raiders facility. "We have about 300 kids out, ages 9-13, for three hours and just teaching about the game of football, teaching them about character and teamwork and what it means to be a positive influence in the community," said Muñoz. "We have great participation from the Oakland Raiders and this is the first camp to kick off the summer of 14 camps across the country for NFL club teams."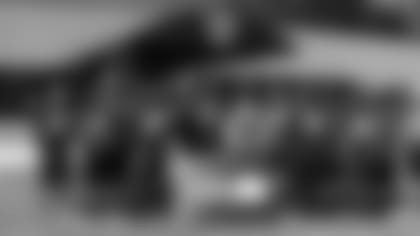 A large group of Raiders players participated in the NFL Play 60 Character Camp. Photo by Tony Gonzales
The mission of the camp, as stated by NFL Communications, is to "make a positive impact on youth through teaching football skills, emphasizing exercise, and reinforcing the importance of character in athletics and life."
The 16 Raiders players on Day 1, and Williams and the Raiderettes on Day 2, helped fulfill the camp's mission. "There are a lot of kids from the community out here trying to learn the game of football, learning a little bit about character," said Flynn. "We're just out here having fun with them trying to teach them some lessons about the game and trying to pass on a little bit of what we know."
Moore, the Raiders 2013 third round draft pick, focused on teamwork with his group of kids. "It's really just about teamwork and understanding what you have to do to work as a unit to get something done," said Moore. "Biggest thing I emphasized to my group is just doing things the right way. My message is to do the things the right way, whether it's in football, whatever you're doing in your life, try to do things the right way because if you cut corners, eventually that corner is going to come back and cut you."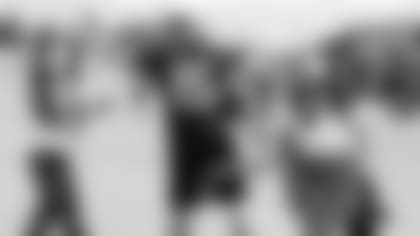 QB Matt Flynn gives one of his young teammates a high five after a nice play. Photo by Tony Gonzales
All of the players, both veterans and rookies, were excited to spend their Saturday morning with the kids. They could see the excitement from all the camp participants when they walked onto the field. "It's been extremely exciting," said Flynn. "The kids have been high energy all over the place, a lot of smiles, a lot of kids having fun just playing football. We're just trying to get out here and say hi to as many kids as we can and interact with them and try to teach them a couple fundamentals."
The kids' excitement got Moore pumped up. "You forget what it's like to be a little kid," said Moore. "You've got so much energy. You're so excited to see an NFL player. It's a very humbling moment because it makes you appreciate it."
The Raiders are committed to the community and the large group of athletes Saturday made that commitment apparent. "Just to get out there and try to give back a little bit to the community," said Flynn. "This is something that I think we all take a little bit of pride in doing because I think we've all been in these kids' shoes. We've all been in this position of looking up to players in the NFL, looking up to college players, or whoever it was when we were children and we're just trying to pass that on a little bit."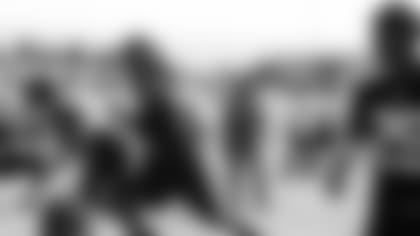 CB DJ Hayden, WR Greg Jenkins and S Shelton Johnson get involved in an intense game of dodgeball with the kids. Photo by Tony Gonzales
The Play 60 Character Camp also showed the character of this year's Raiders squad. "We had a big turnout," said Flynn. "It's good to have that kind of participation and that kind of excitement from guys on the team to come out here on a Saturday on their weekend off, come back to the facility, and give back a little bit."
"It shows a lot about the character of the guys," added Walker. "We can do a lot of different things but we'd rather be out here with these young guys and help them get better as far as life is concerned."
Streater was motivated by the number of his teammates who chose to participate. "It just brings us closer together," said Streater. "It means a lot just to see the team out here doing good things and it's a great feeling to see them all participate in this."
The number of Raiders participating allowed each group and each child to interact with an NFL player.  "It's amazing," said Muñoz. "We went to six clubs last year and we had various levels of engagement and this is by far the most club involvement that we've had. It's great to see the players out interacting with the kids because they're always more responsive when you have current guys out telling them about their experiences and what it means to truly have teamwork and impact a community."
The 16 athletes wanted to make a difference for the kids in the local community. "It's about the kids," said Moore. "The kids are the future, the same way at one point I was a little kid and I was told I was going to be the future. It's the same thing happening. You always want to give to other people. Life is about giving because, at the end of the day, when I'm gone, it's not going to be about anything but the legacy that I leave and the impact I have on other people to carry on."