Safeties Michael Huff and Tyvon Branch make burritos for teammates S Stevie Brown, CB Walter McFadden and CB Jeremy Ware. Photo by Tony Gonzales.
Recently, The Oakland Raiders and Chipotle teamed up for a Raider Fan Appreciation Night in Alameda, Calif. Safeties Michael Huff and Tyvon Branch were on hand to make burritos and sign autographs for hundreds of fans. The first 75 fans in Raiders gear received a free ticket to the Raiders home game versus the Denver Broncos this Sunday.
Raider fans started lining up early in the morning for the opportunity to meet Branch and Huff. "It was crazy," said Chipotle Marketing Consultant Ashley Head. "People were here at 6:00 a.m. Some people drove from LA. By 8:00 a.m. we had a line of 30 people here and we gave away 75 tickets to the first 75 fans in Raider gear that showed up. By 1:00 P.M. there was over 150 people here and I'm guessing there's been 600 people here throughout the day."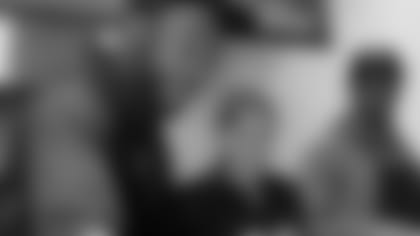 Safeties Michael Huff and Tyvon Branch make their own burritos at Chipotle. Photo by Tony Gonzales.
As the line continued to grow, Huff and Branch arrived, donned aprons and gloves, and perfected the art of Chipotle burrito making. Both safeties consider Chipotle their favorite restaurant and eat there frequently, but neither had made their own Chipotle burrito before. "It was tough," said Huff about his first burrito-making experience. "It was a lot harder [than I thought]. They make it look real easy. They do it real fast. I tried to put a lot of meat in there but then I couldn't fold it so there's definitely a technique for doing it."
Hosting the fan appreciation event at Chipotle was perfect for Huff and Branch. "This is my favorite place to eat," said Huff. "It's on the way home. Every day from practice me and Ty will do Chipotle, get a nice burrito to fill me up and go home and take a nap."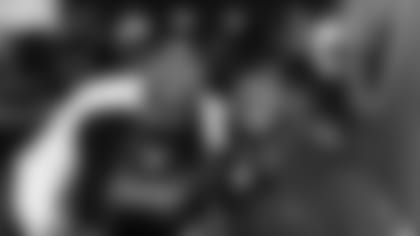 S Michael Huff poses for a photo with Delano Greer, a Raider fan who traveled from Mississippi to enjoy a week filled with Raiders events. Photo by Tony Gonzales.
Branch agreed with Huff. "We're at Chipotle, my favorite spot to eat, signing autographs, taking pictures with the fans," said Branch. "It's a great event, killing two birds with one stone – get my favorite food and see my favorite fans, so it's a great event for us."
The Chipotle staff valued the fact that the two Raiders safeties love Chipotle. "That's the best part of it all," said Head. "When they got here Michael and Ty were just totally down to make a burrito real quick for themselves and I mean it's great to have players here that like what we do. That was really exciting for us."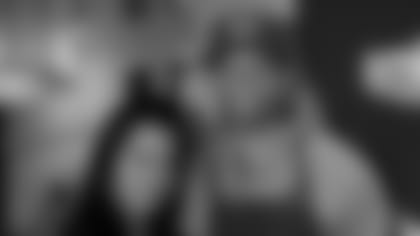 S Tyvon Branch poses for a photo with Raider fans. Photo by Tony Gonzales.
After Huff and Branch settled in with their burritos, fans met and received autographs from the two players. The fans were decked out from head-to-toe in Raiders gear and showed their enthusiasm for the team. "We got here about 12:30," said Raider fan Donald Bransas. "We heard about it through Facebook. I've been waiting to meet Huff forever. Huff is one of my favorite players so I just couldn't wait. Finally!"
Branch appreciated the dedication the fans showed by attending the event. "It's crazy that the fans waited out there that long," said Branch. "It's raining. It shows their dedication to us and we dedicate ourselves to the game and it's good to see that the fans dedicate themselves to us. It's great that they waited out there for us, it makes us feel so special and it's an honor."
The Raiders Fan Appreciation Night at Chipotle was a success as hundreds of Raider fans showed their Raiders spirit and met the players. Huff and Branch were excited to have the opportunity to show their fan appreciation in their favorite restaurant. "It feels good especially being at my favorite restaurant in Alameda," said Huff. "The Raider fans waiting out in the rain to see us, it's special. Really just supporting us and showing how much they care about us, regards of what the record is. The Raider fans are the best fans in the world, they're always going to support you."