**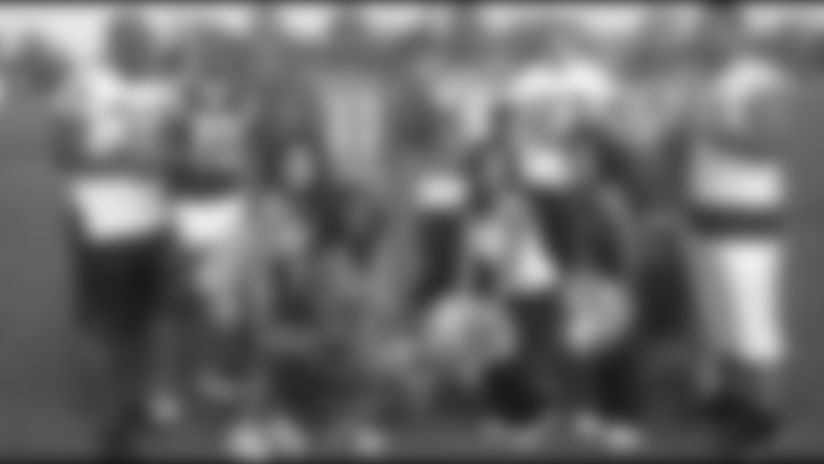 2009 Pro Bowl Youth Clinic players and cheerleaders, including Raiderette Liz and former Raiders FB Zack Crockett, pose for a photo. - *Courtesy of Raiderette Liz*
Each year during Pro Bowl Week, the NFL, the Hawaii Tourism Authority, current and former NFL players, including former Raiders FB Zack Crockett, and select NFL cheerleaders, hold Youth Clinics throughout the Hawaiian islands. This year, veteran Raiderette Liz represented the Raiders and Football's Fabulous Females - the Raiderettes. Liz chronicled her experiences...
Aloha Raider Nation! This is Raiderette Liz here, coming to you from beautiful Hawaii!  Recently, I had the exciting opportunity to represent The Oakland Raiders and participate in the 2009 NFL Pro Bowl Youth Clinics.  The Youth Clinics were started about seven years ago by the NFL, Hawaii Tourism Authority, and former Miami Dolphins WR Nat Moore, as a way to bring the NFL/Pro Bowl experience to boys and girls on the outer islands of Hawaii.  This week I am joined by Johanna from the San Francisco Gold Rush, Romi from the Denver Broncos, and Crystal from the Miami Dolphins.  I am so excited to meet and work with other NFL cheerleaders! We were also joined by current and retired NFL players from around the league.  The Raiders' own former FB Zack Crockett was with us and has been participating in the clinics since they began.
Hilo:
We visited the island of Hilo.  Hilo is part of the Big Island of Hawaii.  The Raiderettes actually visit Kona, the other side of the Big Island, every year for our swimsuit calendar photo shoot at the Hilton Waikoloa.  When we landed in Hilo I was so surprised to see how different this side of the island was from Kona.  Kona is dry, hot, and has so much lava rock that it looks like you're landing on the moon! In contrast, Hilo is lush, green, and very wet. Having never visited Hawaii this time of year I quickly had to get used to the humidity and pouring rain of Hilo.
Since there are so many of us, each day the cheerleaders and football players took turns visiting schools to speak with students in the morning.  In the afternoon our groups combined to hold the youth clinics.  Today I was in the first group to do a school visit along with Romi and Nat Moore, Fred McCrary , and Vince Manuwai.  I was both excited to meet the students and nervous since I didn't know what to expect.  The nerves all went away though when Romi and I made our entrance into Waiakeawaena Elementary's gymnasium.  I heard one student yell, "there they are." and all of sudden the crowd of students, K-5th grade, erupted in cheering, screaming, and applause.  It was such an awesome experience!  We took turns introducing ourselves and Vince was the big hit since he is a native Hawaiian.  Nat spoke to the students about bullying, helping others, listening, and doing homework.  We then held a Q&A session.  At the end Romi and I performed a routine together…a nerve-wracking experience since we only had one rehearsal together the night before.  All in all, it went very well.
In the afternoon,  we met up with the rest of our group at Keaau High School.  Since it was still pouring rain we had to move the clinics indoors.  I was amazed that we were able to transform the gym into about five football drill stations and a section for our cheerleaders.  I led the group in learning a dance and I quickly found that our dance moves from the mainland made the kids giggly. 
My favorite part of the day: a fan asked for a picture with Romi and I at the airport…instead of saying "cheese" he said "Go Raiders, Go Broncos" as the camera flashed.  We all laughed! That was the first and probably last time we'd ever hear that phrase.
**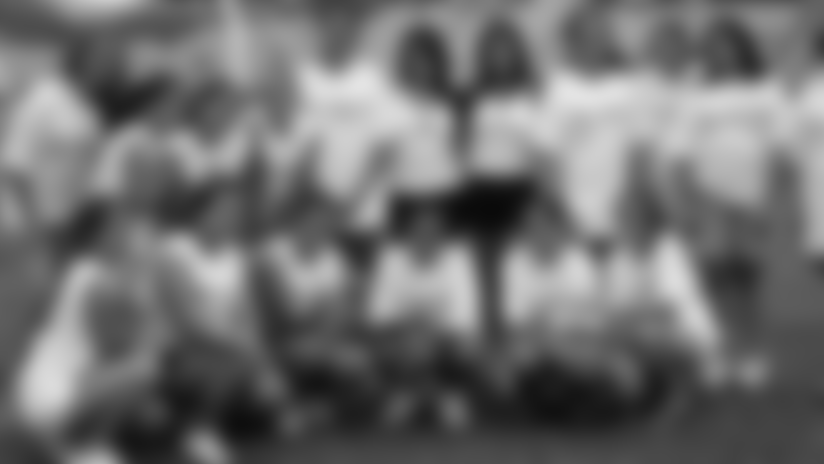 Raiderette Liz and San Francisco Gold Rush member Johanna pose for a photo with participants at the Kona Youth Clinic. - *Courtesy of Raiderette Liz*
Kona:
Today we visited the other side of the Big Island, Kona.  I was not scheduled for school visits in the morning which was kind of nice since I was wiped out and losing my voice from the day before.  Thankfully it was not raining in Kona so the cheerleaders had a lot more space to teach in smaller groups at Kealakahe Stadium.  Representing the Bay Area, Johanna and I teamed up and took turns leading our group through three cheers and a dance routine.  We didn't tell Crystal and Romi but we challenged our group to cheer louder than their group.I think we won!
Today was especially rewarding because within our group we had about 10 girls who cheered together for their high school.  They were so eager to learn and perform with us.  One particular dance move gave them the giggles too though, so now I know for sure it was the dance move that was silly-looking and not me.  After the clinic three of the girls - an incoming freshman, junior, and graduating senior, came up to us to talk.  I was so touched on how appreciative they were for our visit and how eager they were to learn more about what it takes to become a professional NFL cheerleader.  These girls were genuinely interested.  I shared with them that I had only started dancing in college and never cheered before.  The conversation then switched to college: where to go, classes to take, etc.  Words can't describe how great it felt to realize in that moment that we were inspiring these girls to go to college and pursue their passion.  I love being a Raiderette!
**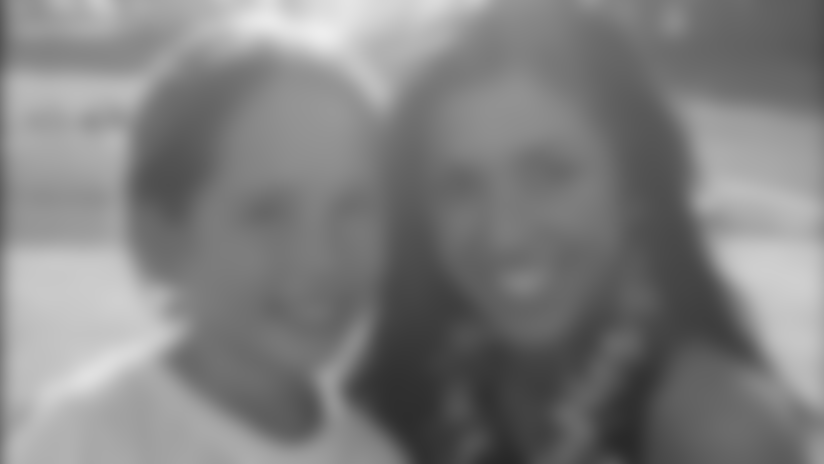 Raiderette Liz poses for a photo with a Kauai Youth Clinic participant. -**
Kauai:
Today, Johanna and I traveled ahead to Kauai along with Nat Moore, Fred McCrary, and Cleo Lemon.  Kauai is another lush, green island, known for its waterfalls.  We had some time to spare before our school visits so our guides took us to see a nearby waterfall (WOW!).  The strangest thing about Kauai is that it is populated by wild chickens.  They roam the roadsides freely and it was funny to hear roosters crowing somewhere amongst the palm trees.
Since we had two schools visits to make before our afternoon clinic our group split up.  Fred and I traveled to the far (and hot) end of Kauai to visit Waimea Canyon Middle School.  There we were first interviewed by students from the school media department.  I was interviewed by a student who said her dad was a die-hard Raider fan - that's right, "RAIIDERRS!"  After our interviews we were introduced by the school's student council members at an assembly for students grades 7-8th.  The Principal emphasized that it was an optional assembly during what seemed to be a break time so I was amazed that there were so many students there to hear us speak.  Our focus was "follow your dreams" so I used the opportunity to share my experience of growing up in a small town, not having the financial resources to dance when I was younger, putting myself through college, and ultimately beginning to dance in college.  The students seemed to connect to this idea of overcoming obstacles so I was happy to share what I could.  We also took some time to pose for pictures, sign autographs, and recap our message with a reporter from the local news station.
Later we met up with the rest of our group to teach clinics at Vidinha Stadium.  By now I've learned that Nat is a little biased when he introduces Zack and I as representing The Oakland Raiders.  Regardless I cheer my hardest!  It's all in good fun though - he always tells the kids its because he's still mad Miami could never beat Oakland back when he played.
**
Raiderette Liz and her teammates for a week from around the NFL pose for a photo with participants at the Oahu clinic. - *Courtesy of Raiderette Liz*
Oahu/Pro Bowl:
I have to admit, the NFL gave us some downtime to enjoy Oahu, partake in Pro Bowl festivities, and of course, go to the Pro Bowl.  Perfect timing too because all week it has been humid and cloudy.  Now hot, humid, and sunny, we managed to get some sun at the beach, poolside, and of course do some damage shopping at the fabulous stores Honolulu has to offer.  I'm wondering how I'm supposed to re-pack when it's time to fly home.  On Saturday the NFL hosted a youth clinic in Honolulu at Kapiolani Park which we participated in.  This was especially fun because like our Junior Raiderette program, we had quite an age range of girls to work with.  Plus, the park was packed with fans! It's always fun to spot the Raider jerseys.  Later we attended the Pro Bowl Block Party in hopes of seeing our Pro Bowl cheerleaders perform. Unfortunately Serrita was not in the group we spotted.
Gameday:
I am so thankful for the opportunity to go to the Pro Bowl.  Today was so much fun!  Crystal, Johanna, Romi, and I got up extra early because we didn't want to miss a minute of seeing our girls perform.  We made it to the official NFL tailgate party where we watched the AFC and NFC cheerleaders perform.  Serrita was awesome and represented the Raiderettes 110 percent!  We had great seats at the game but even better, we made our way to sit with my other Raiderette sisters Angel and April who also went to the Pro Bowl for vacation.  Our section had a good-sized group of Raider fans too so we were loud when P Shane Lechler and CB Nnamdi Asomugha were introduced for the AFC team.  Angel, April, and I were especially loud the whole game for Serrita.  She showed the NFL why the Raiderettes are Football's Fabulous Females today.  She looked absolutely beautiful and gave up an amazing performance the whole game.  I don't know how though - we were melting in the Hawaii sun today.  I've never been so proud of my sister, I wanted to cry!
Molokai/Lanai/Maui:
Today was an especially busy day for our group.  We had one group that had to leave for the airport at 4 a.m. to visit Molokai and another at 5:30 a.m. to visit Lanai.  We were all meeting in the afternoon for clinics on Maui.  I was in the group scheduled to meet later at Maui.  Although the other groups had to get up extra early and it was a long day, I think they were lucky to visit the extra islands.  I would've loved the opportunity to speak at more schools.  Crystal mentioned she saw whales on the ferry ride over from Lanai to Maui.
**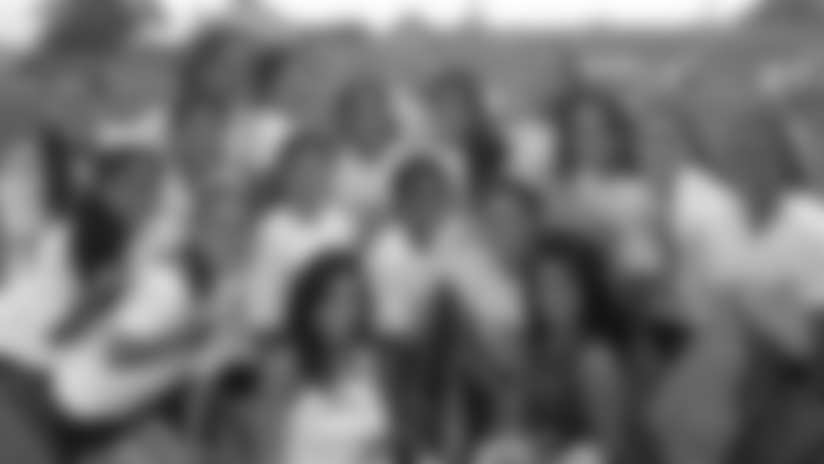 Raiderette Liz and Johanna of the Gold Rush pose for a photo with Maui clinic participants. - *Courtesy of Raiderette Liz*
How bittersweet that everything all ended at Maui.  The clinics were held at Keopulani Park which if you could imagine was right next to the beautiful waters and sandy beach of Maui.  A cruise ship was anchored not too far from where we were!  It was a beautiful day and the kids were so excited, we couldn't ask for much more.  Once again our group included a cheer squad of about 15 participants but I think the most excitement was from our volunteer who also cheered in college and started a cheer team at BYU Hawaii.  He was a teacher at a school in the rural part of Maui that did not have a cheer squad because, unfortunately, there was not enough student interest.  He however chaperoned a few girls that were interested, so I'm hoping their experience was a positive one to share with their peers to get a team started at their school.  Today's clinic seemed a bit longer so we had enough time to teach four cheers, a dance routine, pose for pictures, sign autographs, do a Q&A session, and perform for each other.  This group was especially outstanding today so they even performed on their own and let us watch.  The end to an amazing experience, it was so great to see that all of our hard work paid off.
This article has been reproduced in a new format and may be missing content or contain faulty links. Please use the Contact Us link in our site footer to report an issue.