Raiderettes Jonni, Lytisha, Annie and Tori pose for a photo with the Tracy Police and Fire department basketball teams. Photo by Tony Gonzales.
Oakland Raiderettes Jonni, Annie, Tori and Lytisha were celebrity guests at the inaugural Guns and Hoses Charity Basketball Game at West High in Tracy, Calif., Saturday evening. Proceeds from the event support Tracy's D.A.R.E. program. The Raiderettes posed for photos, signed autographs and helped with the evening's raffle.
Veteran Raiderette Jonni said that she and her teammates enjoy participating in community events and that they were excited to see how the basketball game between the Tracy Police Department and the Tracy Fire Department was going to unfold. "We're really excited to be here for Guns and Hoses, supporting the police officers and fire fighters," Jonni said. "It's very important, everyone needs all the help they can get and motivation to stay on track with school, stay out of alcohol, drugs, and do the right things."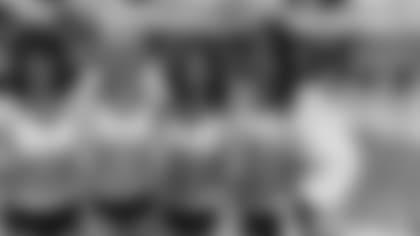 Raiderettes Lytisha, Jonni, Annie and Tori pose for a photo as the inaugural Guns and Hoses charity basketball game tips off. Photo by Tony Gonzales.
Officer Richard Graham, School Resource Officer for the Tracy Police Department, is one of the driving forces behind the initiative. "We wanted to partner up with the fire department, this is something most cities do, we were missing out on this," Graham explained. "This is the start of something good for us. We wanted to hook up with a local charity, D.A.R.E fell right in place with Councilman [Steve] Abercrombie, former cop, runs the D.A.R.E. program now. It was a natural really."
Graham said he had the thought to invite the Raiderettes to the be a part of the evening's festivities to help draw supporters to the game. "No one wants to watch cops and firemen play basketball, so we wanted to give them us, we wanted to give them Raiderettes," Graham said. "In the end were were able to give a scholarship to a high school kid, and we were able to give money to the D.A.R.E. program and keep it going. They are our celebrities. We hoped Raiderettes would be a draw and that they would help bring people out."
Tracy City Councilmember Steve Abercrombie is an ex-police officer from Hayward, Calif. According to Abercrombie, the basketball game is a wonderful event for the city of Tracy. "This is just a great community event, we were able to award a high school senior a scholarship, we're raising money for the D.A.R.E program," Abercrombie said. "It's a great opportunity to bring everyone together. We really appreciate [the Raiderettes], they're stepping up, helping out. It's great to see all of these organizations come together. We're serving 2,100 D.A.R.E. students in Tracy."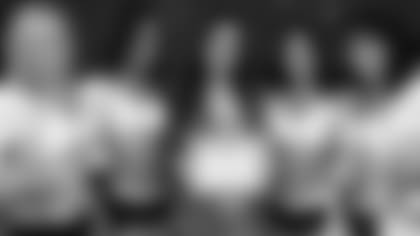 Raiderettes Jonni, Tori, Annie and Lytisha pose for a photo with scholarship winner Melanie Koochof. Photo by Tony Gonzales.**
Melanie Koochof, a Tracy High senior, was awarded a scholarship funded by the Guns and Hoses basketball event. "My mom, she's a single mom, it's really going to help me go to college. And it really means the world to me," Koochof said, "I'll be going to CSU Stanislaus, I hope to get my bachelor's degree in biology and I hope to go to Stanford Medical School and become a family physician."
The Drug Abuse Resistance Education program was founded in 1983. According to the official web site, D.A.R.E. is a police officer-led series of classroom lessons that teaches children from kindergarten through 12th grade how to resist peer pressure and live productive drug and violence-free lives.
The Tracy Fire Department defeated the Tracy Police Department 40-37 in a see-saw affair in the inaugural Tracy Guns and Hoses charity basketball game.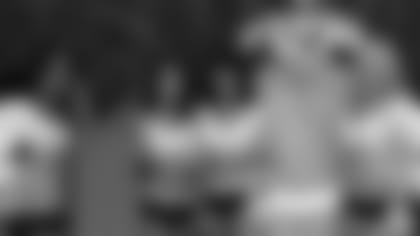 Raiderettes Tori, Lytisha, Annie and Jonni pose for a photo with McGruff and Sparky. Photo by Tony Gonzales. **