Chekwa and Jones pose for a photo with some of the camp participants. Photo by Tony Gonzales
Raiders CBs Chimdi Chekwa and Taiwan Jones worked with youth football players during a recent USA Football Regional Development Camp at Chabot College in Hayward, Calif. The camp was an opportunity for young football players from around the Bay Area to learn and grow as football players, while trying out for Team USA.
The Bay Area development camp drew over 400 athletes. "We have 435 athletes, which is the biggest event in the history of USA Football, biggest Regional Development Camp we've ever had," said Jimmy Thomas, USA Football Manager of Events.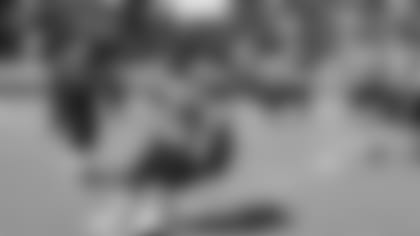 Jones coaches up one of the camp participants. Photo by Tony Gonzales
USA Football holds 17 development camps throughout the United States. "We play international competitions," explained Thomas. "We plunk kids out of here and we go play against Team Canada with the idea being we're playing international competition and getting other countries better to get American Football in the Olympics down the road. USA Football is like USA Basketball or USA Soccer, we're the national governing body of the sport, so when we do get American Football in the Olympics, this program will pick the team."
While the ultimate goal for the athletes is to make the team, the camp is intended to teach and hone football skills. "We build and structure the program so even if you don't make the team, you should be a better football player and a smarter football player when you leave here today," said Thomas.
Chekwa and Jones joined in on some of the drills to share some of their knowledge with the camp participants. "A little bit of detailed stuff, and I think mainly just the mental aspect of playing football, of being competitive, a little bit of encouragement," said Chekwa. "To be out here, for them to see somebody who actually made it to the NFL, I think it's encouraging for them."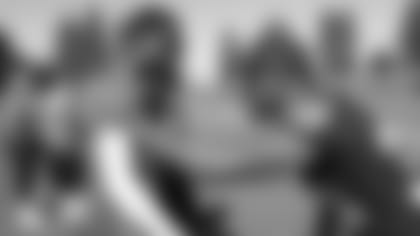 Chekwa demonstrates a skill during the development camp. Photo by Tony Gonzales
Jones understands how important football is to the many Bay Area athletes and wanted to help make the camp a positive experience. "I've been in their shoes. I'm from the Bay Area, I know it's tough in a lot of these neighborhoods and to see them out here wanting to get better and wanting to do something better, it makes me happy," said Jones. "To be in my position where I can give back, it's exciting for me. I actually got two brothers out here, so it makes it twice as much fun for me to be out here."
Both Chekwa and Jones are frequently giving back to the community and know it's important to reach kids early, even when it comes to football. "The sport is getting so competitive, the earlier the better," said Jones. "You have to teach habits, teach routines, and once they learn good habits, they carry them each level they go to."
Having the Raiders players at the development camp added something extra to the experience. "For the athletes themselves, just to see the guys that are already in the shoes and somewhere they want to be four, six, eight years, is just special from them," said Thomas. "Most of these guys are from the Bay Area, all these athletes, and most of them are Raiders fans I would think, so it's like a kid in the candy store. Your favorite guys that you watch every Sunday are out here and you get a chance to meet them and even get a chance to learn from them. So it's pretty cool."