Group photo on Career Day at Iron Horse Middle School. Photo by Tony Gonzales

QB Terrelle Pryor and Raiders Director of Player Engagement Lamonte Winston visited with the 8th graders at Iron Horse Middle School in San Ramon, Calif., on Career Day. Pryor and Winston spent time talking to the students about having dreams and setting goals.  "It's about where you're going, how you're going to get there and what the end looks like," Winston said to the students.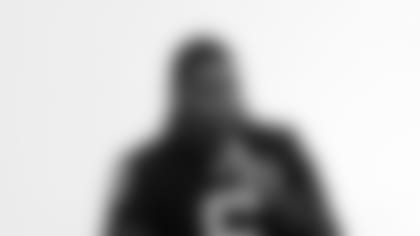 QB Terrelle Pryor speaks to the students at Iron Horse Middle School. Photo by Tony Gonzales
Winston's role with the Raiders is to help guide the athletes outside of football. "It's really to help those guys as they continue to grow as men and move on to their second careers," said Winston. "I think these young people [at Iron Horse] need to see that NFL stands for 'Not For Long.' It's a short-lived career. It's nice, lucrative and fun, but it is short-lived. It's important that these young people see that even our professional athletes have to have second careers and they still have to work really hard while they're playing professional football in order to get to that point."
The two Raiders guests had a few important messages to pass on to the students, one of which was to dream with eyes open.  "A wise person told me before that it is good to dream, but we have to dream with our eyes open," explained Winston. "It's good to dream but see what you're doing, see what it takes to get there. You have to see what it takes to get there and you don't let distractions get in your way. [Distractions are] going to be there, but you have to be committed enough to what you're doing to say with your dream and keep your dream alive."
Pryor has had, and continues to have, lofty goals and dreams and has been recording them in a notebook since he was young.  "I have a book…and ever since I was about 10 years old, I started writing goals of mine," said Pryor. "Still up to this day, I write goals. I've accomplished a lot of them. I still have more that I'm aiming towards, which I will accomplish. I've been writing in this book and I believe you guys should try it. There's nothing like writing down your goals and actually seeing it rather than saying it."
The young quarterback also made clear the importance of surrounding oneself with good people who have similar goals and aspirations. "I just talked to them about having dreams and goals and staying around great people to achieve those goals and not being around people that are going to be bad influences," said Pryor. "Keep people around you that have the same goals as you and that's how you reach your goal is to be around people that are going to push you and just make you a better person."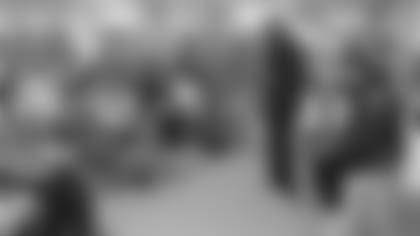 Lamonte Winston and QB Terrelle Pryor have fun talking with the kids on Career Day. Photo by Tony Gonzales
Pryor and Winston's messages resonated with the 8th graders. "He talked about dreaming with your eyes open and what you can do to pursue your dreams," said Jaypal Bhacia, an Iron Horse student. "He talked more about what you can do and where you need to be. Write down your goals, remember where you're going, keep that narrow path and that's basically what I took away from this."
Principal Joe Nguyen was appreciative of the Raiders speaking with the students. "It's just wonderful when an organization like the Raiders pay it forward or reach out to the community," said Nguyen. "I believe in the mantra 'it takes a village to raise a child,' and that was definitely on display today with the Raiders working with our staff."
Pryor enjoys spending time in the community and thinks it's an important aspect of being a professional athlete. "We're role models and we have to set the tone that this is our community and they're cheering for us," said Pryor. "We have to be leaders and stand our ground and be great leaders to the young people. I believe that's huge for me and I think a lot of guys should keep doing more of it."