Computers for Classrooms loads the equipment in the Raiders Alameda Facility parking lot.

Recently, The Oakland Raiders donated computers, printers, and equipment to Computers for Classrooms (CFC), a 501(c)(3) organization out of Chico, Calif., that refurbishes computers for schools and low-income families. Two CFC representatives, including Raiders fan Lee Skaggs, came to the Raiders Alameda Facility to pick up the computer equipment that filled a hallway.
"Computers for Classrooms is here to pick up all their computer equipment that they're recycling or changing out," explained Skaggs. "What we do is we take it back to our shop in Chico, Calif., we'll break it down, take out the hard drives, and we'll wipe it. If the computer is in good condition, we'll refurbish it, we'll reload it with all the Windows 7 and XP and all that stuff and then we'll sell it back into the classrooms or low-income families. Anything that we can't use, we break it down. We completely recycle everything so nothing goes to a landfill."
The organization, which was founded in 1991, has placed 5,000 systems per year and over 40,000 since its inception. What started as a program solely focused on schools has expanded over the years. According to their website, "when schools had surplus computers after they received newer systems, we decided to assist low-income families and nonprofits as well by setting up systems too slow for classroom use but still great systems."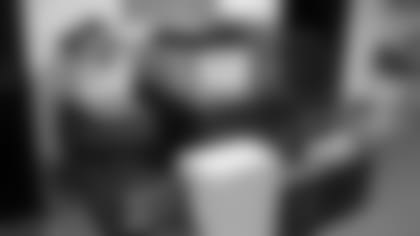 The equipment stacked and ready to go.
CFC gathered up the computer equipment from the Raiders, packed it in boxes, and loaded it on a truck to take back to Chico. CFC gathers the computers from all over California in order to have a solid supply of equipment for schools and families. "We go all over Bay Area and Sacramento to all kinds of businesses and we put all the computers back in the schools in California," said Skaggs.
The CFC mission is to "meet a tremendous need for technology in schools, with low-income families and nonprofits," their website stated. "We accept donations of surplus computer system and accessories, use volunteers to refurbish them and place the equipment where it is needed. We believe that all students need access to technology so that students trying to get a good education can have a level playing field."
The Raiders are happy to donate their equipment to CFC, knowing that it would be put to good use by students and families all over California.