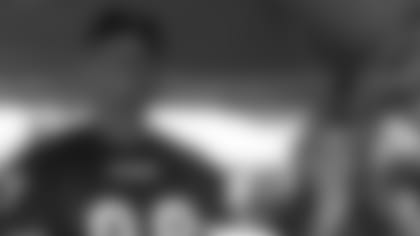 Raiders staff member Jenny Hamilton presents an equipment donation to Livermore Youth Football and Cheer's Eric Wexelman.
Photo by Tony Gonzales
Thursday evening, Oakland Raiders representatives delivered a donation of 40 pairs of uniform pants to the Livermore Youth Football and Cheer (LYFC) booth at the Livermore, Calif., Summer Farmers' Market. LYFC Athletic Director Eric Wexelman accepted the donation on behalf of his organization.

The uniform pants will help replace some of LYFC's equipment that was recently destroyed.

"On Wednesday, June 16, we discovered that somebody had lit our storage locker on fire," Wexelman explained. "All of the equipment that we use to train the kids, all of their uniforms…everything was in that locker… all of it was destroyed in the fire."

According to Wexelman, LYFC is a 37-year-old program that has provided a youth football program for thousands of youngsters for the better part of four decades. "We are now part of a program called Diablo Valley Youth Football Conference which is 18 Bay Area teams," Wexelman said. "[This is] for football players from 7 to 14 years old and cheerleaders from 5 to 14 years old.  We have 175 football players in a year, 5 teams of 35, and we have 5 cheer squads of 20 girls each, so 100 cheerleaders.

A few weeks ago, the Raiders participated in LYFC's open house. Current Raiders LB Sam Williams, and Raider Legends Rod Woodson and John Parrella, along with Raiderettes Amanda and Jennifer M., attended the event.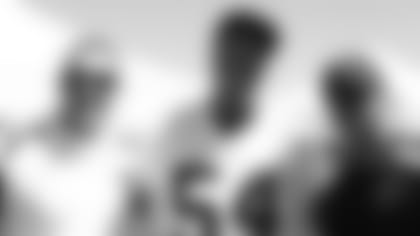 Former Raiders DT John Parrella, current Raiders LB Sam Williams and Hall of Famer Rod Woodson attended the Livermore Youth Football and Cheer Open House. Photo by Tony Gonzales.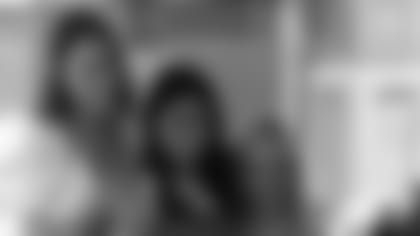 Raiderettes Jennifer M. (left) and Amanda pose for a photo with a young fan at the LYFC open house.
Photo by Tony Gonzales
"The June 5th Open House was a program we put together with the Raiders.  It was designed to enlighten parents about the safety of the game. A lot of parents worry that football is a dangerous sport so we had Raider players, both current and former, we had Sam Williams who is a wonderful guy who was out, we had John Parrella and Rod Woodson who were out with us," Wexelman said. "What we were attempting to do was to give parents as much information as we could both on the equipment, the precautions that are taken at a coaching level and on game days to make sure the kids are safe, and to encourage more youth to come out and play football."