Team Bad Boyz of BBQ waits for Guy Fieri to announce the winner on Food Network's Tailgate Warriors. Photo by Tony Gonzales.

The Oakland Raiders took on the San Francisco 49ers in the Battle of the Bay tailgate-style on Food Network's Tailgate Warriors: 49ers vs. Raiders. Hosted by the Bay Area's own Guy Fieri, the tailgate team representing the Raiders, Team Bad Boyz of BBQ, took on the 49ers team, Team Q MasterZ, in the parking lot at Oakland-Alameda Coliseum. In a one-hour competition, the teams battled to produce the best-tasting tailgate food.
The Bad Boyz of BBQ, led by "Kingsford Kirk" Bronsord, emerged victorious over the 49ers squad. Bronsord's team worked together well because of their passion for cooking. The group consists of "Barbeque Bob" Boyd, "Rotisserie Ron," Beth Pigeon, Salvador "Dicing Daddio" Barriga, and "Uncle Stan" Blanca. Bronsord's squad cooked up the tastiest cuisine with a menu that included Cheerleaders Chicken Arroz, Abalone Attack (Abalone Poke), Tightend Tip (Sangria Soy Tri-Tip), Sideline Salmon (Caribbean Jerk Salmon), and Chocolate Penalty Cake.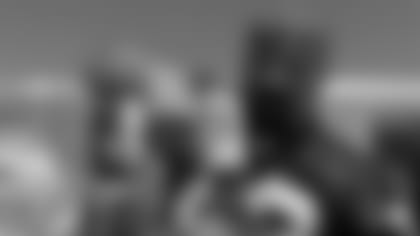 Kirk Bronsord uses a power drill to mix cake batter. Courtesy of the Food Network.
Bronsord was thrilled to win the Tailgate Warriors competition and to represent his favorite team, The Oakland Raiders. "We just love our team," he said. "We want fans from all over the country to come to Oakland and leave with an experience that they can't get anywhere else.  Win, lose or tie…I am a Raider 'til I die."
Catch a replay of Tailgate Warriors: 49ers vs. Raiders on The Food Network October 29, 2010 at 11:00 p.m. ET/PT; October 30, 2010 at 2:00 a.m. ET/PT or 4:00 p.m. ET/PT.