FB Marcel Reece leads a group of Westlake Middle School students in a game of touch football. Photo by Tony Gonzales.
Oakland Raiders FB Marcel Reece, RB Darren McFadden, WR Jacoby Ford, SS Tyvon Branch, and CB Taiwan Jones participated in the 15th Annual United Way Hometown Huddle. This year's event was held at Westlake Middle School in Oakland in conjunction with the Eagle Village After School Program.
Hometown Huddles were held across the country as the NFL and the United Way celebrated 40 years of partnership in community outreach endeavors.
"We're fortunate to be working with Marcel. It's a partnership that the United Way has with the NFL. Marcel is leading the efforts to encourage a healthy lifestyle with these kids," said Ari Warmerdam, Associate Director, Business Development, for United Way Bay Area. "Every year we look forward to it, this is the first year we've had it at Westlake Middle School."
Reece is the Raiders United Way ambassador and has been serving in that role since May.
"Hometown Huddle is a great event. We've come to a school in our hometown, where we play, the city that we love, that takes care of us and try to take care of some of these kids," Reece said. "We're living proof that people can be successful coming from the same place that they come from."
Reece was introduced to the students and spoke about the importance of developing healthy minds and healthy bodies. He also made it a point to tell the children that Raiders support them."We always tell them that we appreciate them when they come to games and sell out the stadium. This is a way we can show our appreciation," Reece added.
After his remarks, Reece and the Raiders posed for photos with the students and then went outside for some football fun. After some stretching, the players and youngsters enjoyed some sandlot football.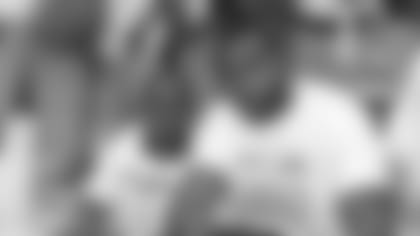 RB Darren McFadden poses for a photo with a Westlake Middle School student. Photo by Tony Gonzales.
The players appreciated the opportunity to not only participate in a worthwhile endeavor but also support their friend and teammate. "It's a great program that the United Way does with the NFL. A lot of kids look up to players like us. You want to come out here and set the best example you can for them," McFadden said. "Marcel does a great job with giving back to the community and working with kids. He's a guy who's passionate about anything he does. I greatly appreciate being able to work alongside him."
Branch reinforced what Reece had to say about the Raiders being part of the local community and how important the hometown team is to young people.
"It means a lot. Obviously this is our fan base, this is our support system here in Oakland," Branch said. "For us to come back and show these kids have a support system in us, the Raiders, us being positive role models for these kids is a big thing."
According to materials provided by Valorie Hutson, Founder/Executive Director of Eagle Village, the after school program allows students to engage "in high-level academic, enrichment, recreational, cultural, and athletic programs."
Hometown Huddle was a new and positive experience for the local after school program.
"It's a non-profit and a public school that works together. Through that we have partnerships all over Oakland and the Bay Area. United Way is a new partnership for us," said Morgan Shidler, Eagle Village After School Program Director. "I think it's extremely important because they watch the Raiders on TV, they go to the game in the Coliseum. To have them here on their campus, and give them personal attention is invaluable. Some of them want to grow up and be football players, some of them have never watched football before. It's a really great experience I'm sure they'll remember for the rest of their life."
The more the professional football players interacted with the kids, it became increasingly difficult to tell who was having more fun. "It gave me a chance to be a kid again and just have some fun. The good thing is the kids, you could tell they were having fun," Jones said. "I'm always willing to come out and help the community. I've been where a lot of the kids are. I've been there experiencing what they're experiencing."
Ford added, "I thought the event was real successful. We came out here, the kids had a lot of enthusiasm, and it was good to see the smiles on their faces."
The gravity of the league-wide day of service and NFL's partnership with the United Way was not lost on the players.
"It's an honor, I couldn't ask for anything better than to be a part of this great event," Ford said. "I was excited to come out."
The 2013 NFL season marks the 40th anniversary of the NFL-United Way partnership. In recognition of this milestone, the NFL and United Way are teaming with USA TODAY SPORTS Media Group to host a nationwide vote to identify the best NFL-United Way public service ads (PSA) of the past 40 years. http://nflunitedway40.usatoday.com
Reece added, "It's a pleasure of mine to be an ambassador for the United Way in the 40th year and I just hope I can always be a part of an organization like the United Way."