Raiders C Stefen Wisniewski and CB Chimdi Chekwa recently participated in the High School Player Development (HSPD) program held at Laney College in Oakland. Six local high schools participated – Piedmont, Logan, Tennyson, Encinal, Hayward and Fremont of Oakland. HSPD is a free program for high school players, which focuses on safety, life skills and football fundamentals.
Laney College Athletic Director and Head Football Coach John Beam was on hand to work with the athletes. "We have about 200 high school age football players from around Alameda County here and learning football skills," explained Beam. "Every player will play two positions. For half of practice they'll play their defensive position and the other hour they'll play their offensive position. Besides learning the skill set of the position, we're also intertwining it with a message about life skills. We talk about teamwork, sportsmanship, how to use social media, bullying. All those things are covered during this five-day period."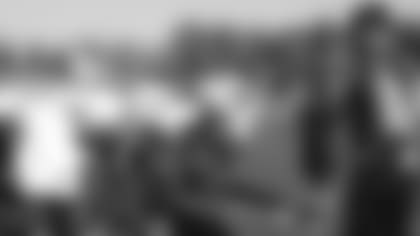 Wisniewski and Chekwa had the opportunity to participate in both the football skills and life skills aspects of HSPD. Wisniewski talked about the importance of working hard and doing a little extra in order to reach goals, while Chekwa focused on the significance of education. "We want to make great football players, but we also want to make great citizens," said Beam.
After speaking with the students, Wisniewski joined the offensive linemen for some drills and Chekwa worked with the defensive backs. "The kids are great. They're working hard," said Wisniewski. "They're eager to learn and it's fun to work with them."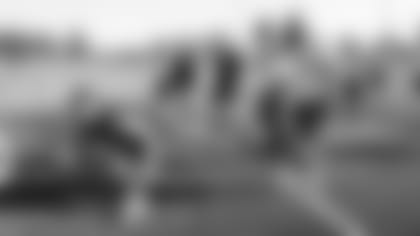 Beam believes HSPD is invaluable for the young athletes. "Now you get to be supplemented by something that the NFL has put together, a curriculum," said Beam. "This particular year's curriculum actually was done by the University of Washington so it's what their coaches find important. It's the same drills they do at the University of Washington. You build an arsenal of skill sets to be successful."
Chekwa could see the benefits of HSPD and bringing the football players together outside of their school's practices. "I think it helps with the development process from a football standpoint but also being able to interact with other kids and get this community feeling being out with friends and being active," said Chekwa.
Having Wisniewski and Chekwa attend HSPD allowed the high school players to see that it's possible to achieve goals and dreams. "I hope that it just encourages them to follow whatever dreams or whatever passion they have," said Chekwa. "If they can see somebody who at one point was in their same position and followed their dream, followed their passion, and got to where he is now, I hope it just encourages them to do what they're doing now and do a little bit extra to get to where they want to be."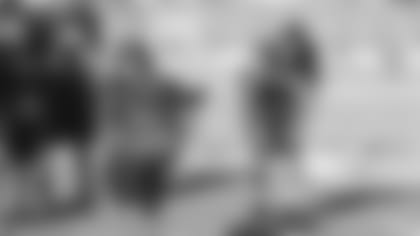 "I think it's really good because, and this is what's real important, because it's not about the Raiders; it's about two athletes who have made it to the highest level that these guys can look to and emulate," added Beam. "I think sometimes we forget that the guys that play on Sunday had the same struggles Monday through Saturday that you did when you were 15, 16, 17 years old. It's not unique. There are guys in the NFL that went through the same thing…you can overcome these hurdles and be successful just like they are."
Wisniewski enjoys giving back to the local community. "We love helping out in our backyard. These kids make up the core of Oakland, Oakland Raider Nation, and we're happy to come out and help," said Wisniewski.
"I think it means a lot to support the people who support us," added Chekwa. "This is the community we play in so I think it's important for us to give back to that community."