CB Chimdi Chekwa and 16 Raiderettes participate in Root Beer Float Day. Photo by Tony Gonzales
CB Chimdi Chekwa, 16 Raiderettes and Raider Nation on Location participated in the Oakland A's Root Beer Float Day benefitting the Juvenile Diabetes Research Foundation (JDRF). Chekwa and the Raiderettes served ice cream and poured root beer, posed for photos and signed autographs for the fans.
Chekwa is passionate about JDRF. The Raiders cornerback teamed up with JDRF in March and put on Camp One, a camp for kids with Type 1 diabetes. Chekwa was glad he was able to partake in another event supporting the cause. "It means a lot to me just to be able to help out the kids battling Type 1 diabetes," said Chekwa. "I had my camp, Camp One, that also benefitted the same cause, and I'll do it again next year. So it's something that I enjoy doing and I have a lot of friends in JDRF now. It's something that I love to do."
The donations from Root Beer Float Day and the awareness generated by the event are beneficial for JDRF. "JDRF has partnered with the Oakland A's for over 13 years now," said Christine Ackermann, Development Director for JDRF. "The A's have been a great partner for JDRF in helping us with our mission to find a cure for Type 1 diabetes through the support of research. Every year the A's put on Mug Root Beer Float Day and we've been the beneficiaries now for 13 years. It just helps us move our research pipeline a lot closer to that cure."
Ackermann has been impressed with the support from the Raiders at Root Beer Float Day over the years and is grateful for the additional backing from Chekwa. "It's very meaningful to our organization because we do have connections to the Raiders," said Ackermann. "Chimdi Chekwa and Terrelle Pryor have been wonderful and instrumental with helping with Camp One, which is Chimdi's idea. It's really helped bring awareness to the forefront to the community and with Chimdi's help it's just made the awareness a lot greater for Type 1 diabetes."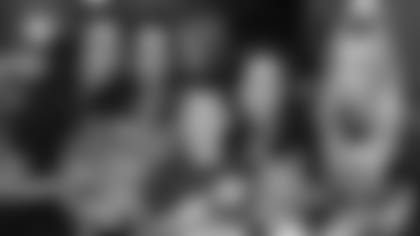 Raiderettes Cassie, Michelle, Monica B. and Chanel pose for a photo with a young Raiders and A's fan. Photo by Tony Gonzales
The awareness and research for Type 1 diabetes has extra meaning for Raiderette rookie Abby. "This is really important to me because I've actually had Type 1 diabetes for about 13 years," explained Abby. "I actually worked with the JDRF for about eight years; I did the Walk to Cure Diabetes in Sacramento. I have my own little walking team - Abby's Amigos. It's really great to just come back and be able to work with them, but this time with the Raiderettes."
Abby was grateful to have so many of her Raiderette sisters supporting JDRF. "It's a great feeling. There definitely needs to be more of a word out there for Type 1 diabetes, so it's awesome to have any type of support," said Abby. "It's very high energy and it's an awesome feeling to know that they're backing me up 100 percent."
Raiderette Abby does not let her Type 1 diabetes stop her and does not want it to stop anybody else struggling with the disease. "Nothing really can stop you if you have Type 1 diabetes," said Raiderette Abby. "Everybody has their own obstacles in life, everybody has something. You just take it, you embrace it, and you run with it."
Chekwa is also dedicated to helping those with Type 1 diabetes do whatever they set their minds too. Spending time in the community is important for Chekwa. "It's something that I like to do just because what I do on the field sets me up to be able to things like this in the community," said Chekwa. "It's very important to see the people who go out there and support us every game all through the year and it's something I enjoy doing."
On the Oakland A's website, Jane Lee and Jeff Kirshman/MLB.com wrote, "The event, which raised more than $24,000 last year, brought in $32,000 this year and has totaled more than $385,000 since 2003."