(Left to right) FS Michael Huff, S Jerome Boyd, PTA president Brenda Garcia, Principal Phyllis Matsuno, CB DeMarcus Van Dyke, former PTA president Jackie Chavez, and SS Tyvon Branch. Photo by Tony Gonzales
Tuesday morning, The Oakland Raiders participated in the NFL Play 60 Super School event at Longfellow Elementary School in San Francisco. Safeties Tyvon Branch, Michael Huff and Jerome Boyd, and rookie CB DeMarcus Van Dyke spent the morning encouraging students to make healthy choices and to stay active for at least 60 minutes every day. The defensive backs also presented Longfellow Elementary with a $10,000 NFL Play 60 grant.
Schools across the country had the opportunity to plan a Back to Football Friday event for their school submit photos and answer essay questions to be considered for the grant. Longfellow Elementary was one of 34 winning schools selected as an "NFL PLAY 60 Super School," one in each of the 32 NFL markets, and two at-large winners.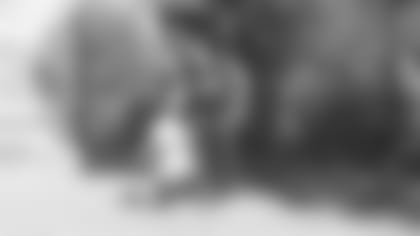 SS Tyvon Branch encourages a student during Play 60. Photo by Tony Gonzales
Former Parent Teacher Association (PTA) president and current vice president of the PTA of San Francisco, Jackie Chavez, had applied for the grant two years in a row and was thrilled to win this year. "The first year was a huge success; we just didn't win," said Chavez. "I just did it the first time and we had over 100 kids and parents show up on that Friday night and everybody had a great time and wanted to do it again. I said, 'all right, even we don't win it's cool because we had a great, great time doing it so it really didn't matter.' But when the second time came around, I was looking at the website some more and seeing where I missed a couple of things and I said, 'oh I got this.' The second time, I knew I had this so I redid it and entered the second time and here we are."
"Our Super Schools contest celebrates our youngest fans and their passion for their favorite teams," said Peter O'Reilly, NFL Vice President of Marketing and Fan Engagement. "Helping kids stay healthy and active as part of NFL PLAY 60 is our and the Raiders year-round commitment, and the Super Schools contest recognizes those students, parents and schools who are able to combine their passion for football with a commitment to 'playing 60.' It is critical that activity continues at each school year-round and that is why the $10,000 NFL PLAY 60 grant and our equipment donation plays an important role in keeping these schools and students moving."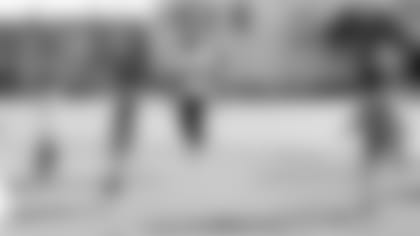 CB DeMarcus Van Dyke jumps rope with the kids. Photo by Tony Gonzales
Boyd, Branch, Huff and Van Dyke started their school visit with an assembly during which students had the chance to ask the Raiders questions. The players imparted advice and talked about the most important aspects that have contributed to their success in the NFL. "Being a pro athlete takes a lot of dedication," said Branch. "When you prepare for a game, sometimes you want to stop and eat fast food, but you know that's not the right stuff you need in your body to fuel yourself for the game, so it takes discipline to eat healthy, eat right, and prepare yourself right for game day situations."
Branch also had a few jokes for the group when he was asked whether he enjoyed playing any other sports besides football. "You might know a guy named Kobe Bryant," said Branch. "It's not a big deal, but I kind of taught him how to play basketball. It's no big deal though, but yeah, I like to play basketball outside of football…one of my favorite sports."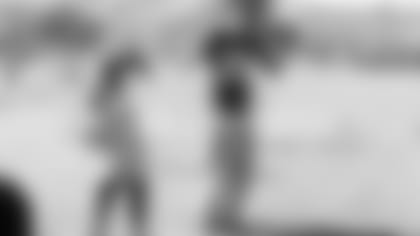 FS Michael Huff shows off his hula hoop skills. Photo by Tony Gonzales
The morning continued with the players helping the students get 60 minutes of exercise out on the field. Each player manned a station, which included hula hoops, jump ropes, and sprinting, demonstrating the exercises and encouraging the students. The defensive backs had as much fun as the kids throughout the 60 minutes. "I was definitely pumped about this," said Branch. "This is a big event and any time you come back and partake in activities with the kids, it's always fun so I was excited about it. This is what we do best – run around and play around, so it's fun."
The principal of Longfellow Elementary, Phyllis Matsuno, could see the excitement of the students and appreciated, not only the $10,000 grant, but the impact the players had on the kids. "I think having these role models was huge," said Matsuno. "It's very moving and touching for each of these children who have never seen a professional player before that they would come to our school. The kids are so joyful and so excited to see professional players. They're so warm, they're shaking their hands and signing autographs, they answered the questions really well that the children asked and I think they learned that anything is possible."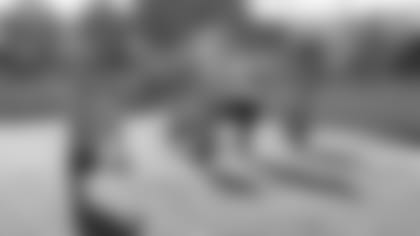 S Jerome Boyd races the students as they Play 60. Photo by Tony Gonzales
The Raiders were happy to be out in the community giving back and spending time with the students. "The part [of my job] I enjoy most is giving back to the kids and giving back to the community because when I was young, we didn't have that person to come back and give back to the schools," said Huff. "Any time I get a chance to come back to the schools, I try to give back and I enjoy doing it."
Huff and his teammates hope they were able to help the students understand the importance of staying healthy and active. "We're blessed to be in a position to be able to touch others and they'll listen to us," said Huff. "So hopefully they'll get outside instead of playing video games and spend that hour and run around outside and play with their friends. It doesn't have to be anything special, just run around with friends and have fun and that helps."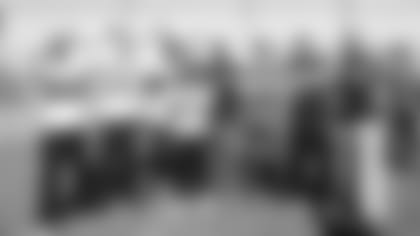 The Raiders pose with the school instructors who helped facilitate Play 60. Photo by Tony Gonzales
Longfellow Elementary was grateful for the grant and the visit from the four defensive backs. "The $10,000 is great and we're going to so need it," said Chavez. "With budget cuts, the first thing that closes is physical activity stuff so that's the one thing that the parents and the PTA usually have to supplement for the schools. So it will definitely help on that, but having these players come over here - I don't know what's better – the $10,000 or these guys coming here and playing with these kids and totally making their day. These kids are going to go home and talk about it for a long time. It was a perfect day."