The Oakland Raiders selected Camerin Rencken as their Bay Area All-Star Scholarship Team (BAASST) recipient. WR Brice Butler surprised Rencken during one of her classes at Maria Carrillo High School in Santa Rosa, Calif., and presented her with a $3,000 scholarship.
The BAASST is a program established by the Raiders, Oakland A's, Golden State Warriors, San Francisco 49ers, San Francisco Giants, San Jose Earthquakes and San Jose Sharks. A teacher or school administrator nominates students who demonstrate the value of education, good work ethic and community outreach. Each team selects one student to receive the award each year.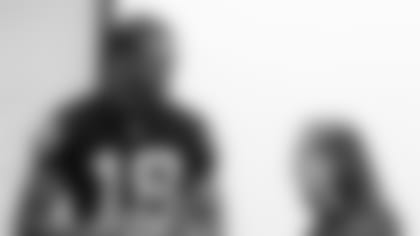 WR Brice Butler and scholarship winner Camerin Rencken.
Photo by Tony Gonzales
Rencken was nominated by her academic counselor for her accomplishments in the classroom, on the soccer field, and in the community. "For me, Cami just stood out," said counselor Marie Speaks. "I've been working with Cami now for four years. Cami she doesn't get caught up in all the things teenagers get caught up in and she really understands and values family and love and relationships. It's unique for teenagers and she will always continue to do this and it's something that's dear to her heart. I just admire her. And she's humble; she's very humble about all of this. Hands down, she was my choice."
Butler presented Rencken with the scholarship check. He was impressed with all she has accomplished at a young age. "The Oakland Raiders and a lot of the Bay Area teams support athletes that are courageous on the field, in academics and off the field in community, so we selected Cami Rencken for what she does," said Butler. "She does some miraculous things, some marvelous things for the community as well as top of her class and top on the field. So we wanted to give her a scholarship check to show her that we're supporting what she does and we need more people like her."
The high school senior has been a member of the school's nationally ranked soccer program, sustained a 4.4 GPA, all while raising money and supporting a community in South Africa. "A couple years ago when I went [to South Africa], it was the first time I was allowed to go to the townships because before that I was too young and it was very dangerous," said Rencken. "So, when I saw it and saw how much need was there, and coming from a stable family here, I saw there's so much I could do. It started as a small project and I thought maybe $100 was the most I would get and it ended up spiraling. My church, my community, my friends, the school, everybody wanted to be involved. Now I've raised about $22,000, but definitely with the help of everyone."
Rencken took particular interest in one woman's project in the township. "There's a lady that I met and she was taking in children that were abandoned or abused and orphaned and they couldn't go to orphanages because they weren't eligible because they didn't have papers," explained Rencken. "They were starving and homeless, so now they have a house and we're trying to get grants from the government for food. Basically it's a home of safety for anybody that can't go to orphanage."
All of Rencken's work was done because of her desire to impact other people's lives. Being recognized for her work is an added bonus for the college-bound senior. "It's crazy. A couple years ago when I started this, I definitely would not have expected this at all," said Rencken. "I started, I think, as a freshman, so college wasn't even in mind when I started, so it's just crazy. I feel so honored. Honestly, they did more for me than I did for them, so for me to get the recognition I feel like I want to go over there and tell them. It's an honor."
Speaks was excited to see one of her student's hard work acknowledged. "I think for me I just felt like if anybody is deserving of this scholarship, it was Cami," saidSpeaks. "We have a lot of kids that do a lot of things, but she's gone above and beyond what normally students do."
The school's principal Rand Van Dyke was thrilled to have one of his students earn the scholarship. "For me, it's extremely exciting. In my memory, I've been here 11 years, this is the first time we've had this kind of thing," said Van Dyke. "I have a great population of students and here's an opportunity to be recognized for that kind of spirit throughout the school. We have nearly 1,600 sutdents and I think Cami really represents the totality of the student body. It's nice to have Brice come and honor that."
The Raiders wanted to honor the work of Rencken and Butler wanted to be part of it. "It's always good to see other people that are doing other things in the community," said Butler. "Playing professional sports, you see other people who might not have the same type of [means], but they're still going out there to go hard for the other people, so for me, looking at that, it's great because they're not worried about what they have going on, they're trying to go out and help other people in need. It's great to be able to meet people like that. I enjoy that and I'm inspired by that."
Rencken will be honored at a home game for each of the Bay Area All-Star Scholarship teams, starting with the Warriors game on March 18.