Oakland Raiders Owner Mark Davis announced an organizational effort to prevent domestic violence and sexual assault by partnering with the Biletnikoff Foundation and Tracey's Place of Hope.
Last night during the annual golf tournament to benefit the Biletnikoff Foundation, Davis presented a $50,000 donation to Fred and Angela Biletnikoff to help increase education in an effort to eradicate this horrible dilemma. In addition to monetary support, the Raiders will execute an extensive platform, including ongoing programs and public service campaigns to assist in preventing domestic violence and sexual assault.
"The Raiders are proud of our continuing commitment to raising awareness of this important issue that is close to the heart of the Raider family," said Owner Mark Davis. "We are excited to have the opportunity to work with this tremendous organization and assist them in reaching the ultimate goal, ending domestic violence and sexual assault."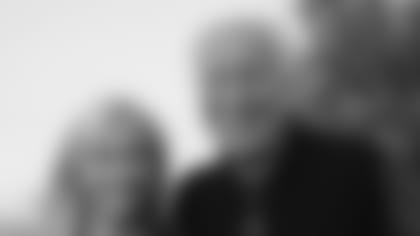 Angela and Fred Biletnikoff pose for a photo.
The Biletnikoff Foundation is a non-profit organization dedicated to supporting youth, primarily from low to moderate income neighborhoods or backgrounds, who are "at risk," particularly to the realities of drug and alcohol addiction as well as domestic and gender violence.  The mission of the Biletnikoff Foundation is to commemorate Tracey Biletnikoff's life and her untimely death and to enable young people to realize their full potential through the support of community and education programs that effectively address the related problems of substance abuse and gender violence.

Founded in 2000, Tracey's Place of Hope is a residential program for adolescent girls in crisis with mental health and substance abuse problems. The facility houses girls, aged 14-17, for up to one year of recovery.

"Everyone in the Raider organization has treated us super and has been so behind us with the foundation for a good number of years and we just appreciate it, I can't tell you how much," said Fred Biletnikoff.

"This means that we get the chance to break ground on something that we have been working on for so long. It's going to be amazing," said Angela Biletnikoff. "We're really happy and excited that we finally get to break ground and get these girls moving in an amazing direction to make the house more functional for their treatment and their recovery and for their safety. This is a goal that we've been wanting to attain for three years now, it has been a three-year, half-million dollar project and the Raiders just let us cross the finish line."

The Raiders, along with the National Football League, are taking a leading role in supporting domestic violence and sexual assault awareness and prevention groups, as well as promoting programs and partnerships that develop character in children and young adults.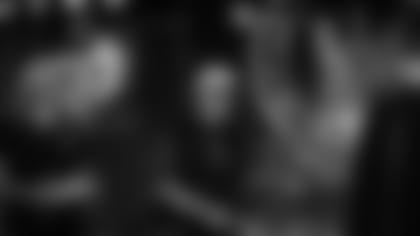 Angela and Fred Biletnikoff share a laugh with Raiders Owner Mark Davis.