DE Matt Shaughnessy and WR Derek Hagan bag produce with students from Oakland Tech. Photo by Allan Yuan

Check out more photos

The Oakland Raiders teamed up with the Alameda County Community Food Bank (ACCFB) for the holidays to pack and collect food for local families. Staff, friends and family of the Raiders packed boxes of produce November 15, the food bank held a food drive in Raiderville prior to Sunday's matchup with the Saints, and five players bagged produce at ACCFB's headquarters November 20.
"Alameda County Community Food Bank serves one in six county residents right now," explained Suzan Bateson, Executive Director of Alameda County Community Food Bank. "Most of the people we serve are children. Their parents are struggling to make ends meet, don't have enough to buy food when they're paying high rents and so we find that more families are turning to us. One of the great things about Alameda County Community Food Bank is we have this wonderful volunteer area where large groups can come, can have a good time, and also learn about the problem of hunger and get involved in our cause because that's what we're really looking for. This is a solvable problem and if we have important people like the Raiders helping us, we can make it to the end zone."
The volunteering started with the family and staff visiting the food bank, boxing up bins of carrots. "The experience volunteering at the food bank today was eye-opening," said Alisson Allen, Head Coach Dennis Allen's wife. "The ACCFB provides food for thousands of people in our community and to see the work that goes on in order to make that happen was amazing.  The services the food bank provides are tremendous and being there today truly showed how much we need to help and how much work there needs to be done to feed the community."
The Raiders and ACCFB then teamed up for a food drive in Raiderville, collecting bags of food and monetary donations. "We were on-site this weekend in Raiderville and got a lot of support there, so it's great," said Michael Altfest, ACCFB's Communications Manager.
QB Terrelle Pryor, WR Derek Hagan, RB Taiwan Jones, DE Matt Shaughnessy, and LS Jon Condo spent part of their day off at the volunteer center at ACCFB. "Today we had a group of the Raiders come in here and volunteer," said Altfest. "It seems to be an annual event at the Alameda County Community Food Bank. It's a lot of fun. It's great visibility for our work and it's really interactive with the kids that are here with the players. It's just a lot of fun and a lot of help at our most critical time."
Young volunteers from Oakland Tech and various other school groups were on hand to pack food at the food bank. The Raiders players surprised the students and worked together to get food ready to be distributed to families in Alameda county. "It's actually a great time to be here at the food bank," said Judah Godoy, the volunteer facilitator at ACCFB. "We're doing our holiday distribution. Normally we're distributing 39,000 pounds of produce every day. It's the holidays so we're doing a little over 50,000 pounds of produce that's going out to our agencies. It's just in time for Thanksgiving so it's a great time that they're being here supporting our community. They were here last year. It's a great time to be here with all the kids that they have and it looks like they're all enjoying themselves."
The students from Oakland Tech thought it was important to volunteer during the holiday season. "It's around the holidays and it's almost Thanksgiving and it's a good thing to do," said Rachel Klein, an Oakland Tech student. "It's hard times right now so just to bag food in our community is good. It's the people in our community; we kind of have a responsibility if we can help."
Condo had the same views as the students. "This time of year it's very important that we [give back] because it's Thanksgiving coming around the corner and the holiday season is coming right up," said Condo. "It's just very important to be able to help out, give some time. All these groups are out here giving their time just to help needy families."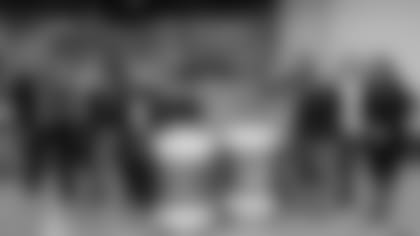 Raiders family, staff, and friends pose for a photo after volunteering at ACCFB. Photo by Tony Gonzales
The Raiders wanted to get out in the community and make the holidays special for as many people as they could. "This is the time of year everybody wants to get together and you want to be around your family, but you know other people aren't around their family and they don't have the opportunity to eat a certain kind of meal," said Hagan. "Just to be out here to help these people, because I know myself, I'm fortunate just to be able to eat a meal and to come here and help other people, it's obviously something I've wanted to do and hopefully we can continue to do that."
The players were glad they could assist the food bank during its most critical time. "It's important because they're helping everyone out in the community that needs food so it's good to have a hand in that and be part of it," said Shaughnessy. "We're a big part of the community and it's good to be giving back all the time. We give back on Sundays, but it's also to give back during the week as well."
Jones grew up locally and wanted to take some time to give back to his community around the holidays. "Whenever I get the opportunity to come back and serve the community that helped raise me, it's just all fun," said Jones. "A lot of people are not fortunate to have the Thanksgiving that we get to have, so to come out and here to help contribute to feeding others, that's definitely a blessing."
Pryor understands the importance of the food bank and wanted to do what he could to help. "They said they feed 49,000 families a week so obviously there's a lot of people that's not as fortunate, or whatever you want to call it, and they need the supplies," said Pryor. "I was in the same situation too when I was younger for a great time and it's something that I wanted to do and give back and also interact with kids as well. I had a good time today."
The Raiders hope their time at the food bank not only helps the food distribution, but also brings joy to the local community. "I think it's important because a lot of people look up to us," said Hagan. "There's a lot of fans out there that love the Raiders whether we win or lose and just for us to take [time] out of our day just to come out and help people, I think it lifts their spirits up a whole lot."
The Raiders also hope that working with ACCFB inspires others to give back. "It's important for the Raiders to be involved in the community and at the food bank because it brings awareness to the issues that affect us," said Allen. "It allows all of us to realize what is really important especially during this holiday season."
Condo was happy to give back as well. "It's always good to do good for your community, whether it's bagging food or reading to kids, or anything that involves the community," said Condo. "It makes you feel really good about yourself and about what you're doing. It feels great."
The Raiders Thanksgiving work did not end at the ACCFB headquarters Tuesday. DT Richard Seymour teamed up with ACCFB to donate Thanksgiving meals to Columbian Gardens Food Pantry in Oakland. For more information on his community work, CLICK HERE.