QB Terrelle Pryor and Director of Player Engagement Lamonte Winston pose for a photo with one of the classes. Photo by Tony Gonzales
Recently, the Oakland Raiders teamed up with Operation HOPE, the Oakland Unified School District and US Bank to speak to students at Westlake Middle School in Oakland about financial literacy. QB Terrelle Pryor, former Raiders LB Sam Williams and Director of Player Engagement Lamonte Winston visited with students and spoke about the importance of planning for one's future by saving and being responsible with money. Raiderettes also performed during an assembly prior to the classroom visits.
"The students had the opportunity to ask Terrelle and other members of the Oakland Raiders questions about their lives and how they live a dignified life and how they use their finances so they can prepare for life after the NFL," said Kevin Fleming, Senior Vice President, Global Director of Field Operations for Operation HOPE. "We went around to the classrooms and the students all prepared questions, some about football and some about financial literacy, so Terrelle could share his story with them."
Pryor, Williams and Winston all focused on financial literacy, but each had their own take on the message. "I think if they learn at an early age to save, they won't go spend money on certain things that they shouldn't spend on," said Pryor.
Williams, who started focusing on his post-NFL career during his nine years with the Raiders, wanted the students to understand the importance of planning for the future. "It's important for them to realize that what they are learning right now in middle school will help them prepare for high school and the real world," said Williams. "Simple math and arithmetic will help them understand how to balance check books and manage finances."
Winston wanted to provide the students with inspiration and help them understand that they have the opportunity to pursue their dreams if they are willing to work for them. "Although we want to dream to be Oakland Raiders, sometimes you fall short, but there are other opportunities in the National Football League," said Winston. "But with that, there are certain things you have to do. There are some life-skill development pieces that fall into place there."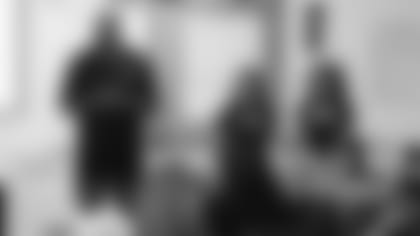 LB Sam Williams speaks to the classroom with Raiderettes Melissa and Tori. Photo by Tony Gonzales
Fleming and Operation HOPE appreciate working with the Raiders because their messages are heard by the students. "One of the reasons we like to partner with the Raiders and Oakland Unified School District is because they are seen as leaders and role models in the community," said Fleming. "There are some myths around NFL players that they live a glamorous life and they don't have to prepare and things are easy. It's important for them to know that they have to read their contract, they have to understand there is money that they're in charge of and if they want to not be broke if they ever become an NFL player, that they have to take care of their money. Famous people and rich people and not-so-famous rich people and not-so-rich people have to take care of their money the same way."
The Raiders were excited to be able to have an effect on the students of Westlake Middle School. "It's important for the Raiders to speak to the students about financial literacy because the students will listen to us and we're able to tell them the reality of being in the NFL," said Williams. "We make a bunch of money in a short period of time, but we have to make that money last a long time which isn't easy unless you do things right."
"I had the opportunity to participate in this event six months ago and the reaction I got from the kids was amazing," continued Williams. "Giving back is my passion and any opportunity I get to make a difference with our youth I'll do."
Pryor wanted to get out in the local community and give back any way he could. "I love Oakland; I love the city of Oakland," said Pryor. "I just want to give my respects back to Oakland and the people who cheer for me and my teammates every Sunday."
The impact the Raiders had on the students was substantial. "[The impact] is unbelievable just because, at the end of the day, our society is shaped to look at those people who seem to be untouchable," said Winston. "So for those young people to be able to see one of our players, Terrelle Pryor, walk in there, it brought hope. When he walked in the room I just saw everybody's eyes light up, especially the adults. It's hope. It's to be able to touch somebody they feel that have reached the pinnacle in their profession. I think Terrelle being there sharing his time, sharing his story, sharing himself, showed them that he's willing to be a role model, but he's just a human like everyone else."