TE Kevin Boss, QB Terrelle Pryor, DE Mason Brodine, G Stefen Wisniewski and Raiderettes Marcy, Ashley, and Tori pose for a photo with one of the patients. Photo by Tony Gonzales

Recently, Oakland Raiders offensive linemen Stefen Wisniewski and Zach Hurd, TE Kevin Boss, QB Terrelle Pryor, DE Mason Brodine and Raiderettes Jennifer, Marcy, Ashley, and Tori visited the Children's Hospital & Research Center Oakland. The players and Raiderettes spent time with the children, their families, and the staff bringing some joy during the holiday season.
"We had some awesome players and four of the ladies, the Raiderettes, come and visit with our kids," explained Mary Kelly, Manager of Child Life Services. "It was just so much fun to see them sit down in the little tiny chairs and play video games and do art projects and really spend some time with the children and their parents and the staff here at the hospital. Everybody really appreciates when [the Raiders] come to visit."
The Raiders met the children with a few of the hospital's Child Life Specialists. According to the Children's Hospital's website, "Child Life specialists help bridge the gap between home and hospital and school with age-appropriate activities designed to help young patients understand and adapt to the hospital experience. The Child Life program at Children's Hospital features highly trained and certificated Child Life specialists who promote growth through therapeutic play, education and self-expression."
By visiting the hospital, the Raiders were able to help the specialists bridge that gap between the hospital and the outside world. Kelly and her staff were appreciative of the Raiders taking the time to meet the families. "A lot of families are here for days or weeks at a time and you kind of lose track of what's going on in the outside world," said Kelly. "To see somebody come in from the community to spend time with them is really, really sweet. It makes them feel like people outside are thinking about them."
The Raiders were thrilled to be able to bring smiles to the patients' faces during the holidays. "It's always a good time to encourage some people who are down and especially around the holidays, it's tough for the kids who are going through some tough things like the kids who are here," said Wisniewski. "So I wanted to come out and let them know that we support them."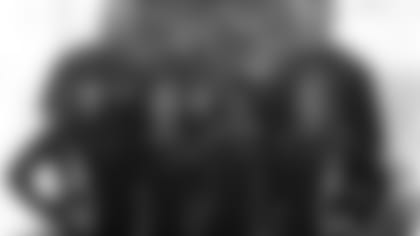 Rookies Zach Hurd, Stefen Wisniewski, and Mason Brodine with Raiderettes Ashley, Marcy, Tori, and Jennifer.
Photo by Tony Gonzales
The players were more than happy to come out on their off day to meet the kids. "This is what makes our job so special having the opportunity to come here and put a smile on these kids faces," said Boss. "They are going through a lot so just to have the chance to have them forget what they are going through a little bit and brighten their day."
Many of the patients and their families are Raiders fans and were excited to meet members of the local team. "It's our home team and it was really cute some of the comments the kids had for the players," said Kelly. "They're all going to be watching the game and they really wished them well."
Pryor, Hurd and Raiderette Jennifer met one patient in particular who, as a big Raiders fan, had some suggestions and messages for the entire team. "We met a patient who was a very cool guy and he had some really strong opinions about the Raiders and how they should be playing their games and had some advice for the players for Sunday," said Jennifer. "He was really just a great person, very charismatic and it was really fun talking to him."
Pryor plans on relaying the patient's messages to his teammates. "He was giving me a pep talk and said his dream was to beat the San Diego Chargers," Pryor said. "And we are going to try to get that done and relay the message to some of the guys and let them know there's guys who have faith in us."
Meeting the kids, particularly the children in the oncology unit, hit close to home for Hurd. "It's definitely close to my heart because my dad passed away from lung cancer," Hurd said. "So when I was younger, I saw what he went through and to come in here and see what young kids are going through with cancer, it hurts your heart. I saw how bad it was for a 45-year-old guy and to see young kids going through it, it's hard. So if I can come make them smile, then that's I like to do."
Hurd was able to bring smiles to many of the children's faces during his time at Children's Hospital & Research Center Oakland. "It was awesome coming and seeing the kids smile," he said. "Even with what they're going through and all the treatments and everything like that, they light up when they see our faces. We're just regular people having fun playing a sport and doing what we love and to see them stuck in a room, it's hard. But if we make them smile, it makes my off day coming in here definitely worth it."
Pryor felt the Raiders were successful in bringing out smiles in many of the kids during the visit. "We came and visited children that are sick to lift them up and give them a smile and I think we accomplished that today," Pryor said.
The Raiders and Raiderettes were glad they were able to bring some excitement and happiness into the hospital. "This was actually my first time doing a children's hospital visit and it was really great," Jennifer said. "We saw about five or six kids personally in their rooms and they were all really excited to see us and you could tell that it was a nice break in their day, you know, something special that happened them today that they could tell their parents about and tell their friends about. It really felt good just going in there and knowing that you could brighten their day a little bit. It was a really rewarding trip."
Boss had a great time meeting the kids and was inspired by all of them. "It was fun," said Boss. "A lot of them were Raiders fans and so that was a lot of fun to be in this position and see them put on a big smile when you tell them that you play for the Raiders. They are the real heroes. They are the ones fighting these ugly diseases at such a young age and keeping good spirits about themselves is pretty inspiring to see."
"The least we can do is give back," said Brodine. "The community has done so much for the Raider organization and this is the least we can do for them."