Oakland Raiders players and staff and Mrs. Fields Cookies representatives brought smiles to visitors, patients, and staff at the Children's Hospital Oakland Research Institute this past Tuesday.
The event, which took place in the atrium of Children's Hospital, commemorated the 50th Anniversary of both the Raiders and the Research Institute.
Raiders representative Meka White said, "We are thrilled to be here. It is the 50th season of The Oakland Raiders. As we look to move forward in the future we hope to develop a deeper relationship with the Children's Hospital of Oakland Research Institute and certainly our great partner Mrs. Fields who we couldn't be here without."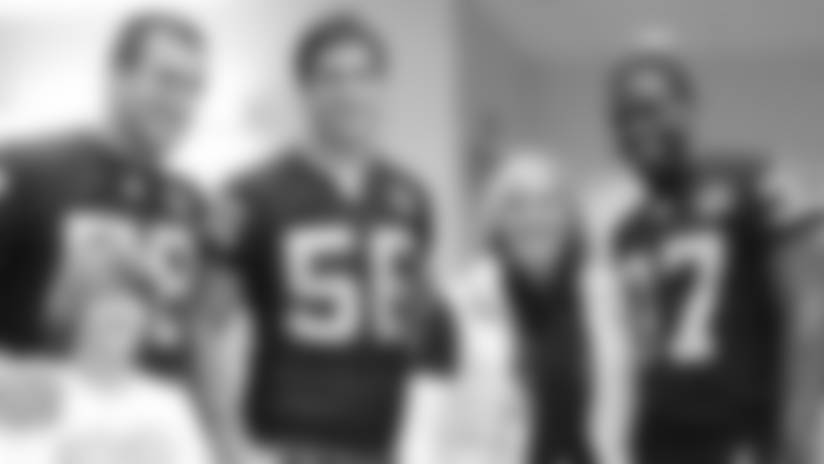 LBs Slade Norris (58) and David Nixon and CB Chris Johnson (37) pose for a photo at Children's Hospital.
The Children's Hospital Oakland Research Institute specializes in researching and treating various diseases such as cancer, sickle cell disease and thalassemia, and childhood obesity and diabetes.
Alex Lucas, Director of Research for the Institute, attended the event and enjoyed having the players on hand.
"We treat patients and have outreach for families and patients. It is a community hospital. It is a medical center so it has all the components of an advanced center," Lucas stated. "We have primary care to tertiary care. We treat children and have the best doctors around. We are dedicated to the community and provide medicine and services to all children."
Lucas also expressed gratitude to the Raiders for coming out and spending time with the kids.
"We know the Raiders come here and support the kids. I am extremely grateful," Lucas said. "The Raiders are an institution in the Bay Area and we all love the Raiders. They inspire the kids and they bring such good will. The kids love it. It boosts morale and good feelings for the kids."
As a special treat to the children and parents arriving at the hospital, they were welcomed by chocolate chip cookies, teddy bears, and a trio Oakland Raiders players greeting them.
LBs Slade Norris, Dave Nixon, and CB Chris Johnson were on hand for the festivities and took some time out to pose for pictures with the kids and share a few words of inspiration and encouragement.
Because of the H1N1 virus and the possibility of exposure for the kids, the players sent their wishes and words of support through a video that played on closed-circuit television throughout the hospital.
Norris told the kids how they have had to deal with physical hardships as an NFL player. "Basically how we have dealt with hardships. I told them just to stay positive and to lean on your family, things to give them inspiration," Norris said.
Norris added, "The first part of our job is playing football. The second part is helping the community."
Nixon said, "It was a blast. This is the type of stuff that you love about this job; to be able to make an impact on little kids' lives. To come out here and meet a lot of them that are going through tough times right now and just give a few works of encouragement. It is always great to put smiles on their faces."
Nixon feels that the main emphasis he wanted to convey to the kids is to staying positive and to always remember there are always going to be brighter days ahead.
Johnson, a father of three, appreciated the opportunity to come and spend some time with the kids.
"Anytime I can give back to the kids or anybody I am willing to do it. We appreciate the Children's Hospital letting us come out and speak to the kids," Johnson said. "Coming out and just being present in the hospital and seeing smiles on kids' faces. I think we made a good impression today."
Nick Martinez, a Raiders season ticket holder, was at the Children's Hospital to take his son Nick Jr. for a routine check-up. When he entered the lobby and saw the crowd he was curious to see what happening. When he realized that the Raiders where there to visit the kids Nick and his son couldn't pass up the opportunity to meet members of their team.
"It was awesome. I was surprised to see them but when I saw those black jerseys I started smiling because my son wanted to see them. We got to meet the players and take a picture with them," Martinez explained.
Another parent, Juanita Santana Bott, also came for her son's appointment but was also detoured by what was going on in the lobby.
"I didn't expect it. We just came in for an appointment and there they were. He got his teddy bear signed and a picture taken. I think it is very nice. It is nice that the Raiders came out to see the children," Bott said.
The parallel of golden anniversaries of both organizations came together with the help of Mrs. Fields, who provided their signature chocolate chip cookies and even gave out a limited number of teddy bears fashioned with a Raiders eye patch.
**David Nixon (56), Chris Johnson (37), Alex Lucas, Meka White, Brad Barber, John Lauck and Slade Norris pose for a photo at Children's Hospital.
John Lauck, Mrs. Fields Chief Executive Officer, was also at the event to show the companies support to the Oakland Raiders and Children's Hospital Oakland Research Institute.
"It certainly is an honor for Mrs. Fields to be a part of this relationship and to also be a part of the donations here at the hospital," Lauck stated.
During this year's holiday season, customers of Mrs. Fields can visit http://www.mrsfields.com/ or call 1.800.COOKIES and by entering RSRCH9 at checkout, 15% of your order total will be donated to Children's Hospital in Oakland.
Lauck added, "One of the things that Debbie Fields said many years ago is that 'I am not in the cookie business. I am in the business of smiles."
On Tuesday, The Oakland Raiders, Children's Hospital Oakland, and Mrs. Fields definitely accomplished that.