QBs Carson Palmer and Terrelle Pryor pose for a photo with patient and big-time Raiders fan Luis. Photo by Tony Gonzales

Recently, Oakland Raiders QBs Carson Palmer and Terrelle Pryor, WR Rod Streater, RB Taiwan Jones, LB Miles Burris, DB Brandian Ross and former LB Vic So'oto visited Children's Hospital & Research Center Oakland. The seven members of the Silver and Black spent time with the kids, their parents and the staff throughout the hospital.
"If everybody could see the smiles from the staff and the parents and the patients, they would know that it means the world every time [the Raiders] come," said Mary Kelly, Manager Child Life Department at the Children's Hospital & Research Center Oakland. "This is Oakland, this is our hometown team, and we're Oakland's Children's hospital and it is a great relationship."
The players wanted to give everybody, especially the patients, a reason to smile. "It was great," said Palmer. "I got to see a bunch of young Raiders fans, kids that have been here for a long time, some kids that were just recently admitted. It was great to see the young Raiders fans, kids going through real life struggles and real life issues, to cheer them up for a little bit just for a small part of their day."
Palmer and Pryor brought a huge smile to the face of Luis Gonzales, a 20-year old patient and big-time Raiders fan. "It brought me a lot of joy and happiness," said Gonzales. "I always see them play on TV because most of the time I'm at the hospital just laying down and looking at the TV. To actually have them there in front of me, and the quarterback Carson Palmer, it's really cool. I got some autographs and my friends aren't going to believe me."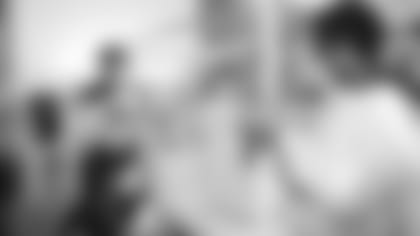 RB Taiwan Jones, WR Rod Streater, and DB Brandian Ross spend time with a young patient. Photo by Tony Gonzales
Spending time with Gonzales and the other kids meant a lot to Palmer and his teammates. "It was cool," said Palmer. "One kid, Luis, is a huge Raiders fan. Watches all the games and knew everybody on the team, knew every quarter of the game what happened. Coming off a loss, it gives you a different perspective on things when you see some of the kids that we saw today."
Meanwhile, Burris met Eric, a patient who met some of the Raiders when he was very sick at the hospital during a previous visit. Eric overcame his illness and now plays on his high school football team. "It's unbelievable; hairs go up on my arm," said Eric's mom Guadalupe Chaverri. "Just the knowledge of everything he's gone through and that he's actually playing football, his dreams are coming true. I see him playing now; he plays with his high school team and the feeling of sitting in the bleachers and watching your son after him going through what he went through – nine months I almost lost him three times. He's gone through so much and just to watch him play out on the field is just unbelievable."
Seeing Eric meet the Raiders when he is healthy after seeing her son meet the Raiders when he was sick nearly brings Chaverri to tears. "It makes him part of this camaraderie with them, that's how it feels," said Chaverri.
For Burris, meeting all the different kids was a great experience. "It was awesome. It was a lot of fun," said Burris. "Going in there, there were kids of all ages, just relating to them and talking to them. They have a lot to talk about and it seemed like they were pretty excited. It's just nice to be able to visit them and have a good time."
The seven players was one of the biggest Raiders groups Kelly had seen at the hospital. "I think that's the most we've had on one visit and we would love to see all the players come," said Kelly. "It was truly wonderful. They could spread out and cover the whole hospital and most of the kids got a really nice, individual visit."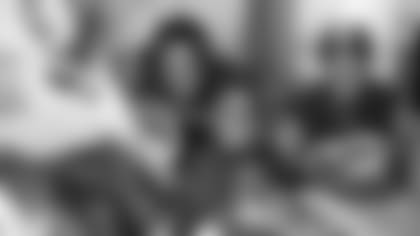 DB Brandian Ross and Taiwan Jones put a smile on a young patient's face. Photo by Tony Gonzales
All of the participating players knew the importance of spending time at the children's hospital. "I think it was important," said Burris. "It shows our local support and also a lot of them are Raiders fans and were really excited about it. I have a place in my heart for kids and it's especially hard when kids have to go through hard things physically and there's nothing they can do about it. I can only imagine how lonely it could get being in a room all day by yourself and it would be a highlight in my whole month probably if an Oakland Raider came and visited me and I was in the same situation. It's just a blessing to be able to be a part of this."
Streater was involved in a community event earlier in the season and wanted to go out in the community again. "After going to the last one [community event] and seeing that a lot of kids can't do what we do, I really wanted to come and just put a smile on their faces because I know it means a lot to them," said Streater.
The rookie wide receiver was thrilled to be able to make people happy. "I loved just seeing the kids smile and bring smiles to their faces," said Streater. "I think it meant a lot. The kids were just smiling and some were crying when we left, so it felt good to really give back to them. It was a great experience on my day off."
Palmer, as a nine-year veteran, has spent a lot of time in the community during his career and knows the impact he, as well as his teammates, can have." I've been here before and been to many different hospitals in different places," said Palmer. "You see kids that don't get to leave the hospital or are here for a long time and don't' get to go to school with other kids or don't get to do some of the things other kids get to do. So it's just important being professional athletes that you be a role model in the situation you're in and you go out and try do what you can to make people happy."