S Stevie Brown, LB Sam Williams, LB Quentin Scott, LB Quentin Groves, CB Walter McFadden, and RB Michael Bennett visited the Oakland Dynamites.Photo by Tony Gonzales.
Recently, Oakland Raiders LB Sam Williams invited teammates LBs Quentin Groves and Quentin Scott, CB Walter McFadden, RB Michael Bennett and S Stevie Brown, to take part in the Tackle Violence - Score 4 Life Campaign launched through the Love Life Foundation in Oakland, Calif. The Love Life Foundation is an Oakland-based community building organization that endeavors to promote leadership and development throughout the community. Executive Director Donald Lacy started the foundation in memory of his daughter. "I feel good about the ones we've been able to reach, the ones we've been able to save," said Lacy. "A lot of them have gone on and have graduated from college and are working professionals."
Coordinated by Barry House and Eric Rivera of No Excuse Entertainment Group, the Raiders teamed up with Tackle Violence and the Love Life Foundation to share words of motivation with the Oakland Dynamites, a local youth football and cheer team. Williams, with the help of his teammates, spoke to the Dynamites about the importance of staying on the right path. "We talked to them about making good decisions and becoming a leader amongst their friends and not just being followers," said Williams.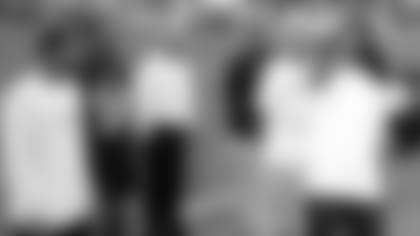 LB Quentin Groves fires up the Dynamites as his teammates look on.Photo by Tony Gonzales.
The Raiders reinforced the Tackle Violence - Score 4 Life Campaign's message, which is designed to emphasize loving life and encouraging positive life- affirming alternatives to gangs, drugs and violence.
Williams and his teammates spoke from the heart when addressing the young football and cheer teams about the value of making good choices in order to succeed. Scott said he wanted the young people "to keep their goals set and stick with them and [do] the small things." Scott continued, "Some guys never come out to visit these little league teams but sometimes that day could be the day that changes someone's life."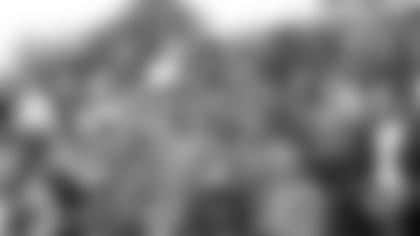 The Oakland Dynamites listen intently to the Raiders. Photo by Tony Gonzales.
As both the Dynamites football and cheer teams enjoyed a successful season, the young athletes know what it's like to work hard. With the help of the Oakland Raiders, the Tackle Violence - Score 4 Life Campaign is encouraging these youngsters to continue to work toward making their dreams reality.