Raiderettes Michelle, Bess, Althea and Itza pose for a photo with servicewoman at Travis Air Force Base. Photo by Tony Gonzales
Recently, the Oakland Raiders visited Travis Air Force Base in Fairfield, Calif. WRs Darrius Heyward-Bey and Jacoby Ford and LB Aaron Curry, along with four Raiderettes, showed the military their appreciation by signing autographs, posing for photos and spending time with those stationed on the base.
The Raiders teamed up with USAA and chose Travis Air Force Base as their military appreciation unit. The USAA also donated a $5,000 grant to the base. "It's a partnership that we reached out to the Raiders as part of our overall Salute to Service program," said John Hancock, Military Communications Manager for USAA. "What we're trying to do is link up the NFL and those teams with military units in their area. The Raiders chose Travis and we're hosting about 60 graduates of the Airmen Leadership School here. They are also receiving tickets to the game November 18."
The three players and Raiderettes Althea, Bess, Itza, and Michelle, wanted to spend time with the base's men and women and show respect for their service. "I think it's just important for the Raiders and Travis Air Force Base to connect, to know that we appreciate what they're doing for us and we appreciate them supporting us as fans," said Curry. "We just want to show the love because we know that they're busy so we like to come out and allow them to have fun."
Heyward-Bey, along with his teammates, knew how important it was to spend time with the troops. "It was really important because these are the guys that protect us," said Heyward-Bey on the visit. "For me to know that they are Raiders fans and they want us to come out to see them, that feels great to me."
The Raiders wanted to boost the morale of the airmen. "It is so important because we have so many servicemen, airmen, that are maybe depressed because they've just come home from war," explained Kymberley Wayne, Marketing Director for Travis Air Force Base. "A lot of times it's great for the spouses because the spouses have been holding everything down while they've been gone. Our job in marketing is to make sure that we lift their morale. We let them know that they are cared for, that we care for them, so to have the Raiders come down and spend their time with our airmen means everything to them."
The airmen were excited to see the players and the Raiderettes and have the opportunity to speak with them. "Definitely feel the love from the Oakland Raiders organization in total because they're here," said Staff Sergeant Nicky Reyes. "They put the time in and taking time out of their busy schedule to go show us fans here at Travis Air Force Base love."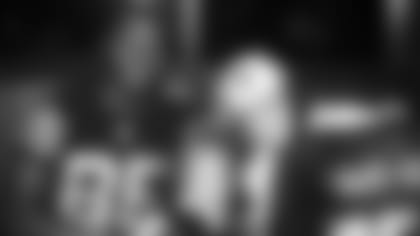 Heyward-Bey poses for a photo with the family of an airman on Travis Air Force Base. Photo by Tony Gonzales
Staff Sergeant Joel Garcia told Reyes about the event. "Today was just crazy," said Reyes. "I was actually doing some training and I got hit up by friend Joel here and he told me about it. I'm a huge Raiders fan and showed up and it's been awesome ever since. I love being around this Raider Nation."
Garcia was thrilled and appreciative of the Raiders visit to the base. "Well being a fan, I truly appreciate you guys coming to us," said Garcia. "It's usually the fans coming to you, but you guys showed that appreciation of coming to us, giving us that love that we give to you guys. I love it when you guys give it back. I appreciate that."
Hancock and Wayne could tell how much of an impact the Raiders visit would have on the servicemen and women. "This is tangible," said Hancock. "This is something they actually get to touch and feel and know that an organization as big as the NFL and as big as the Oakland Raiders appreciate the service and sacrifice they make each and every day for all of us."
"I hope that they remember this day and just remember that the Raiders care," added Wayne. "They cared enough to come here and make a difference even if it's just for two hours, it means so much to these airmen. I think they'll definitely remember that."
Retired airman Darsey Varnedoe was also appreciative of the Raiders time at Travis Air Force Base. Varnedoe, who was based at Travis during his service, and his wife Bessie, who currently works on the base, are season ticket holders. "It means the world," said Varnedoe. "We love the Raiders. We especially loved Al Davis. Since the '60s, he broke all barriers – women, minorities – he built a team. We love him. Every time there's something happening with the Raiders, we're there. It means so much for the community. We're just glad you guys are here. It means a whole lot."
The military men and women had as much of an impact on the players and the Raiderettes as the Raiders had on the servicemen and women. "Visiting the Travis Air Force Base was an unforgettable and honorable experience," said Raiderette Michelle. "Getting the opportunity to come out and personally thank the servicemen and women for all that they do for us meant so much to me. Also being able to be reunited with a high school friend that is stationed there made the night even more incredible."
"It was important to let Travis know that we're supporting them, just like they're supporting us as fans," said Curry. "We're big fans of them going across seas and protecting this country and allowing us to do what we do. It was great just to see the guys cut loose and the women just cut loose, relax and just be themselves around the players. To see how you can have an impact on their lives is just amazing."
The time at the base was impactful for Ford. "It was definitely an experience I'll never forget," said Ford. "I got 'coined.' It was my first time ever being on a base so now I can actually see what it was actually like. It was a whole other world. It's cool to be out here."
The visit had a little extra meaning for Heyward-Bey. It was great to be out here and see them face to face and talk to them," said Heyward-Bey. "A good friend of mine, Justin Davis, in 2006, passed away overseas and I always wear this wristband. I've been wearing it for the last six years, so it means something to me."
After socializing and showing gratitude towards each other, the Raiders left the spirited crowd at Travis Air Force Base knowing they made a difference. The Raiders will continue to honor the military during the Salute to Service game on November 18. Sixty members of the Travis Air Force Base Airmen Leadership School will attend the game and take the field. "I want them to make sure when they're out there on November 18 that they actually take a moment to soak it up and soak it in and realize that America does care about what it is they do for us," said Hancock.
---
NFL fans are invited to visit www.millionfansalute.com to create a digital salute in honor of the U.S. military and on behalf of their favorite NFL team through Nov. 26, 2012. The three markets with the most salutes will earn rewards from USAA for their local military community.