WR Travionte Session and CB DeMarcus Van Dyke visit with 94-year old veteran Hula Davis. Photo by Tony Gonzales

The Oakland Raiders visited the Veterans Home of California, Yountville, Monday. Second-year players CB Chimdi Chekwa, CB DeMarcus Van Dyke, and Mason Brodine, as well as rookies K Eddie Carmona, P Marquette King, CB Conroy Black, WRs Travionte Session, Thomas Mayo and Derek Carrier and S Aaron Henry spent time with the veterans sharing stories. All of the players enjoyed the experience and felt honored to be able to give back to those that have served the United States.
"The experience, if I could bottle it all up and put it in one word, I'd probably say it was awesome," said Henry. "I'm all about the veterans. My heart goes out to anybody that serves our country, whether they're doing it now or they did it in the past. To go there today and see what some of those guys have been through, it was just utterly amazing. You can't put into words what they did for this country. I just went around thanking each and every one of them. I know they thanked us for coming there and coming to see them, but those guys are the true heroes. At the end of the day, when you hang the pads up and everything is all said and done, you don't have anybody shooting at you. You're not fighting in a war for your country. All those football things are amazing, but what they do is on a whole other level."
Van Dyke came back for the second year in a row and really appreciated the stories from the veterans. "All the old veterans, they have a bunch of knowledge, and we all took it in and soaked it up and I love coming every year," said Van Dyke.
Chekwa caught up with a few of the veterans he met during his visit last year. "It was fun," said Chekwa. "I saw a lot of people I saw last year. It was just fun over there to interact with them, hear their stories and see them smile. I lot of them had jokes that made me smile, so it was a blessing to be out there."
The veterans were appreciative of the Raiders time. "Oh, it was great," said Army veteran Constantine Savalas. "It doen't get any better than that. All of them are great guys. They're guys that have to go through a lot, just like some of us did way back when."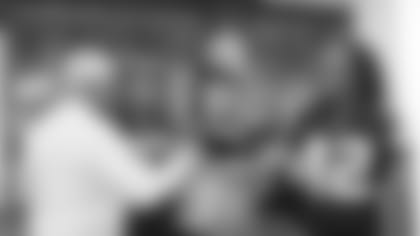 Safety Aaron Henry visits with one of the veterans. Photo by Tony Gonzales
Another veteran, George Shepard, could hardly contain his excitement and gave each of the players a homemade belt buckle. "I'm kind of an emotional guy and I'm just so excited," said Shepard. "I thought I would never get to see…I love football, and I love them and I could just scream for them. No one will be cheering harder in any sense or any way as hard as I will be for them to win. I hope they'll think of that and remember it because I want them to win so bad."
The players made their way to each table in the dining hall to spend time with as many of the veterans as possible. "It was a great experience," said Black. "It was a lot of fun. We got to laugh with them. We got to talk to them and share some of their experiences and they were happy to have us. They loved our time and we appreciated their time."
The Raiders were happy that they were able to make the veterans smile. "Those guys have been through a lot and just to see the smiles on their faces, just know we gave something to their day, it was just fun," said Black.
Spending time with former military was important for the 10 Raiders players that traveled to Yountville. "It's important to go visit veterans because they went out and served the country and helped us to have the freedom we have now," said King.
"They've done a lot for our country, a lot for us, so we get to pay them respect and they're our heroes," added Carmona.
For Henry, visiting the veterans is something he takes very seriously. "That's the least we could do. You're talking about people that lay their lives down on the line for our freedom. I say the least we could do is go and visit them. Anybody that is out there serving our country, I tip my hat to each and every one of them. I talk about it on my Twitter all the time, saluting the troops, because those are the ones who put things in store for us as Americans. I think it's only right for us to be thankful for everything they did and go out and thank them when we get a chance."
After their visit, the Raiders boarded the bus, provided by Mike Graham and Napa Valley Tours & Transportation, back to their Napa Valley Training Complex. They return to practice tomorrow morning as they prepare for their match up with the Detroit Lions Saturday, August 25.