Akintunde Ahmad epitomizes Commitment to Excellence. The Oakland Tech High School senior is graduating with a 5.0 GPA and will attend Yale University in the fall. In a city often portrayed negatively, Akintunde, also known as Tunde, is bringing one of many positive stories in Oakland to the nation's attention.
Tuesday, the Raiders invited the lifetime Raiders fan to their Alameda facility for a shopping spree, with a few surprises along the way, to recognize his achievements.
Ahmad grew up in East Oakland, the youngest of six kids. He believes his siblings played a large role in his success. "I was fortunate enough to have elder siblings to mentor me and show me right from wrong and I learned from what they did right but also learned from what they did wrong," said Ahmad. "I'm definitely the type of person that if I want to do something, nobody can stop me from doing it. I'm going to just go out there and do whatever I feel that I need to do to reach whatever goal that I want."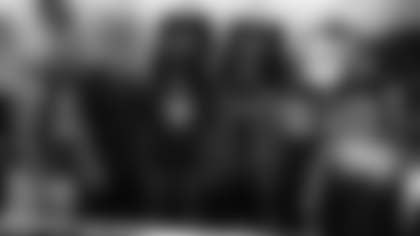 Akintunde Ahmad poses for a photo with LB Nick Roach, GM Reggie McKenzie, HOF Willie Brown, CB Taiwan Jones and WR Rod Streater. Photo by Tony Gonzales
He is no stranger to the violence in his neighborhood, but Ahmad is a testament to the fact that you can be successful despite the obstacles in your community. "Growing up in Oakland definitely has its ups and downs," said Ahmad. "My brother was a victim of gun violence. He was fortunate enough to live, along with my godbrothers and cousins who were injured that night, but I know a lot of people do fall victim to gun violence in our city. Honestly, the good outweighs the bad here. We get a bad rep sometimes for that, but I'm glad the Raiders and the media are focusing on more positive stories because there are a lot more positive things in our city than is portrayed."
Ahmad put his focus into his schoolwork, as well as his baseball career (the senior will play for Yale's baseball team in the fall). "I think playing a sport actually helps a lot just because it helps you stay focused because you're going from task to task," explained Ahmad. "Sports helps you go straight from school to practice and then you know you don't' have time to mess around so you go straight to doing your homework. Through that there's just more schedule and helps you stay focused."
His achievements in the classroom, on the field, and in numerous extracurricular activities deserved to be rewarded, so Ahmad was picked up by the Raiders van and greeted by WR Rod Streater, LB Nick Roach and CB Taiwan Jones at the facility. The three veteran Raiders escorted Ahmad through the building to the broadcast studio where a care package of Raiders gear waited for him. Ahmad was surprised by Hall of Famer Willie Brown and then given the opportunity to collect more Raiders gear of his choice.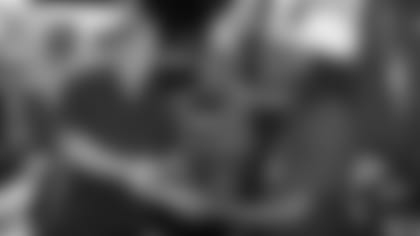 Akintunde Ahmad receives a computer from the Raiders personally delivered by GM Reggie McKenzie. Photo by Tony Gonzales
Then, General Manager Reggie McKenzie arrived and presented Ahmad with a Microsoft Surface for use in the next chapter of his life.
He finished the day with a tour of the facility, led by Streater, Roach and Jones.
"It was definitely a lot of fun," said Ahmad. "They helped me out throughout everything. I was kind of shy picking up gear, but they were definitely throwing everything on the table. It's definitely good to meet players who are committed to excellence and are committed to supporting me on my journey. Along with the general manager…I'm sure he has a busy schedule also and our Hall of Famer. It definitely gives me a good feeling knowing so many people are supporting me."
The Raiders have played a big role in Ahmad's life, and although Ahmad will take the next step of his life in New Haven, Conn., The Raiders made sure he will be bringing the Silver and Black with him. "The Raiders fan base is the best one in football because we stand beside our players win, lose, or draw," he said. "That helps build community and helps people understand that it's about coming together and having a good time and supporting one another. Throughout the city, with all our sports teams, I feel like in Oakland we really get behind our players. We support our people and they return the love as you can see."