Raiders FB Marcel Reece addresses the students of James Madison Middle School. Photo by Tony Gonzales.
Recently, Oakland Raiders FB Marcel Reece visited James Madison Middle School in East Oakland to motivate the 6th through 8th grade students. The assembly of students, teachers, and staff were excited to listen to the Raiders fullback speak about the significance of education and the importance of having dreams.
Principal Dr. Lucinda Taylor was especially grateful to have the third-year Raider out of the University of Washington inspire the students to make education a priority and to dream big. "He sent a message of achieving educational goals in middle school, high school, and college and setting dreams for themselves and not allowing anyone to distract you from those dreams," said Taylor. "Those are messages that our middle schoolers need to hear."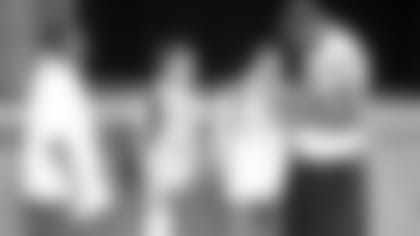 FB Marcel Reece signs autographs for students at James Madison Middle School. Photo by Tony Gonzales.
Reece wanted to inspire the students by explaining his personal path of overcoming obstacles in order to succeed. "I grew up in a place not too different from this and I just wanted to be able to tell them that you can make it happen." said Reece. Growing up, Reece faced peer pressure every day, but he explained to the students that he consciously made the decision to focus on his own dreams and not let anyone stand in his way.
At the end of his discussion with the assembly, Reece asked the students to promise him that they would never let anything stand in the way of pursuing their dreams. "The promises that they made to me today about never letting anyone stop you from fulfilling the dreams that you want to fulfill I think is very important because I held that promise to myself."
After the group responded "I promise" in unison, Reece began a trivia session where students could answer questions for Raiders prizes. The floor was then opened for questions. Students asked questions such as his favorite subject in school, how it felt to be in the NFL, and how to choose which dream to pursue. Special autographed prizes were given to the students with outstanding questions. To finish the day, students formed a line stretching outside the auditorium for a chance to get an autograph and picture with Reece.
Eighth-grade Algebra teacher, Avi Zellman, had a classroom full of students who took Reece's messages to heart. "He's like a superstar! I think they see a lot of themselves in him and with his story of growing up in harder times, but also overcoming it and following through with their goals," said Zellman.
"For me there were certain things that I liked and there were certain things that I didn't like but I always went," said Reece in explaining his middle school days. "There was never anyone who came and spoke to me at that age. I really try and reach out to kids because I never had it and I'm just hoping to help them out."
The Raiders fullback visited James Madison Middle School with the hopes of inspiring the students to take pride in their education and strive to fulfill their dreams. After describing many of the important pieces that have helped him succeed, Reece was able to lift the spirits of the students, motivate them to start the school year right, and bring smiles to the faces of everyone in the auditorium.