Raider Ron finds the cameraman during the Raiders game on Monday Night Football.

Ron Rickard, better known as Raider Ron, accomplished a feat very few fans or football players will ever achieve. On Monday, September 10, when the Raiders faced the Chargers, Raider Ron attended his 200th straight Raiders game. That's 200 consecutive games, home AND away.
Rickard's streak is a culmination of travel over the last twelve and a half years. He has been on a journey that could be chronicled in multiple books. The Bad Boyz of BBQ, led by Kingsford Kirk Bronsord, honored Rickard's accomplishment at their tailgate before the game. "I'm proud and honored to be able to say this is a great friend of mine, a Raider fan extraordinaire, the general, Raider Ron Rickard," said Bronsord. "We're going to honor this gentleman. He has done something that very few people ever get to do. Today is his 200th consecutive Raider game. That's 12.5 years without missing a Raiders game."
Cutting the cake, Rickard shared how the streak got started. "I lived down in Southern California and I was going to somewhere between 11 and 13 games a year anyway," Rickard explained. "One year I told my wife, you know, I want to go to every game and do it one time. So I did it and everything went pretty smooth so I did it again the next year."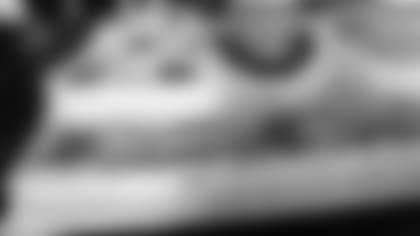 The cake from Kingsford Kirk at Bad Boyz of BBQ tailgate.
The third year, Rickard was going to miss one or two games. "The weekend came that I was supposed to miss a game," he continued. "It was a Sunday night game in Pittsburgh and it worked out that some friends started calling and saying, 'you gotta go, you gotta go.' So I used a voucher and flew to Cleveland. A friend of mine picked me up in Cleveland, drove me to Pittsburgh, got to the game that night and they had a ticket there waiting for me."
Over the next few years, Rickard continued to fly all over the country attending the Raiders away games. "And so then we just kept it going quietly, not too many people knew about it," he said. "And then when it got to be 100, a friend of mine with the Raiders found out about it, made sure they did a really nice feature on me. Then all of a sudden it became a streak and everybody was asking me about it every time I went somewhere."
Rickard never intended for his travel to become a streak, but 200 straight games later…"It's been a lot of fun now that it has been a streak and all of the props people have given me, all the love they've shown," said Rickard. "Beyond the football game, all the Raider Nation, all the people along the way that I've met…just incredible. The stories that I could tell…just on and on and on. I could write three books, it's just incredible the people in Raider Nation."
One of his most vivid memories during his travels dates back to 2002, a painful memory for many Raiders fans. "The toughest memory is that night in Boston when we thought the game was over with. The fans around me were congratulating us. I mean, they were really nice," described Rickard. "And they were starting to pick their stuff up and about that time, Mr. [Walt] Coleman came back out and we know what happened after that. We played a little bit more football and our season ended that night. That one is the most vivid. It just hit me so hard. I sat in the stands for about 30 minutes after the game. I wasn't trying to prove a point or show anything; I was just stunned. And finally, they came up and security got me and said, 'sir, you're going to have to go.' I looked and I was the last guy to leave the stands that night. That one, I will forever remember."
Although some of his memories are painful ones, they are part of his journey. Those tough memories are coupled with many great memories. "Some of the travel, some of the opposing fans I've had relationships with, it's incredible to spend time with the super fans for other teams," said Rickard. "That's part of my journey also that's been really wonderful."
For his 200th game, Rickard's accomplishments were recognized by some of the most passionate Raiders fans, who celebrated with him at the Bad Boyz of BBQ tailgate. No matter how long the streak continues, Raider Ron has done something incredible. Maybe one day he will write those two or three books so that all of Raider Nation can experience those 200 games with him.